Alice the Elephant, an excerpt from Swimming with Elephants (Conari Press 2017)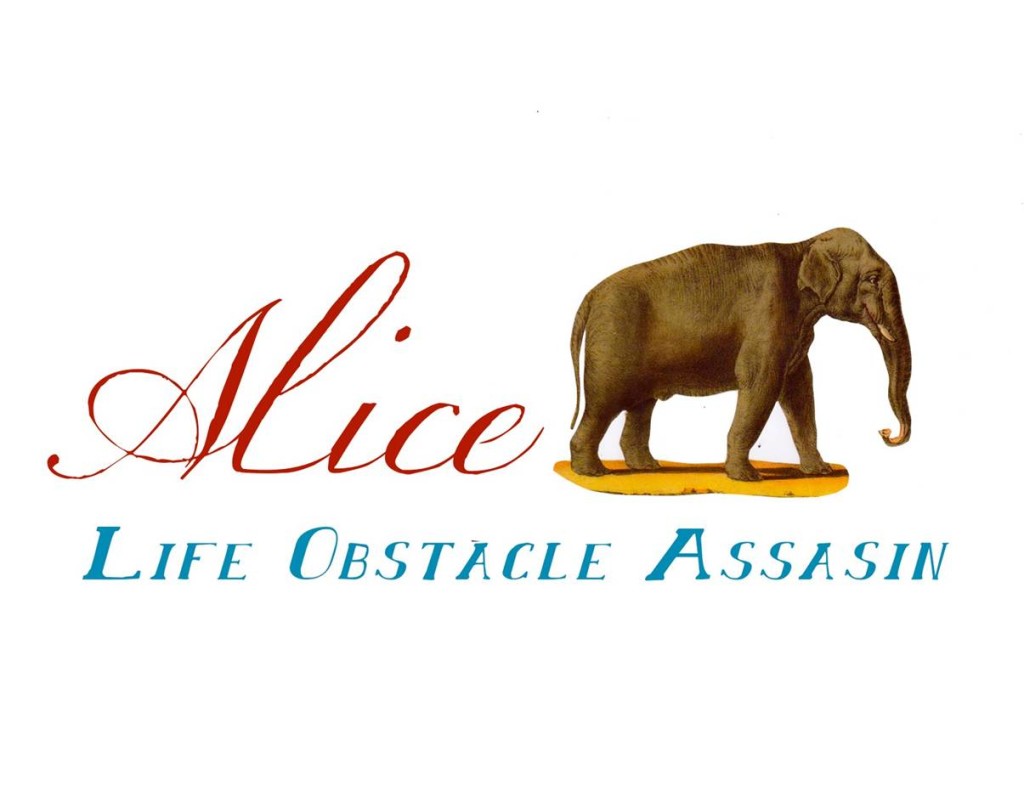 Chapter 15- an excerpt from my book Swimming with Elephants (Conari Press 2017)
Alice Arrives
"Who is Alice?" asked Mother.
"Alice is somebody that nobody can see," said Frances.
Russell Hoban, A Birthday for Frances
ORDER THE BOOK WHEREVER BOOKS ARE SOLD or via Amazon or Barnes and Noble
I continued to journey frequently—at least a few times a week and sometimes more. A new spirit helper came forth—an Asian elephant named Alice. I learned it is poor form in some cultures to discuss your spirit helpers openly, but Alice informed me that she enjoys the limelight and wants me to share our connection.
Alice made herself known slowly, perhaps so I could get used to the idea of her. Looking back, she actually appeared long before Mother Bear, though I was not conscious of who she was. Years before I even understood who spirits like Alice were, she'd emerged as an image in a collection of vintage chromolithographs of wild animals gathered during my all-consuming découpage phase. I had color-photocopied a natural history illustration from the 1800s and cut out an elephant from its background. I remember noticing the kind look she had in her eyes. She seemed to me to be a very warm, pleasing pachyderm, beautifully soft gray, with just the right number of wrinkles. She grew more real in my consciousness, in the way a Polaroid oozes into existence. But when we first met, I wasn't ready to receive a spirit visitor, so Alice took her time.
As I began taking more shamanic journeys to the Upper World, elephants appeared in large herds, even though that realm was supposedly filled with spirits in human form. I had to remind myself that, in these realities, there are no limits. One day, a single elephant appeared. She was standing on a spit of land formed where two rivers met. I wondered if this was the same elephant I'd become aware of through my paper cut-outs and découpage. I asked her and she confirmed that she was. Over time, as I visited her again and again, Alice told me her name.
I record my conversations with Alice in a journal, along with the outcomes of applying the insights I receive from her. Alice's wisdom has helped me tremendously. Often, she laughs about my worldly concerns—not in a cruel way, but in a kind, light-hearted, head-shaking elephant way, as if to say that I shouldn't take my fears so seriously. When I fret and ask frustrated questions—What's going to happen next? Where will I end up? What will it look like?—Alice responds cheerfully that there will be a lot of elephants cheering me on and that I should look for them. Immediately after hearing this, my Facebook wall began filling with postings of elephants from friends and followers.
When I wonder how I can feel entirely harmonious with Mark, Alice responds: Don't worry about him today; just get your own feel-good on and have fun! When I take this advice, I end up having a great day and things with Mark are strangely easy. When I tell Alice that I'm worried that I don't know how I can serve the highest good, she answers: Be yourself! Everybody else is taken. Have fun!
Alice is sometimes zany and theatrical. But she can also be quiet and sensitive. I've heard that spirits often appear to us in ways that we will find appealing. I had a default tendency to get too serious, to squelch the Steve Martin part of my brain—my Heyoka self. Heyoka is the sacred clown contrarian of the Lakota people of the Great Plains of North America who knows how to restore balance by creating mayhem, violating taboos, and acting out or saying things considered unthinkable by society.
To be clear, Alice isn't an archetype or an alter ego. I couldn't be in a companionable relationship with a concept. Archetypes don't converse, surprise, swim, do healing work, or spontaneously dance at the drop of a hat. For me, Alice is as real and distinctive as any other being in my life—except for the fact that she doesn't manifest on the earth. She wears beautiful chains of peonies around her neck that I can press into my face for comfort and to know she is truly here with me. Spending time in these realms with Alice is a curious experience of knowing without knowing—of knowing through body-heart-mind-spirit.
And there's another thing I want to make clear: Alice is a dear spirit companion, but she doesn't want to control my destiny. In contrast, she cheers me on in whatever destiny I choose. When I ask her what I should create, she always reminds me that it is up to me. For me, Alice is a source of clarity and wisdom about the truth of all matters. While some of the things she tells me may seem obvious, they aren't to me at the time. I ask Alice the questions I most desperately need answered so I can keep going. Alice encourages me.
ORDER THE BOOK WHEREVER BOOKS ARE SOLD or via Amazon or Barnes and Noble