From the author of Swimming with Elephants, How Good Are You Willing to Let It Get? and The Book of Beasties comes a visionary fiction, Where the Deer Dream.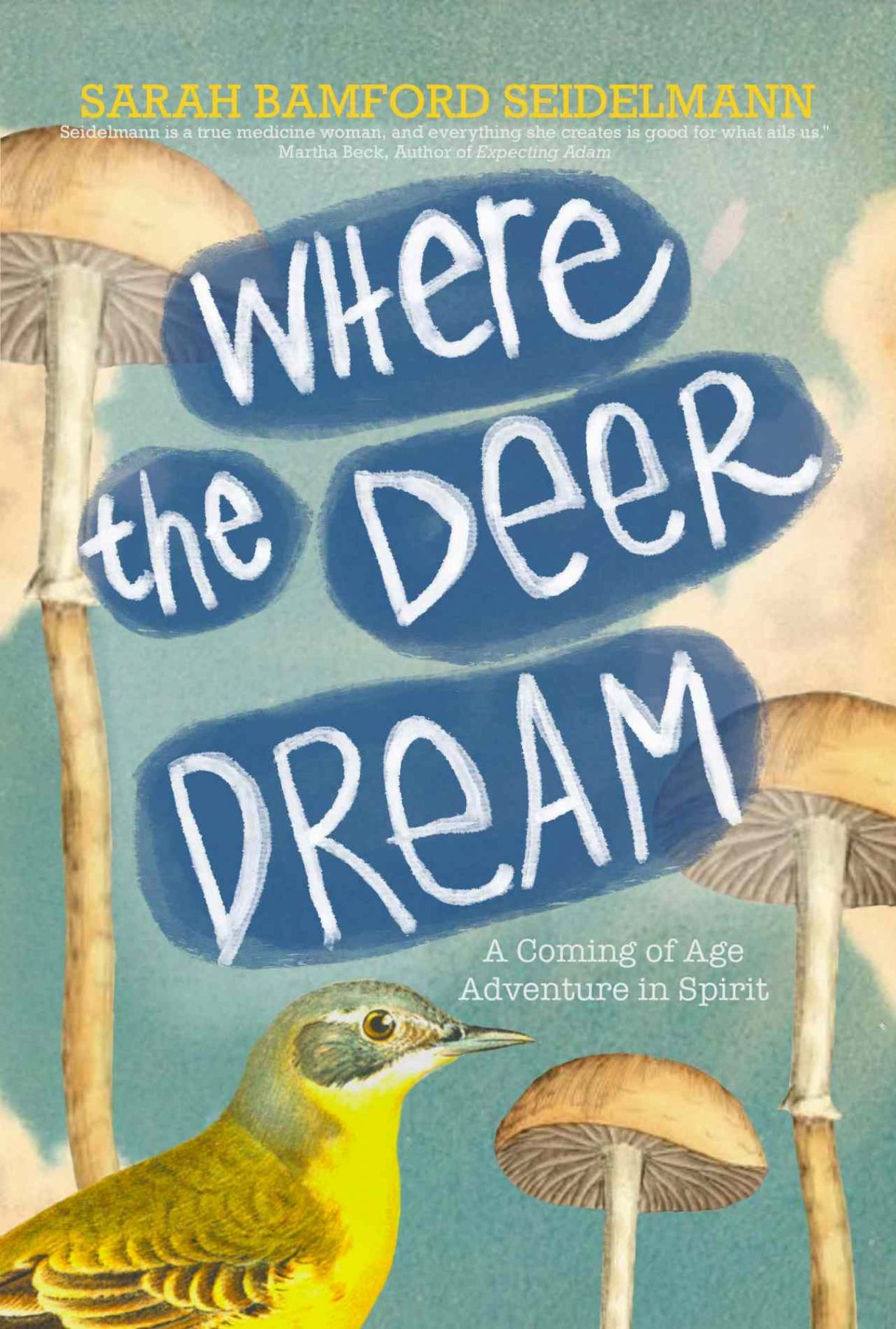 Seventeen-year-old Meera's imperfect life is set to unfold perfectly when an unexpected discovery sends her deep into an unknown world to hunt for help. Meera asks for a miracle which has unexpected consequences.
Meera's epic and mythical adventures lead, quite unexpectedly, to more contentment and joy than she ever could have imagined. Meera's journey, which features the adoption triad of mother, birthmother and adoptee, teaches us about the essential wisdom of following our heart's desires, paying attention to the omens and messengers along the way (especially the wild ones), and the importance of pursuing our dreams.
Praise for Where the Deer Dream
"Sarah Bamford Seidelmann is a born healer. She shows up to bring comfort and ease as a physician, a coach, a visual artist, a mother, a nonfiction writer, and now as a novelist. Where the Deer Dream brings us Sarah at her best, drawing us into her warmth, humor, compassion, intelligence, and plenty of magical beasties. Like Sarah and everything else she creates, this book delights as it heals." —Martha Beck, New York Times bestselling Author of The Way of integrity.
High-school senior Meera has big plans.  She's going to make the world beautiful. The only problem is that to do this she's got to attend Interior Design School at the University, hundreds of miles from home.  She hasn't gone on a sleepover since seventh grade. Thank God her BFF Penn is there for her because with Lorraine, her mom, it's complicated. When Meera discovers something unexpected, a whole lot of confusing things suddenly make sense and, simultaneously, absolutely nothing is clear.  Meera senses she can't get through this in the ordinary way. It's going to take otherworldly assistance. But will she have the courage to open that door? And will it even matter?
Advanced Praise for Where the Deer Dream:
"Where the Deer Dream: A Coming-of-Age Adventure in Spirit" is utterly enrapturing, enchanting, magical! Meera is an engaging heroine faced with an unthinkable  obstacle who must grapple with the issues of loss, belonging, purpose, healing, faith, and betrayal. I absolutely loved following her journey to its deeply satisfying conclusion. Sarah Bamford Seidelmann's novel is illuminating and provocative in all the best ways!"
~Elizabeth (Betsy) Rapoport, Editor and Master Coach
Looking backward into my teen years, I realize that all I've come to know about myself, the Universe, "Magic," and Love was already present. In Where the Deer Dream, Sarah's main character, Meera, struggles to make sense of the very real challenges that she faces--a mix that describes the reasons that so many teenagers suffer: loss to suicide, parental clashes, relationship confusion, adoption, peer pressure, a physical condition, financial shortage, and "weirdness." As I was when young, Meera is aware of the extrasensory, and the seeming chasm between the spiritual and religion. Through the support of her loved ones (visible and invisible), she learns about the true nature of healing and connectivity, both natural and supernatural. As you follow Meera's path, no matter your age, you'll learn that life is really the ultimate miracle.
Cyndi Dale, author of 30 internationally renowned books about energy healing, including The Subtle Body series and Advanced Chakra Healing. 
"Sarah magically weaves this lovely story of Meera, a young girl facing a big challenge, with her characteristic wit, love, incredible imagination, and attention to beauty. The diverse set of characters brings so much to this story of a young girl following her heart and finding her own way. I absolutely could not put this book down, and I did not want it to end. It's a story for both adults and for young people- I can't wait for my kids to read it, too. Sarah, thank you for this gift to the world. "
~Gini Breidenbach, Environmental Engineer + Mesa Carrier in the Andean Tradition
Praise for Seidelmann's work:

"[Swimming with Elephants] is an exceedingly vulnerable, beautifully written book and one of the most genuine spiritual memoirs I have ever read.  It is also- in many hilarious moments- laugh out loud funny."  –Maria Bamford, Comedian and star of Netflix Original Series Lady Dynamite
---
"Swimming with Elephants is an entertaining and moving front row seat in the drama that unfolds when a western-trained physician does the work required to become a true healer. " –Christiane Northrup, MD NY Times bestselling author of Goddesses Never Age
---
"The Book of Beasties guides readers into a profound understanding of the personal messages offered through spirit animals. Detailing the techniques for applying their transformative, healing medicine, Seidelmann empowers us to dissolve the boundaries between what is seen and interpreted by the outer physical eye and the inner eye of the soul."    -Michael Bernard Beckwith, Author of Life Visioning
---
"How Good Are You Willing to Let It Get? is guaranteed to lift your mood, put a spring in your step, and pull you out of whatever funk that old logical brain of yours has plunged you into at any given moment. We all need help keeping our vibration high so that life gets better and better. And we all need validation for when things aren't so great. This book and card deck are designed to assist with this level of human homework. Enjoy them."    -Christiane Northrup, MD, NY Times bestselling author of Goddesses Never Age, The Wisdom of Menopause, and Women's Bodies, Women's Wisdom

---
"Warning: this book can change your life into a dangerously fun adventure. With a blend of humor, grace, and specificity, The Book of Beasties opens us to a world where wisdom—nature's and our own— is lurking at every turn. Seidelmann reveals how even our seemingly mundane encounters with the wild—from the ant attack in our cupboard to the howl of the neighborhood coyote pack—can usher in divine insights."    -Jaimal Yogis, Author of Saltwater Buddha and All Waves are Water
---
"In Swimming with Elephants, Sarah Seidelmann has written a glittering, honest account of what it means to search and also to find. If you are a dreamer, or an overworked parent, if you are someone who recognizes the magic in animals or wonders what it would be like to make a truly bold choice even if you are halfway down your life's path, please pick up this beautiful book." - Sara Corbett, Author of A House in the Sky
---
"What happens if you marry legend, lyricism, and practicality? You create a doorway of light: The Book of Beasties. In a fresh and beautiful style, Sarah introduces you to all things beastie, describing the dozens of spirit animals ready to grant you advice, guidance, and a sprinkling of magic . . . This book is sure to become a daily source of inspiration and insight." - Cyndi Dale, intuitive, healer, teacher, and author of The Subtle Body and The Subtle Body Coloring Book

---
"Swimming with Elephants is a fascinating, amusing, and wise account of how someone born with a shaman's predilections, raised in a rationalist culture, finds her way back to her true self." –Martha Beck, New York Times bestselling author of Expecting Adam
---
"Seidelmann is an often irreverent narrator whose memoir is as transformative as it is off-the-wall. Told with a mix of humor, raw honesty, and gentleness, Swimming with Elephants is a journey of healing. Though becoming a shamanic healer is at the core of the book, it's about much more than just this one route to becoming whole. Seidelmann's struggles will be familiar to anyone who has tried to balance a career with family and personal fulfillment. What stands out is Seidelmann's unique way of bucking tradition and finding her own way. Memoirs work best when the author is ready to lay it all out on the table, and Seidelmann does this in Swimming with Elephants. Her willingness to be herself and to follow her path—no matter how non-traditional and wacky it might seem at first—makes for an endearing and illuminating adventure. –Foreword Reviews
---
"Sarah Bamford Seidelmann has amassed heaps of wisdom in her courageous leap from the safe realm of medical science into the unknown—the world of spirit. In Swimming with Elephants, this incredibly honest and compassionate memoir, you feel as though you're soaking in her courage and wisdom on every page. Even better, you do so laughing." -Jaimal Yogis, author of Saltwater Buddha and All our Waves Are Water
---
Reviews for Sarah Seidelmann's Books from GoodReads
Where the Deer Dreams
$28.00
Buy a signed copy of the book
Free shipping is included.
Read the full product description here

Bulk pricing available
5-9 books: 10% discount
10+ books: 20% discount
Contact Sarah for larger volume discounts
Quantity
Discount
Discounted price
5 - 9
10%

$

25.20