A Memoir: My Unexpected Pilgrimage from Physician to Healer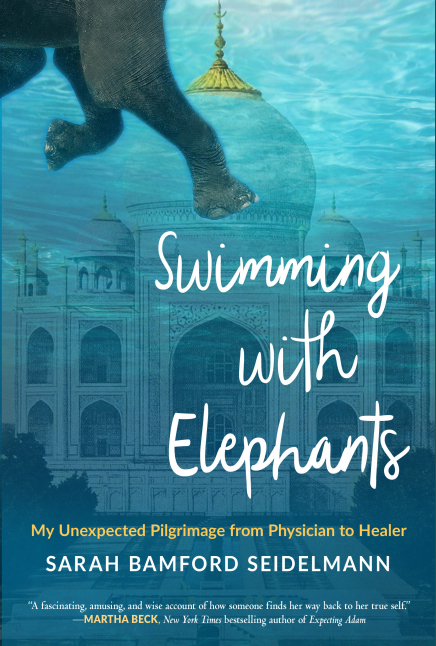 This is a fascinating, amusing and wise account of how someone born with a shaman's predilections, raised in a rationalist culture finds her way back to her true self.
- Martha Beck New York TImes Bestselling author of "The Way of Integrity"
Have you ever longed for more meaningful work?
Or sought a deeper relationship to the sacred?
If your answer (to one or both) is YES, I wrote Swimming with Elephants for you. My dream is that this book will leave you inspired to say YES to your own hero's journey!
After two decades in the study and practice of medicine, Sarah Bamford Seidelmann took a three-month sabbatical to search for a way to FEEL GOOD again. Having witnessed human suffering early in her career, and within her own family, she longed for a way to address more than just the physical needs of her patients and to live in a lighter, more conscious way.
Swimming with Elephants tells the eccentric, sometimes poignant, and occasionally hilarious experience of a working mother and wife undergoing a bewildering vocational shift from physician to shamanic healer. During that tumultuous period of answering her call, she met an elephant who would become an important companion on her journey, had bones thrown for her by a shaman in South Africa, danced with sacred stones, and traveled to India for an ancient Hindu pilgrimage, where she received the blessing she had been longing for. Ultimately, she discovers an entirely different kind of healing, one that enables her to help those who are suffering in the way she had always aspired to.
Freebies!
If you'd like to learn about any book related events- please subscribe to my list in the yellow box above.
In Case You're New Here: About The Author, Sarah Bamford Seidellman
Sarah Bamford Seidelmann was a physician living a nature-starved, hectic lifestyle until a walrus entered her life and changed everything. She has trained at the Martha Beck Institute and Michael Harner's Foundation for Shamanic Studies, and is author of Swimming with Elephants (Conari Press, 2017). She lives in northern Minnesota.
Praise for Swimming with Elephants:

"This is a fascinating, amusing, and wise account of how someone born with a shaman's predilections, raised in a rationalist culture, finds her way back to her true self." –Martha Beck, New York Times bestselling author of Expecting Adam
---
"This is an exceedingly vulnerable, beautifully written book and the most genuine spiritual memoirs I have ever read.  It is also- in many hilarious moments- laugh out loud funny."  –Maria Bamford, Comedian and star of Netflix Original Series Lady Dynamite
---
"Swimming with Elephants is an entertaining and moving front row seat in the drama that unfolds when a western trained -physician does the work required to  become a  true healer. " –Christiane Northrup, MD NY times bestselling author of Goddesses Never Age
---
"Sarah Bamford Seidelmann has amassed heaps of wisdom in her courageous leap from the safe realm of medical science into the unknown - the world of spirit. In this incredibly honest and compassionate memoir, you feel as though you're soaking in her courage and wisdom on every page. Even better, you do so laughing."    -Jaimal Yogis, Author of Saltwater Buddha and All Waves are Water
---
Sarah Seidelmann has written a glittering, honest account of what it means to search and also to find. If you are a dreamer, or an overworked parent, if you are someone who recognizes the magic in animals or wonders what it would be like to make a truly bold choice even if you are halfway down your life's path, please pick up this beautiful book. - Sara Corbett, Author of A House in the Sky
---
"From the lakes of Minnesota to the Ganges River in India, Sarah Seidelmann's transformative journey from MD to shamanistic healer is a refreshingly honest and very funny tale of spiritual growth." -Matt Adrian, author of The Guide to Troubled Birds
---
"I LOVED THIS BOOK. Sarah takes us on an intimate tour of the hero's journey. She's a brilliant storyteller...making sense of the baffling journey from the ordinary world into the mystical and back again. I didn't want it to end." -MeiMei Fox, New York Times bestselling author
---
From Foreward Reviews:
Seidelmann is an often irreverent narrator whose memoir is as transformative as it is off-the-wall.
Emotional and spiritual awakening are at the core of Sarah Bamford Seidelmann's memoir about her transition from medical doctor to shamanic healer. The title, Swimming with Elephants, refers to one of the powerful spiritual journeys that Seidelmann takes with Alice, her animal spirit guide, who appears in the form of a happy and supportive pachyderm. Alice is at Sarah's side soon after she realizes that dealing with sickness all day while juggling a family of four kids is simply not working for her. What calls to her instead is much less mainstream.
Told with a mix of humor, raw honesty, and gentleness, Swimming with Elephants is a journey of healing. Though becoming a shamanic healer is at the core of the book, it's about much more than just this one route to becoming whole. Seidelmann's struggles will be familiar to anyone who has tried to balance a career with family and personal fulfillment. What stands out is Seidelmann's unique way of bucking tradition and finding her own way.
From energy-healing retreats and solo journeys in her walk-in closet to all-encompassing trips to spiritual meccas like the Taj Mahal, Seidelmann embarks on a path that may seem completely foreign to some, but that nevertheless results in resonant calm and healing.Touching on the power of crystals, the ability to communicate with animal spirit guides, and internal trips to higher realms, this is a guide to everything mystical. Seidelmann is an irreverent narrator who pairs deep, soul-baring stories with quips about boob jobs and her "shadow spirit," resulting in a memoir that is as transformative as it is off- the-wall.
Memoirs work best when the author is ready to lay it all out on the table, and Seidelmann does this in Swimming with Elephants. Her willingness to be herself and to follow her path—no matter how non-traditional and wacky it might seem at first—makes for an endearing and illuminating adventure. –Angela A Woltman (September/October 2017)
---
From Publishers Weekly:
Physician Seidelmann shares her personal journey from being practitioner of Western medicine to becoming a shamanic healer in this feel-good spiritual memoir.
When "the prescribed and logical ways of navigating the world weren't working for [her] anymore," Seidelmann began dabbling in various spiritual traditions. Her search included years with the Foundation for Shamanic Studies, an expensive trip to South Africa, and another to India. She recounts her adventures in India—overland journey in a leaking bus, staying in huts, finally meeting with a guru, a ritual cleansing in the Ganges—and throughout is guided by her "spirit animals"—Alice the elephant and Charlotte the brown recluse spider among them. Though there are moments when readers will wonder about issues of cultural appropriation and privilege, Seidelmann's awareness that some might view her as "some sort of New Age fraud" lends honesty to the text, balancing these concerns and leaving it to the individual to decide. This book will resonate with those yearning to learn more about global spiritual traditions from a fellow Westerner's perspective. (Oct.)
---
From the LA TIMES:  Maria Bamford's Favorite Self-Help Books: "
This is my sister's latest book. It's her story — a memoir about reinvention. She was a pathologist for about 15 years, lived in Duluth, Minn., bought a giant house and had four children… She was kind of a super-doer. She slowly started going part time and eventually transformed herself into a life coach and a practitioner of shamanic healing. It's very brave. In L.A. it's OK to do something like that, but where she lives it's a risky choice. She has two other books, "Born to Freak" and "What the Walrus Knows," both self-published. For this one she got a book deal. She's really funny. In one of my favorite scenes there's the chaos of their home — a giant kitchen remodel — and she's lying in her bathroom thinking, "What am I doing? What's going on?" She went to Thailand and swam with elephants. That's where the title comes from. She used to be a very logical person and now she has a spiritual guide. It's very inspiring to me."
Reviews for Sarah Seidelmann's Books from GoodReads
Swimming with Elephants
$28.00
Buy a signed copy of the book
Free shipping is included.
Read the full product description here

Bulk pricing available
5-9 books: 10% discount
10+ books: 20% discount
Contact Sarah for larger volume discounts
Quantity
Discount
Discounted price
5 - 9
10%

$

25.20