The Medicine of the Despacho is Beauty.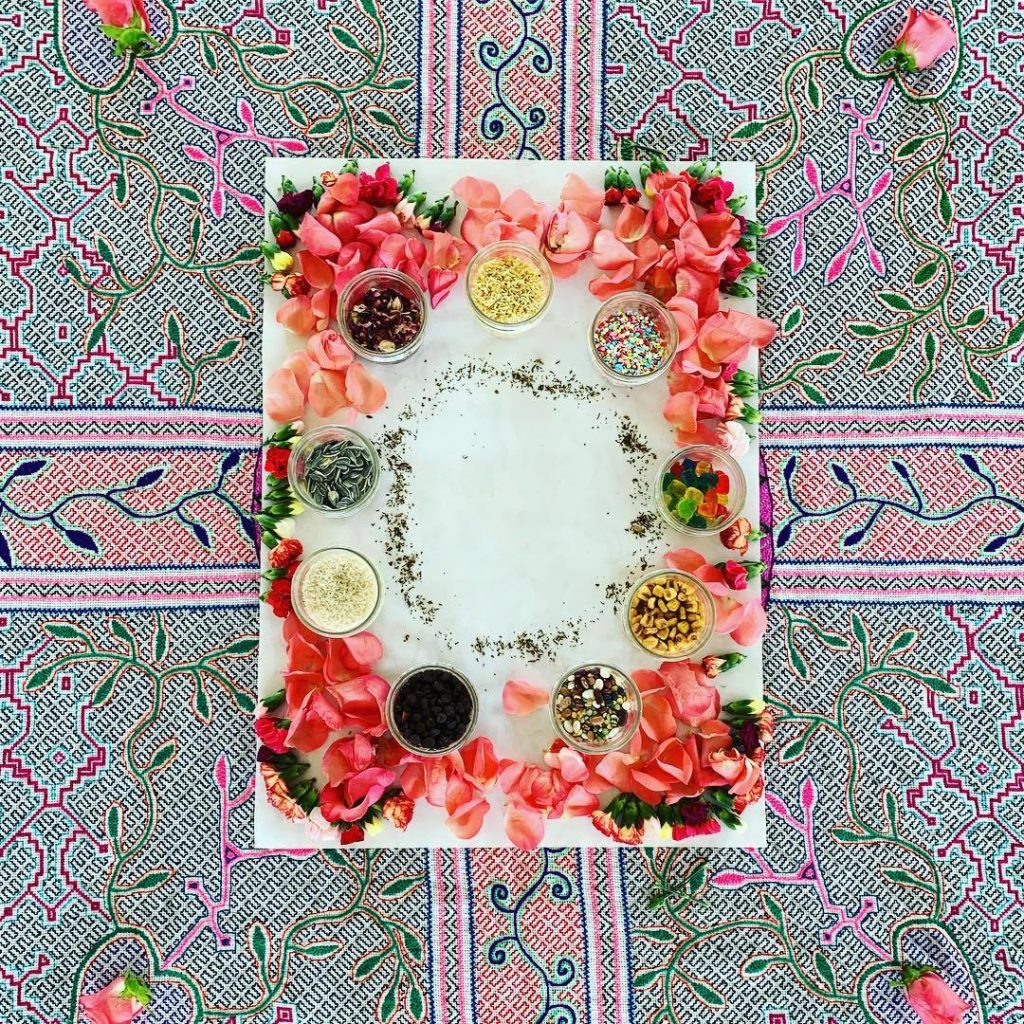 Dear Creators of WONDER and MAGIC!
I just wrapped up a 1/2 day retreat here in Minneapolis at the home of Jewelweed's owner Jodi.  Her shop in Minnetonka is a mystical wonderland for lovers of moon and magic- books, crystals, beautiful adornments and treats!  If you're local- make time to visit this magical space. Not local? She'll ship you a box of goodness- give her shop a call! Jewelweed
Together we created a despacho (in Spanish it means "dispatch"), a visual prayer/offering (this tradition comes from the heart of the Q'ero people in the Andes who encourage all to share it!)  to the divine full of gratitude and our requests for assistance on our own Hero's journeys. It's a care package of sorts filled with prayers of appreciation that we "ship" to the divine by burning it in a fire.
Pictured below- a despacho set up and ready to be prayed.  The cloth is made by a Shipibo artist and the designs come directly from the spirit of sacred plants.

What would it look like to live your life as an offering?
To live "covered in prayers and flowers"?
One way that we can become more beautiful is to allow the divine feminine to be expressed more fully.
We will be practicing that very thing together in Bali April 1-11 2020.  I would love to have you join us for this sensual adventure.
600.00 saves your spot and, if the Thailand trips is any indicator, these spots will go quickly.
Get all the details and itinerary Bali: Wildly Aligned.
I will be in MINNEAPOLIS tomorrow night (Tuesday April 16th) at 6:30 pm at The Marsh in Minnetonka on Tuesday April 16th telling my story of leaving medicine to become a healer.
Join me and other like minded heart for an evening of inspiration and connection!
I'll have books and am happy to sign yours if you bring them along!
REMEMBER- YOU ARE the GIFT and the medicine that others need!:)  Be kindly to yourself.
much love,
Sarah
P.S. If you aren't quite ready to commit to 1:1 coaching or healing work but you are longing to feel better in your life….  I have created a wonderful program where I teach you everything that I teach my 1:1 clients-  it's called Life Pirate Academy and its getting glowing reviews!  Check that out here.