Despachos: Prayer Bundles from the Heart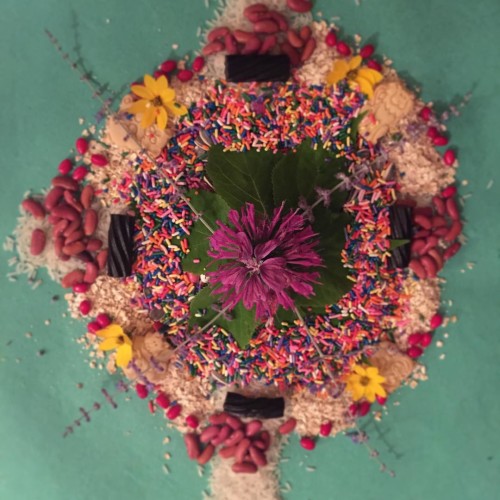 A despacho above I created for a marriage ceremony.  It was made in private, prior to the ceremony and during the ceremony the guests blew their prayers and blessings into it before it was offered to the fire.  
I first learned about the beauty of a despacho ceremony when one was done for me by a Peruvian shaman who was visiting the US.
"In the Andean tradition of Peru, a despacho is a ceremonial offering to the Mother Earth and the Apus (Mountain Spirits).  You could think of it was a focused formal way to dispathch or ship your prayers."- from Steppingintofreedom.com
I sat across the table from him in silence and as he worked, we exchanged smiles and gestures.  Using a plain sheet of paper, he began to build the despacho- or prayer offering with organized mandala-like layers of rice, sugar, beans, gummy bears, colorful yarn, chocolate and cotton.  He seemed to be in pure joy as he made this simple, meditative and child-like work of art.
Alice the elephant has taught me that despachos are made from the heart- there is no right or wrong way to do them.  Each ingredient  (rice sugar, etc) of the base represents something we are grateful for in life-  food, shelter, the warmth of the sun, spirits, joy, relationship.  He gave me several dried leaves or kintos which I was instructed (by a card written in English) to blow my intentions and prayers  into.  When he was satisfied the offering was complete and he had added my prayers into the bundle, he carefully wrapped it up and tied it with yarn.  I was instructed to return home and burn it in a fire.
You can watch an Andean shaman make a despacho in the traditional way of that area here.
A despacho is a a way of giving thanks and for asking for aid, healing, a blessing or simply for things to be brought into balance in our lives.  To create one, we call all of our loving and compassionate spirits to be with us as well as our own souls.  The items we place in it are gifts we humbly offer to the One, the Great Spirit, God or The Universe to say thank you for everything we have been given.  Our heartfelt prayers are infused into each element.  Once it's finished we can either burn it (its said that brings quick results!) or bury it in the ground for a more gradual effect.
At the time, I had just left my medical practice and was feeling tenuous and unsure of where my strange path would be taking me.  It felt so absolutely wonderful to think that somebody was praying for me and also to ask for a blessing on my path.  The process of witnessing this despacho being made and (later) burning it gave me a lot of peace.  And my subsequent path was truly blessed.
I knew five years ago when I sat with the shaman from Peru that I wanted to make despachos for others someday.  This summer I had a few clients for whom a despacho seemed the perfect answer and at the same time my friend Natalia published her beautiful new book on ceremony which sparked the inspiration.  If you'd like to learn how to do personal ceremony for yourself-but this book- its gorgeous and has beautiful simple instructions.
When you might want to have a despacho ceremony done for you:
In times of transition – changing careers/jobs, moving. when big change is afoot.
If you want to sell your home.
If you are launching something big-  a book, a new business, a marriage….
For new beginnings..a birth….
To have help to release something/someone…a child leaving for college…the death of a loved one…a divorce
When a community, family  or group of people may want to do a despacho
To grieve a loss or ending.
To restore balance that has been lost.
To ask for blessings on a dream, big transition or project.
To ask for healing, restoration of what has been lost.
I am now offering the despacho ceremony both in person and locally.  Its a powerful way to work.  In the days and weeks that follow a despacho being burned or buried, you may be surprised at what comes to pass.  Prayers may be answered in ways you could not have  imagined and shifts subtle and not so may occur.   It takes around 30-45 minutes to complete.  You will leave with your despacho and invited to burn it or bury it in your yard to complete the ceremony. If you are not in person-  I will mail the despacho to you via Priority mail so that you can either bury or burn it locally at your home.  I will also email you a photograph of the interior of the completed despacho.   The fee is $150.00 for a personal session.  Contact me directly for a group despacho creation or wedding despacho.  You can schedule yours here.
The video below shows how you can make your own gratitude deapacho…