Set Your Home Up to Get More of What You Want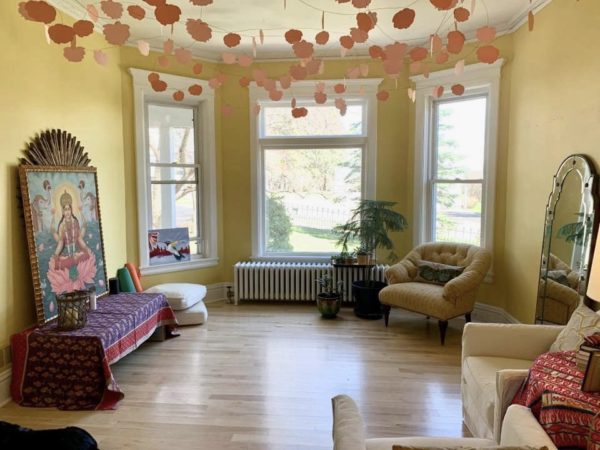 Art installation of floating peony blossoms on our living room ceiling by @Peter Witrak
Dear Creators of WONDER and MAGIC!
I am a firm believer in the power of our spaces to shape our lives.  I've been an informal practitioner of #FengShui (or Feng Schwing! -as I like to call this ancient art of sacred space making) for decades. And I had a private consult with Amanda @simpleshui that helped me to work with this house when we moved here.
This Spring, I've had hankering to make more room for yoga and dance in my life. Too much writing and sitting has made me inflexible:)
As I contemplated our home, I realized that we weren't using this room (pictured above) much and, if I slid the couch into the next room, and packed up a few things, it could be come more studio like.
It took about 45 minutes total and now it feels wonderful!
We meditated to beautiful music on Sunday morning here and I just finished my first 30 minute session of yoga using a wonderful little app!
It turns out that this room is also the "love and relationship" area in our home's FENG SHUI "bagua map"-  which is kinda funny because Mark and I are focused on celebrating and enhancing our marriage of nearly 28 years this season!
What space in your home is underutilized and what do you want to GROW? Can you see in your mind's eye what needs to change? Or maybe you want your family experience to be different?
If you want to write more, can you create a little corner writing desk (or chair)…
If you want to paint more, can you create a mini studio in the kitchen…or somewhere else bright and cheery.
If you want more conversation and creativity, get rid of TV and bring the guitar and drumset into the room.
If you want to __________ more- what do you need to do it?
I know from the zillions of times that I have done this in the past- shifts will come, little abundances will arrive and more good will flow….all because I noticed what was no longer working and I made a few moves to shift it and make space for what new was wanting to be born.
If you are reorganizing and re-beautifying your spaces- another cool thing I learned might be fun for you!
My friend Jodi who owns @jewelweed.shop  In Minnetonka, MN is a #bibliophile like me! I visited her beautiful home and loved how she grouped books in COLORS ! It was fascinating to see what themes came together for me in these stacks:
#beasties #animalspirits #japan #travel #creativity #art #transformation  #death #travel and #stories all the things love!
What do your color coordinated stacks of books tell you about YOU? Maybe a theme is coming together for a writing project? A business? An art piece? Our favorite books can tell us who we are!
_________________
Is 2020 the year you'll go to Bali with other like-hearted goddesses?  Read more about the adventure we have planned and plunk down your 600.00 deposit to hold your spot!:) BALI: WILDLY ALIGNED!

(Bali where we will have a sacred water ceremony)
much love,
Sarah
P.S. Ready to start stepping out of your comfort zone and doing the things you came here to do? It's time for SUMMER SCHOOL! I know that during summer some of you will be making time for transformation- so I'm making Life Pirate Academy even more  AFFORDABLE! Its now $65 for the summer  Check that out here.
BECAUSE, YOU ARE READY AND ABLE TO DO BEAUTIFUL THINGS!
Who are you NOT to write that book, begin that beautiful business, go back to school, take that radial sabbatical?
P.S.S. Ready to take other like minded souls on transformational journeys?  We need you! Learn how to become a FACILITATOR for my Hero's Journey Reteats (2 hour to 1/2 day to full day events) HERE.