My new book "How Good Are Your Willing to Let It Get?" is now available.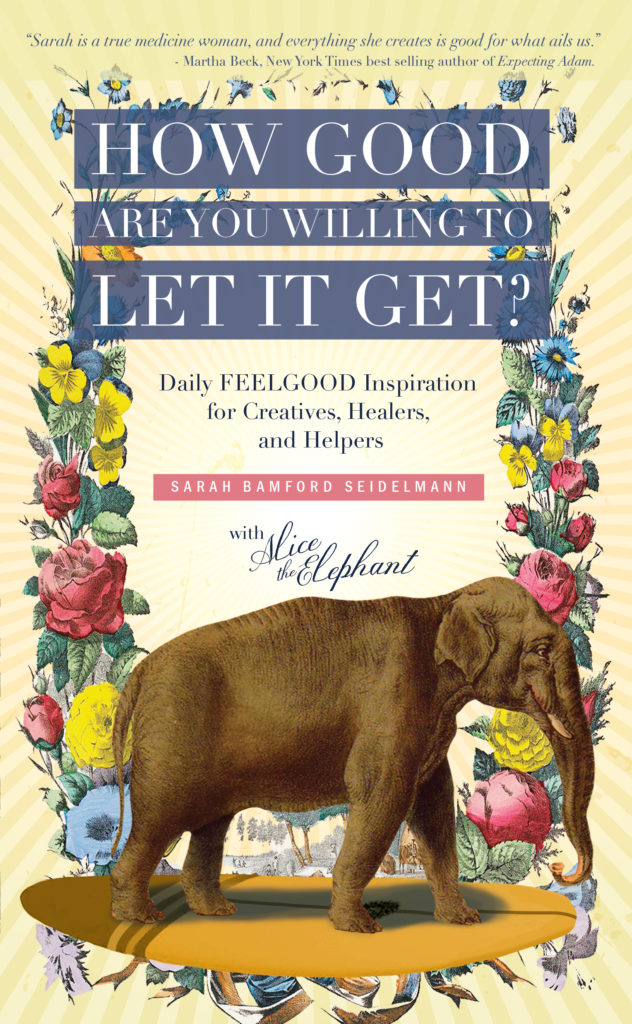 (CLICK ON IMAGE above to witness the THRILL of seeing a creation come into being!)
Hallooooo dear creators of WONDER and MAGIC from us, Sarah and Alice the Elephant!!
We have a new book for you, "How Good Are You Willing to Let It Get?: Daily FEELGOOD Inspiration for Creatives, Healers, and Helpers." It's written for all you wonderful creatives, healers, and helpers who make our world beautiful.
It will arrive June 1st!
FREE GIFT
Upload your proof of purchase (or screenshot of your pre-order) of "How Good Are You Willing to Let It Get?" and will receive my FREE guided meditation designed to help you discover your "WHY" and embrace your gifts.
About the book:
Sarah and her magnificent spirit animal Alice the Elephant, created this wee book of inspiration to encourage creatives, healers, and helpers. Alice offers up daily wisdom in a lighthearted (and sometimes salty) way, and Sarah adds her own reflections along with a prompt and prayer. PRE-ORDER and grab meditation here. 
Themes include:
• Humility
• Moderation
• Self-love
• Family
• Friendship
• Creativity
• Pitfalls & quagmires
• Addiction recovery
• Dealing with fear
How good are YOU willing to let it get?
We hope your answer is "VERY good, indeed!"
and this book will help you get there.
"Seidelmann's transcribed instructions from Alice the Elephant in  How Good Are You Willing to Let It Get? Bring a sense of higher meaning, softness, humor, and beauty to our human voyage through a difficult world. Sarah Seidelmann is a true medicine woman, and everything she creates is good for what ails us."
Martha Beck, author of Expecting Adam and Finding Your Way in a Wild New World"How Good Are You Willing to Let it Get is guaranteed to lift your mood, put a spring in your step, and pull you out of whatever funk that old logical brain of yours has plunged you into at any given moment. We all need help keeping our vibration high so that life gets better and better. And we all need validation for when things aren't so great. This book and card deck are designed to assist with this level of human homework. Enjoy them."
Christiane Northrup, M.D., New York Times best-selling author of Goddesses Never Age, The Wisdom of Menopause, and Women's Bodies, Women's Wisdom
Thank you for your support and readership!  It means the world to me.
Needing extra support or wanting to really lean into all the opportunities for transformation that are happening NOW?  Become a Life Pirate today.
Is there something you've been longing to create, but it's not happening? Could you use some support and guidance?
Or are you feeling a big shift in your life and want to travel this territory with somebody who has journeyed it before you?
I have openings now for coaching clients, shamanic mentoring and for 1:1 shamanic healing sessions.
with love, Sarah
Has plant medicine and Peru been calling you? In May 2020 I will be hosting a group for a two week sacred medicines retreat in Pisac.  Read all about it here and download an itinerary. 

——————————————————————————-
(RESCHEDULED) Oct 16-18 2020   Til Death Do Us Start – An Experiential Workshop to Enliven You. (Camp Amnicon in N. Wisconsisn)  Register here
Have you wanted to come to one of my retreats and love Lake Superior and fabulous architectural design?  I have got a beautiful event in Oct 9-11 2020 at Wild Rice Retreat on the shore of Lake Superior in Bayfield Wisconsin. David Salmela designed the entire building as well as the beautiful cottages you get to stay in!  Check out the details and register here.