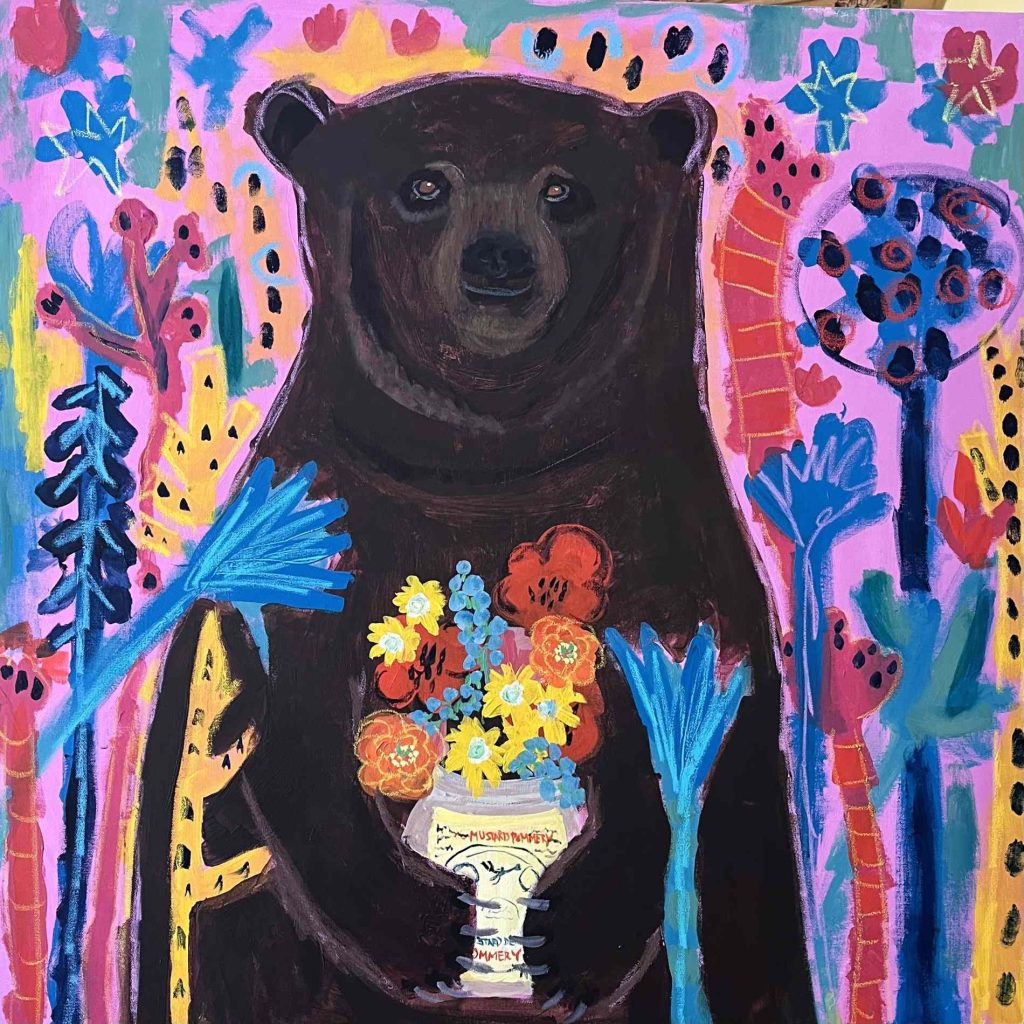 "My Other Mother"
When my mom (that's her mustard jar holding the flowers) was in her dying process we had a stolen moment and she shared with my that she hoped I'd find another mother figure to support me. In that moment, I already knew that I had another mother who believed in me. Today I had a moment of deep gratitude in the woods after painting realizing that my other Mother is everywhere and she's everything.
"My Other Mother" acrylic and oil pastel on canvas. 36 x 36 inches (origianl is SOLD)
Prints + more available HERE.
This week, I overheard author and spiritual teacher Denise Linn say that 2023 is the year of the water rabbit and it is THE YEAR to plant seeds that will grow for that harvest that you want for THE REST OF YOUR LIFE.  WOW that resonated. There is much fertile ground right now. What seeds are you planting?
1. A WRITING PROMPT THAT ROCKED MY WORLD (it came from a Bright Line Eating Workshop)
Imagine someone who had achieved the goal you're setting out to achieve (it can be you or another person). What IDENTITY would they have? What kind of person would they be? What would they believe about themselves?
Here's what my writing revealed  for me as I head towards making more art!
She would goof off and take fun breaks!
She would ask for help.
She'd believe her work could change lives, esp. her own
She'd believe that her work was valuable.
She believed that her paintings could bring joy + healing to others.
She's believe that every canvas and pit of paint is an investment in joy.
She wouldn't take herself or her work seriously at all- she'd regard it as play
She's trust that each moment of painting was precious and she'd focus on the joy of color + mark making every single day.
I hope you discover things that LIGHT YOU UP!
2. When Something is REALLY HARD and you feel like a CLUTZ and like you're never going to GET THERE- hang in!
Breakthrough: In mid December I was so frustrated – could barely jump rope at the kickboxing gym….and  feelings of defeat dogged me but I keep showing up. Just last week, I was able to jump a double jump sustainably for three minutes but this week- I could not believe it—I was able to jump single jumps- and it felt amazing! Keep showing up. Don't believe the voices in your head. It's hard yes but keep going!!- HERE IS MY AWKWARD VIDEO PROOF!
3. EMILY POWER (ARTIST) is MY HERO.  Sometimes you meet somebody online who is an angel in disguise-  who teaches you what you most need to learn!  She's a stunning artist and KIND HEARTED HUMAN!  Here's a free course she teaches exercises to loosen you up for painting! 
I've noticed she's not self critical and she embraces working fast + joyfully which resonates with me! In this course she shares some "loosening up" exercises- her work is astonishing! Follow Emily HERE.
Who is changing your life for the better on your social media channels?
4. What if you could be more outrageous, and daring? What if you let yourself be seen and take up space? What if you just want more clarity about what makes you feel like a million bucks?
Learning more about yourself and what you like to wear will not only make you feel better, but you'll also stop buying a bunch of clothes you never wear. What a blessing! Both for you and the planet. If you want to participate in Authentic Fashion February, you can learn more here. We start on February 17th! INger Kenobi and I have a great convo about what this all means to us on her new podcast. LISTEN HERE.  
5. QUOTE I am loving! 
"Hope is not a strategy."
Nicole Lance, from "Awesome On Your Own Terms"  Why I love it- its SALTY and gets at the truth of life— we have to get into action if we want our experience to be different.  No huge leaps but tiny actions daily…moving towards the version of ourselves we sense we MUST become if we are to be satisfied!
What actions are you taking today to plant seeds for the YOU you are becoming?
You can book vibe-raising divinations, life- coaching, shamanic healing and/or mentoring HERE. 
with love,
Sarah
This email is reader supported! The best way to support me is to:
1. BUY MY BOOKS  (or listen to them on Audible!)
2. Purchase my CARD DECK 
2. DOWNLOAD my BEASTIE App for Wild Animal Messages
3. Book a HEALING or COACHING session with me.
4. Take a CLASS from me.
5. Purchase a mug, t-shirt, framed print, tote bag, shower curtain or other magical thing that I have created at MY ART SHOP.
6. FORWARD this newsletter to somebody who you know would enjoy it!
Would you like to explore your own authentic style and get better at getting dressed in a way that FEELS GOOD for you?
–Have you ever bought an issue of Vogue, enthralled by the beauty of fashion and hoping you could raise your personal style quotient only to to feel frustrated or overwhelmed?
–Have you believed that some people just "know" how to dress with style and you just aren't one of them?
–Despite the fact that you've got a closet full of clothes (or even 2 closets full!), do you find yourself donning sweats or yoga pants much more often than you'd like because you can't anything good to wear?
–Do you remember wearing an outfit in the past and feeling fanfuckingtastic in it….receiving compliments and wishing you could figure out how to dress that way again for the person that you have now become?
–Have you had periods in your life where you felt damn good about what you were wearing but, in time you lost that loving feeling and those clothes no longer fit (literally, or no longer fit who you have become)?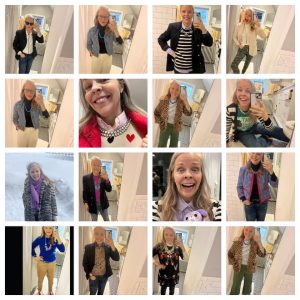 If you said yes to one or more of these or you simply long to CREATE MORE BEAUTY in your life, this is for you!
Join the Love Yourself First Virtual Summit on February 13 – 16, 2023. Get inspired to move beyond burn out culture and put your needs at the top of your to-do list, even if you're used to putting yourself last.
I've been selected to speak at this event, along with 30+ leaders and teachers. We'll all be bringing our best tips and strategies for putting on your own oxygen mask first. Who couldn't use that reminder? (There's a reason they repeat this instruction on every flight…it's because in the heat of the moment, it's so human to forget to take care of ourselves!)
It's totally free to register. You can do that by clicking here.
The summit will explore:
Practices to transform stress, challenging habits, shame, trauma, and more
Practical tools to cultivate rest, renewal, and wholeness
The relationship between self-care and selflessness
Self-care as a superpower to fuel transformative action
Live interactive, experiential workshops
And much more!
Hope to see you there!
Register now for the Love Yourself First Virtual Summit February 13-16, 2023