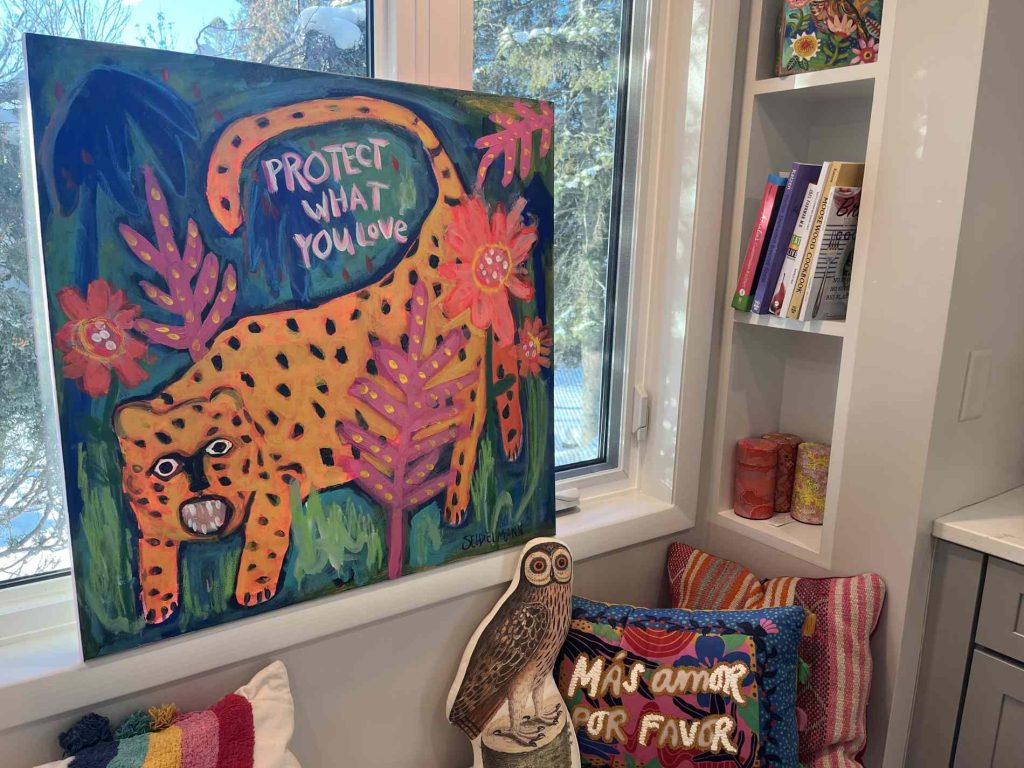 (original art and prints available HERE)
I'm extremely grateful that you have come to visit me here and I dream that what you find here encourages and uplifts you.
My friend was lamenting the winter and the effect it was having on her mood and, somehow, I realized that I had (in my brain?) declared winter OVER a month ago.  Kind of weird?  Is it possible to decide that winter is over? I feel like I did that.   I just mention it in case you'd like to declare something "OVER" right now.  If you want a witness to your declaration, hit reply, and tell me about it! i!
I have been painting my face off and selling paintings and it's given me quite a buzzy and wonderful feeling. I am waking up early with ideas for paintings, the house is a bit of a mess,  and I am remembering how good it is to feel ALIVE.
1. I loved this story from author Kurt Vonnegut:
He tells his wife he's going out to buy an envelope.
"Oh" she says, "well you're not a poor man. You know, why don't you go online and buy a hundred envelopes and put them in the closet?".
And so I pretend not to hear her, and go out to get an envelope because I'm going to have a hell of a good time in the process of buying one envelope. I meet a lot of people, and see some great looking babies. And a fire engine goes by, and I give them the thumbs up. And I'll ask a woman what kind of dog that is. And, and I don't know. The moral of the story is we're here on Earth to fart around. And of course the computers will do us out of that. And what the computer people don't realize or they don't care, is we're dancing animals. You know, we love to move around, and it's like we're not supposed to dance at all anymore.
~  Kurt Vonnegut
I have fun going to the UPS store ( I know all the people there VERY WELL!) and the kickboxing gym.  How do you have a hell of a good time while going out in the world?
2.  Joining a ceremony can shift powerful things in your life.   Even if its on ZOOM!  There is a free gathering on Saturday and some of my friends are playing music or doing the tobacco prayers and it will be so beautiful!  Gather with a friend, or set up your own sacred space and pray, make art, dance and meditate!  It will be beautiful.  Sign up and secure your space
3. Sometimes all you can do is HOLD.
4. Starting from Scraps HELPS.  It can be hard to stare down the "blank page".SO don't start blank- start with a scrap. I love collage and have crated many digital works by starting with "scraps" from other (public domain art) sources)….it's so satisfying. That's why capturing little paragraphs of ideas  in your journal (or I like google docs or the notes on my phone!) can be the seed for a larger chapter. Or an image you painted could be come part of a larger work.  Austin Kleon writes about it in a blog
I'm heading to Colombia for two weeks to support some beloved friends in a vision quest! So, I won't be in touch for a few weeks but I will return full on inspiration for you!
In the meantime, I hope you'll consider joining us for Authentic Fashion Feb!  It's truly the most fun you can have in Feb…  creativity, community and PLAY!  Read more below!
You can book vibe-raising divinations, life- coaching, shamanic healing and/or mentoring HERE. 
with love,
Sarah
This email is reader supported! The best way to support me is to:
1. BUY MY BOOKS  (or listen to them on Audible!)
2. Purchase my CARD DECK 
2. DOWNLOAD my BEASTIE App for Wild Animal Messages
3. Book a HEALING or COACHING session with me.
4. Take a CLASS from me.
5. Purchase a mug, t-shirt, framed print, tote bag, shower curtain or other magical thing that I have created at MY ART SHOP.
6. FORWARD this newsletter to somebody who you know would enjoy it!