What If Your Work Won't Be Celebrated Until After You're Dead?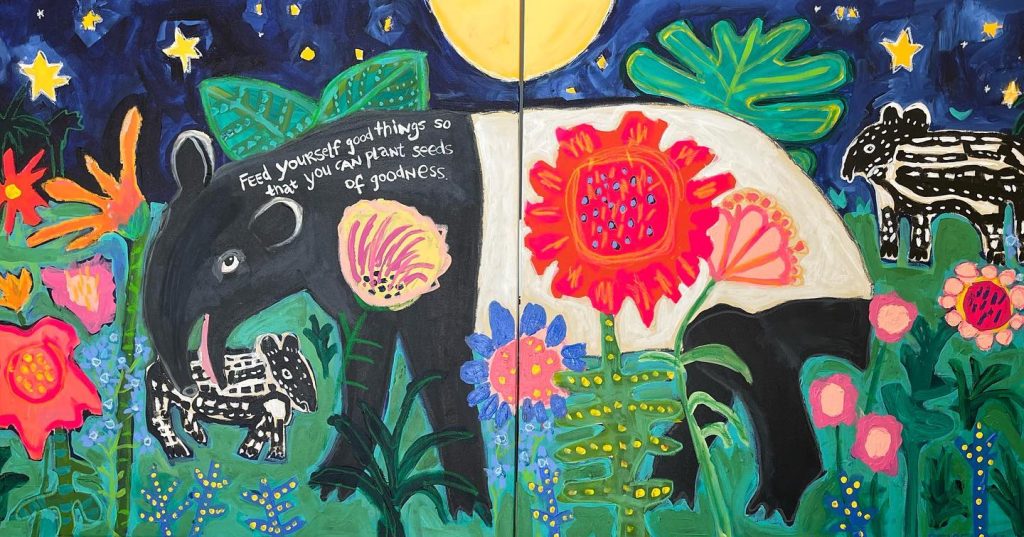 (image above: "Progeny" Acrylic on Canvas (SOLD)
Here are 5 things I'm Extremely KEEN on this week!
1. What if you will be CELEBRATED, but not until AFTER you're dead….
A local group of incredible female entrepreneurs got together recently in my town to write a piece openly sharing their grief and immense struggle at creating their own brands + products. They wanted us to see that their lives are difficult + that "success" on the outside doesn't translate into easy peaceful lives.
It got me to thinking about how so many creatives lives aren't recognized/celebrated/seen/understood until their life is over or nearly so. Like Hilma af Klint, for example.  Her work has uplifted so many of us in 2023, but what was it like for her to create day in and day out in 1920 (to chose just one productive year in her life) without a supportive community/audience?
How many people only hear at their retirement the true impact of their worK?
Or, what was it like to be Van Gogh who sold just one painting in his lifetime (whose work now is known by nearly everyone with a beating heart int he world).
What if he had known that he would be celebrated- but not for a very long time (after he was dead).?
I have to remind myself (often) that I can't create my written or visual work for anybody but myself….but  I always have you in mind because, deep down, I know that we are "one". I want to be *seen* by you too because it affirms our connection.
And connection is all I've ever longed for. And I also need my time alone so badly. I have to create within this paradox.
What if each of us was to ASSUME that our creative work, one day, would be understood/appreciated….just not in our lifetime……how would we want to show up for our work today?  I think I'd be stoked and I'd relax a little.  I'd trust a little more– what about you?
2. Mel Robbins' Mother-in-Law is the GOAT: Meet Judy- coach Mel Robbin's mother.  Listening to this 48 minutes gave me LIFE. Inspiration and fire in my belly that I do not have to grow older with each step, but more AWESOME.  LIsten here.  
3. Hooray my last day of 84 days is complete! Phew this one wasn't exactly hard but it wasn't easy either! The funniest stuff seems to come from my real life. Thanks for being here! VIEW THEM ALL HERE. 
I've uploaded a few to my shop in case you'd like a mug, print or greeting card!


4. Don't Forget the Most Important Part of A Prayer + Miracles:  A Powerful Shamanic Ceremony I experienced and what I learned.  WATCH 6 minute video at youtube. 
5. Quote I'm in love with:
"To achieve great things, two things are needed;
a plan, and not quite enough time." – Leonard Bernstein.
6.  Best Thing I purchased this Summer!  Many of you know that I have been a chronic nail biter.  So much so that my comedian sister Maria has parodied me mightily!    BUT, this summer I realized that if I could keep "bright lines" around sugar and flour and quantities with my food, I could ALSO create a bright line around nail biting and I did. I've been biting-free for 2 months and celebrated by purchasing a kit from Olive and June (I do not get paid for this advertisement:).  I especially loved their video that teaches you how to do an at home manicure.  The kit pays for it self after 2 or three polish jobs (versus a salon!).  Enjoy!
As always, you can schedule vibe-raising divinations, life- coaching, and shamanic healing/mentoring  HERE.  I will be gone for much of September so hopefully you can find a time that works before then…or feel free to grab a time in October!
with love,
Sarah
This email is reader supported. It's typed up at my desk near the kitchen from notes I take throughout the week! The best way to support me is to:
1. BUY MY BOOKS  OR   Listen to them at Audible 
2. Purchase my CARD DECK 
2. DOWNLOAD my BEASTIE App for Wild Animal Messages
3. Book a Shamanic HEALING, Shamanic Mentoring or COACHING session with me.
4. Take a CLASS from me.
5. Purchase a mug, t-shirt, framed print, tote bag, shower curtain or other magical thing that I have created at MY ART SHOP.
6. FORWARD this newsletter to somebody who you know would enjoy it!