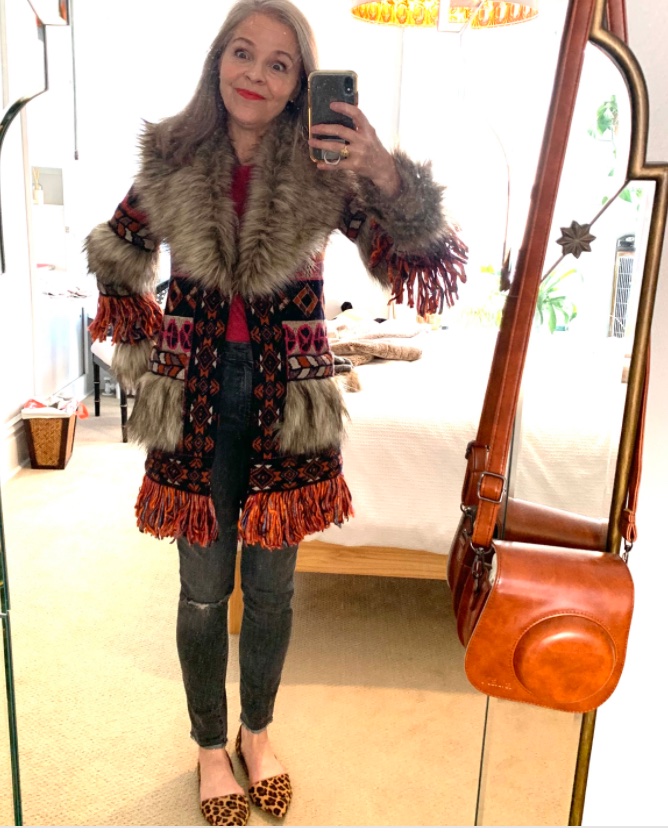 A couple weeks ago I stumbled into a beautiful coat on social media.  It was one of those  advertisements on Instagram that seems to know exactly what you are longing for.
Well…it REALLY caught my attention.  It was beautiful and whimsical and utterly impractical.  So, I made a post about it.

So many lovely people chimed in and encouraged me to buy it and we had a lot of fun admiring the coat together.
But, a part of me felt ashamed for wanting such a thing.   I have written about "Parts Work" or Internal Family Systems Work before…it is so powerful.
So, I began to converse with this part of me that was scolding me and berating me for wanting the coat.
She thought it was a ridiculous waste of $674.00 (that IS a lot of money!)
I could take that money and help feed the poor.
This inner critic of mine has a moralistic flair….she appears as a Catholic nun in full habit.
She's not gonna be happy until I'm living in Calcutta and dressing wounds on the street (not that that is not a noble aim).
When I asked her what she'd rather be doing if she didn't have to worry over me, she said she'd love to just be with God.
And THEN, I connected with the part of me that LOVES THE COAT.  She appears to me in my mind's eye as this wildly exuberant version of me.  She's maybe three years old—before the schools and society got to me. She feels utterly secure and loved and she thinks the coat is WONDERFUL!  She's pumped to wear it!
Finally, I consulted the wisest part of me.  My authentic self.  That's the part of me I connect to when I journey or meditate.  You might call her my higher self. She's not worried about whether I buy the coat or not. Either way is OK with her.  She's knows all is well…no matter what.  She loves me unconditionally.
After making all of these connections, and a few conversations with wise companions, I decided that maybe I should order the coat!  And so I did.
When it arrived, of course the NUN/critic went wild.  "RETURN IT, RETURN IT!!", she cried, draining the color and joy out of the moment of the coat's arrival.
Meanwhile, my inner three year old couldn't believe how perfectly it fit and how beautiful it was in every way!!
Do you ever sense big inner conflicts inside of you when you move towards a strong desire?
What a learning experience this coat has provided!   Just because I paid attention to something I was drawn to.  What have you been drawn to lately?  What might it be there to teach you?
I still haven't decided whether I am going to keep the lovely coat.
I know it's not actually the coat that matters…it's the growing awareness of this wounded part of me (my critic- the Nun) who need to be loved and reminded that  she's safe and loved and that I (authentic self) am in charge and I will take care of things.

(me in magical coat!)
If you'd like to explore these parts of yourself, I'd love to help!  I've been incorporating this work in my coaching for a while now and we are finding, together, that it is powerful.
—————————————————————————–
We are poised to enter the Age of Aquarius where we move from ME into WE.  That's thrilling news!  On Sunday December 20 there is a wonderful online event designed to prepare and inspire you.  I am honored to be part of it and during my part, I will be divining a beastie to help us step into 2021 with the highest vibe.  Please REGISTER and join us!  

It's a Christmas miracle!
We were able (through the help of real-life angels) to get the "HOW GOOD ARE YOU WILLING TO LET IT GET?" card decks up at Amazon!
It would make a wonderful gift for somebody who could use a box of sacred
OOMPH
.
Thank you sooo much for checking them out!
I'd also like to ask for your help…..If you already own a deck or plan to order one at Amazon-  I would LOVE a review from you at Amazon.  Those reviews help wee creators like me to sell more decks and books so that we can keep creating more beautiful and helpful things!   Thank you so much (in advance) for your help!
ORDER THE DECKS HERE: How Good Are You Willing To Let It Get? 60 FEELGOOD Oracle Deck Cards for Creatives, Healers, and Helpers.

I also want to cordially invite you to a SWIMMING WITH ELEPHANTS bookclub!!
On January 14 (Thursday) at 12 noon central (1 PM Eastern /10 AM Pacific)
I'm hosting at zoom .
If you have ever longed to find meaning in your life, leap out of a job (or a relationship or something else?) or connect more deeply with spirit-  this spiritual memoir of mine is for you!
All you need to do is get a copy of the book and read at least 3 chapters (They are short)!
WOOHOO! Cannot wait to connect with you all!
Time: Jan 14, 2021 12:00 PM Central Time (US and Canada)
Join Zoom Meeting
https://us02web.zoom.us/j/81652113952?pwd=MXNwVGMrZVJ2SitmQTFZRkNZbzBNUT09
Meeting ID: 816 5211 3952
Passcode: 994488
I am here, and available for virtual divinations and healing and coaching and you can book directly here.
With love, Sarah
P.S.  For 100 days, I am focusing on creativity by committing to my #100 day project which you can follow at facebook or instagram. Maybe seeing my posts will inspire your very own #100dayproject or maybe you are already doing one!! I want to see yours if you are!  Send me a link!