The Myth of "Doing What You Love"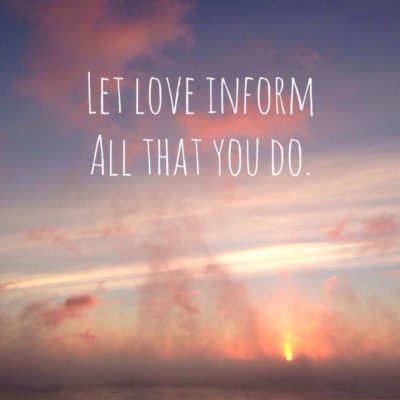 Being Born to FREAK, I'm constantly drawn to daring growth opportunities and my latest had me sitting in a ceremony led by a powerful shaman from Colombia with a few dozen others.  When I say powerful, I don't think I truly understood what *power* a shaman was truly capable of until that night.  He possessed so much discipline, so much compassion ….and and other worldly ability to work with loving spirits and hold an entire room of us and all of our emotions/experiences. My mind was blown. How had he become such an incredible being?
The ceremony went on all night and several hours into it, he left the candlelit room with 30 of us in it.  His absence was palpable but, it didn't worry me. His assistants and collaborators held the space in his absence. A bit later he returned to bring the powerful evening to a close..finishing stronger than ever.
In the morning, he apologized for his absence and sheepishly confessed to us where he'd gone when he left,
"I was hiding under the covers in my bed…..ohhhhhhh I did NOT want to be there in THAT room."
Then his assistant joked, "But, that happens every time you do ceremony!".
I couldn't believe my ears— THIS amazing being of such grace and stature – a guy who had such obvious command of his work and an incredible partnership with loving and compassionate spirits was (temporarily) HIDING under the covers???
Could this be?
It suddenly dawned on me, he was no different than me.  Or my sister, Maria Bamford  (stoked for her second season of Lady Dynamite!!) who does a joke in her comedy set, "I did NOT want to be on this stage just 10 minutes ago!" (and yet here she is- delivering her set!)….poking fun at the idea that people believe that because she loves comedy that it's somehow easy for her or that she leaps up there without a care in the world.
Even masters of what they do who LOVE THEIR WORK (and want to be doing THAT work) want to hide under the covers sometimes.  It's simply resistance.  So, if you are currently know you are "doing what you love" (being a Mother, a writer, an entrepreneur, a healer, a [your ideal vocation]) but finding it flipping IMPOSSIBLE to leap on the stage, share your work or do the things you say you want to do—do not be disheartened-  you are in the most brilliant company.  The crazy powerful Colombian Shaman, My sister and everybody else who is human.
I'm here with you (I'm setting up my Fall classes and working with potential publishers for a book and feeling the push/pull every time I decide to "put myself out there"….it's intimidating each time. And the more courageous my move- the BIGGER the resistance:):):)
I always have to remind myself that frequently (not always, there's failure too!) MIRACLES result when I'm willing to do THE WORK I long to do.  How did that Colombian sham get so powerful? My hunch is that he became willing to do the work.
That same night in ceremony, I got a huge teaching that applies to that terrible resistance-  that spot where you feel "stuck" and aren't making a move, or can't get out of bed or are afraid of the opportunities that are being shown to you……
When you are STUCK, the only to find your way out is to IMAGINE the way forward…use all of your senses….what goodness could happen, what will it feel like, who will be there, what are they saying, how are you feeling?  Is there a breeze blowing on you?  Where are you? What are you wearing?  What would be BEAUTIFUL?
The, from that optimistic place, from that DREAM you've allowed yourself to dream…ask yourself, "what do I need to do next to begin to create THAT?"
As always, I'm here at your service to help you find your way forward.
with love, Sarah
P.S.  As you know- I believe that everything that IS is alive and that Nature is here to help us learn, heal and grow.  A film I deeply enjoyed which is all about the transformative gifts of plant medicine can be found here.  There is a shaman (LuzMa from Nuna Ayni ) from Peru coming to do ceremony in Duluth,  Minneapolis and Marin, California in September- if this interests you- please go here and contact the email on the screen. I attended her ceremony last year and feel in love with her work.  We have organized a Pilgrimage to Peru in May 2017 that LuzMa will lead (I will be a participant!) and there are two spots remaining-  let me know if this makes you CURIOUS by hitting reply to this email.
P.S.S. My books were both designed to help you find your way forward too!  Check them out here!
Born to FREAK and What the Walrus Knows

P.S.S.S:  LOCAL class on September 17 on Working with Animal Spirits (Beasties!!) is here.   Would love to have you in class!!