My Mother, Peonies, and Me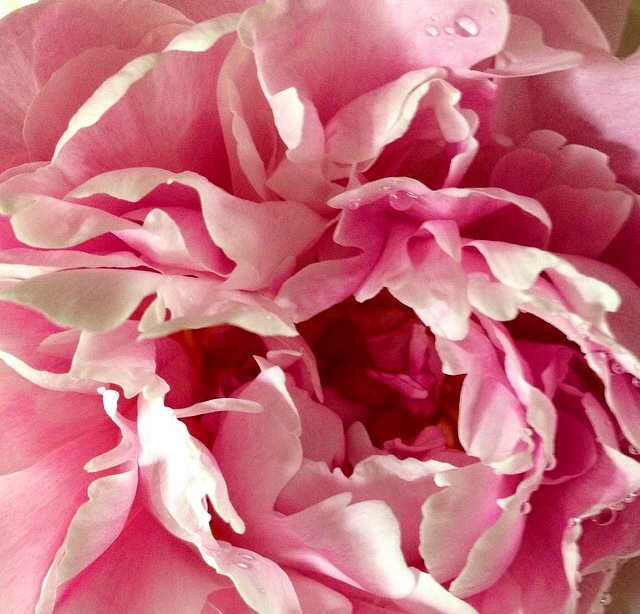 As a thirteen-year-old, I babysat for a glamorous young mother whose silver Porsche 911 license plate stated simply "PEONY." At the time, I thought she was radically sophisticated to wear her botanical heart on her sleeve. Decades later, I get it.
After a tundra-like winter in northeastern Minnesota, seeing a bouquet of my mom's peonies on the kitchen table in June is both welcome and exotic. Arranged with electric yellow sprigs of Lady's Mantle or Fuzzy Sage Lamb's Ears in a modest vase, the effect is luxurious.
My mother and I have always agreed on the beauty of peonies. Through the long, cold winters our house was littered with gorgeous catalogues for bulbs and perennials. The most exquisite catalogue was Klehm's. It was peony pornography. The lush, full-color pages printed on opulent paper stock featured gorgeous hand-lettering and ridiculously fantastic descriptions of each variety of peony.
Through my childhood, Mom and I continued to examine those catalogs at the battered pine table at the lake. We marveled that some rare peony bushes cost upwards of two hundred dollars. We were curious about why someone would want to make such a steep investment when the twelve-dollar varieties (still at 1970s prices) were so dazzling. Peony names were delectable and evocative, too. Angel Cheeks, Blitz, Marshmallow Moonbeam, Circus Circus, and Flying Pink Saucers all hinted at otherworldly, Vegas-like extravagance.
–––––
My adolescence was characterized by on-again off-again deep discord with my mother. The anxious part of her dearly wanted to keep me safe, while I yearned to be a life pirate and explore the four corners of the earth (or at least go to California!), attend parties, meet boys with Leif Garrett hair, and experiment with illicit substances.
At fifteen, Mom discovered a pot pipe in my purse. She buried it in the front yard and threatened to send me to Hazelden. If I was home ten minutes after my curfew I was grounded for a week. Mom wanted to put fences around my pasture. I couldn't help but dig holes under them. I yearned to be free.
I also felt an inconvenient urge to be unflinchingly honest, which made for frequent confessions, salty shouting matches, and a lot of moody huffing about. Even though I knew I was loved, I couldn't wait to get far and away…from my mother.
When I was newly married, making the transition from daughter to wife, the tension between Mom and me persisted, though the reasons for it had shifted. I was in the throes of medical school, then residency, and, eventually, creating a family of my own. I was no longer railing against her restrictions. Instead, I was working hard to abide by the rules of Medicine.
During that transition period of growing up, I would return to my parents' house and unload my concerns and woes to my mother. I had hung up my pirate hat to focus on acquiring knowledge and to secure my own position in the world. I was exhausted much of the time and with each passing year I got busier and busier. Meanwhile, my mom's pace was starting to slow down and she wondered why we didn't visit more often. I tried to explain how I was doing all I could. I suspect she wanted me to be happier.
Through it all, and despite our separate struggles for contentment, Mom and I still agreed on peonies.
–––––––––
What seems miraculous to me about peonies is their ability to give and to give with so little need of care. Only sun, water, and patience are needed. Each peony bush takes roughly two to three years to mature and thereafter blooms with all the enthusiasm of a pre-teen girl affixing Justin Bieber posters to her bedroom walls.
I planted my first peonies in our suburban St. Paul garden during my post-medical school residency. My husband and I worked in the garden every free summer hour we weren't on call, recovering from being on call, or studying. I was making my own way in the world and gardening tethered me in a comforting way to my mom and to a feeling of home.  A few of the peony bushes we planted gifted us with several blossoms of pale pink and deep magenta.
Our next two houses came with peony bushes already established and I added several new varieties. Those were big years. The bushes produced so many blooms. There were vases of peonies in the bathroom, on bedside tables, on the kitchen island. I called up the neighbors and invited them to pick their own peony blossoms.
They were also exhausting years. I worked long hours at the hospital and returned home to little ones underfoot, on my hip, and out roaming the neighborhood. The peonies seemed to sense my overwhelm and demanded absolutely nothing from me, not even water. They asked nothing of me, but fed me with their beauty.
–––––
We've moved yet again since then and I've planted a couple dozen peonies of all colors and varieties here. Life has slowed down. I left the world of medicine and have been learning to heal the spiritual aspect of what ails the human body and mind. Last year, the blooms were particularly spectacular. It snowed right on into April and the peonies were three weeks behind. I imagine they enjoyed being unrushed.
Our peony bushes have graced us with hundreds of enormous, fluffy, drama-filled blooms, and I finally have time to really notice them. They begin as tightly knotted balls of petals contained behind glossy green shutters. Some buds open suddenly, without much preamble. Other buds slowly unwind each petal cluster, treating us to a few days of visual foreplay before unleashing their ultimate glory.
I finally gave in to curiosity and bought one of those expensive tree peonies and every year it gives up three exquisite pale pink blossoms that look like they were specially flown in from Kyoto or the Forbidden City. The crinkly, poppy-like petals unfold to reveal secretive yellow, pollen-drenched stamens. Only one bud blooms at a time, as if the whole tree must give everything it has for each singular perfect show.
I walk barefoot in my robe into the dewy early morning to admire all the blooms. I cut. I share. I take yet more photographs. I sneak out again into the garden in the moonlight before going to bed. And it's never enough. There is so much to be admired, there is so little time, and then the peony blooms are gone and I'm left wanting to appreciate and love them more than I did.
––––––––––
Now my mom is sixty-eight and I'm forty-six. There have been a few deep misunderstandings and a few DSM-5* diagnoses between us, but also miraculous healing and transformation.
Within a year, I was diagnosed with adult attention deficit disorder and my mother was diagnosed with bipolar I. She prayed for me. I asked the spirits to help us heal the chasm between us which, at times, felt too wide to bridge. We've each encountered our own unique initiations and come out the other side with renewed joy and purpose. These more fully blossomed versions of us are more yielding and harmonious.
A few weeks ago, Mom and I strolled around her gardens, examining and admiring specimens new and old. Her gardens are lush, colorful, and looked after with great love and meticulousness. Everything she grows thrives, especially her peonies.
For years, we've cheered on the two forlorn peony bushes planted on the hilltop. Occasionally, they would bloom, but only half-heartedly, which was very un-peony-like of them. My mother's diagnosis? Too many shadow-casting balsam trees held them back. She considers balsams inferior intruders and frequently urges my father to eliminate them with a chainsaw. I tried to speak (Lorax-like) for the balsams, but to no effect.
This year, Mom issued irrevocable orders for murder and my dad buzzed down the offending balsams. Afterwards, the spindly peony bushes, which had only barely been getting by, filled out and grew dense with shiny, dark green leaves. They applauded my mother for giving them a more direct connection to the light by putting on fantastic display of cloud-soft pink and white blossoms carefully edged in magenta. With death came resurrection.
––––––––––
 The young, glamorous mother who drove the Porsche with the "PEONY" license plate is now a grandmother. She donated a peony garden of 156 bushes in sixty varieties to honor her grandfather, with whom she shared a peony bond. When pressed to say what she loves most about peonies, she replied, "Peonies are always beautiful and they always bloom with their whole hearts … What more could you ask of a flower?"
These days, things are much softer between Mom and me, and so much lighter. I think we're both more content. She still worries about me and I continue to challenge her beliefs about the malevolence of balsams.
I thank the peony for giving us something to agree on and to celebrate, revel in, and anticipate all these years.
What more could you ask of a flower?