Japan Makes the Sacred Visible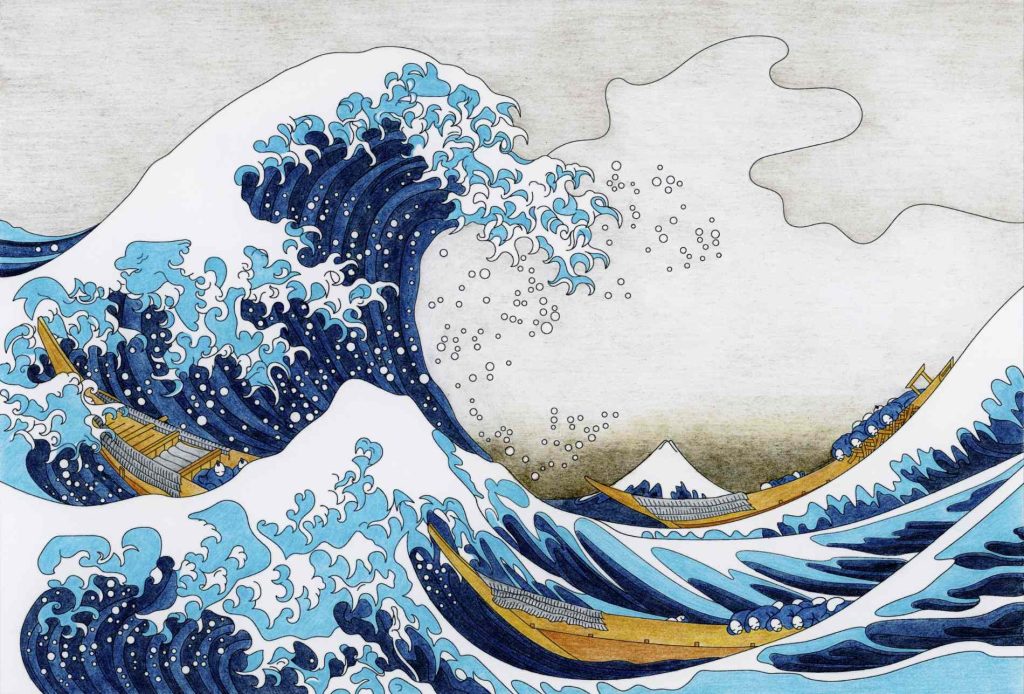 Here is my short list of FEEL GOOD ideas I hope will inspire you!
1. Make the Sacred Visible. I am just back from Japan with my friend Monique, and one of my favorite things about that special place is the fact that people make their prayers visible.  Every gorgeous temple we visited had candles to light, incense burning, hand written (or hand tied) prayers hanging by the hundreds and hand lettered prayer plaques…so many prayers for healing, good healthy, abundance and more.  What a beautiful way to make the sacred visible.
See a video of the glorious cherry blossoms we got to see from Tokyo  set to my favorite soundtrack…breathe it in! . I hope it uplifts and inpsire you!
2. How to Be An Artist:  I've been immersed in my own weird self made art school for the past 4 years.  A big chunk of that education, lately, has been coming from UK artist Emily Powell watching her paint, reading her book on Kindle (its not out in US in hardcover until July),  and seeing her attitude towards her own inner demons and her willingness to explore the deepest reaches of her imagination inspire me endlessly.  I've also been listening to a wonderful audiobook by Jerry Saltz called How to Be An Artist, and whether you're an artist, or you simply love art + artists, I think it you might enjoy (its just over 2 hours in length!).
3. 84 Days Will Change You. I'm really excited for this summer's 100 day project which, in fact, will only be 84 days in length due to some travel plans. My passion for these projects is not waning because of the magic and miracles that unfold when WE SHOW UP FOR OURSELVES for just 15 to 20 minutes a day.   I think a lot of us find it the experience surprising, frustrating, magical, difficult, amazing and beautiful. If you're feeling curious about what might happen to you if you begin to create every day, please JOIN US. 
4. A quote that has me feeling inspired.
"Our goal should be to live life in radical amazement [to] get up in the morning and look around at the world in a way that takes nothing for granted. Everything is phenomenal; everything is incredible; never treat life casually. To be spiritual is to be amazed."
Abraham Joshua Heschel, Polish-American rabbi and one of the leading Jewish theologians and Jewish philosophers of the 20th century
One of the things that helps me live in radical amazement is to write in my journal, to pray with tobacco outside saying thank you for my life and to make art. How do you help yourself live in radical amazement?
You can book vibe-raising divinations, life- coaching, and shamanic healing/mentoring later in April and into May June  HERE. 
with love,
Sarah
This email is reader supported! The best way to support me is to:
1. BUY MY BOOKS  (or listen to them on Audible!)
2. Purchase my CARD DECK 
2. DOWNLOAD my BEASTIE App for Wild Animal Messages
3. Book a HEALING or COACHING session with me.
4. Take a CLASS from me.
5. Purchase a mug, t-shirt, framed print, tote bag, shower curtain or other magical thing that I have created at MY ART SHOP.
6. FORWARD this newsletter to somebody who you know would enjoy it!
Have you been putting off a creative practice because life is moving too fast?
One way to fit songwriting, uke playing, drawing, painting, writing or comedy (or whatever sort of "making" you'd like to get better at) into your life is to do a #100dayproject!
Four years ago, with three kids still at home, a book I was writing + a busy teaching and healing practice- I was having trouble fitting what mattered to me (creativity!) into my days…This method made it possible!
A whole bunch of us are going to do it together beginning June 1!
I'll be sharing best practices and lots of other inspo! Learn more + Join us HERE.