How to FEELGOOD on a Monday…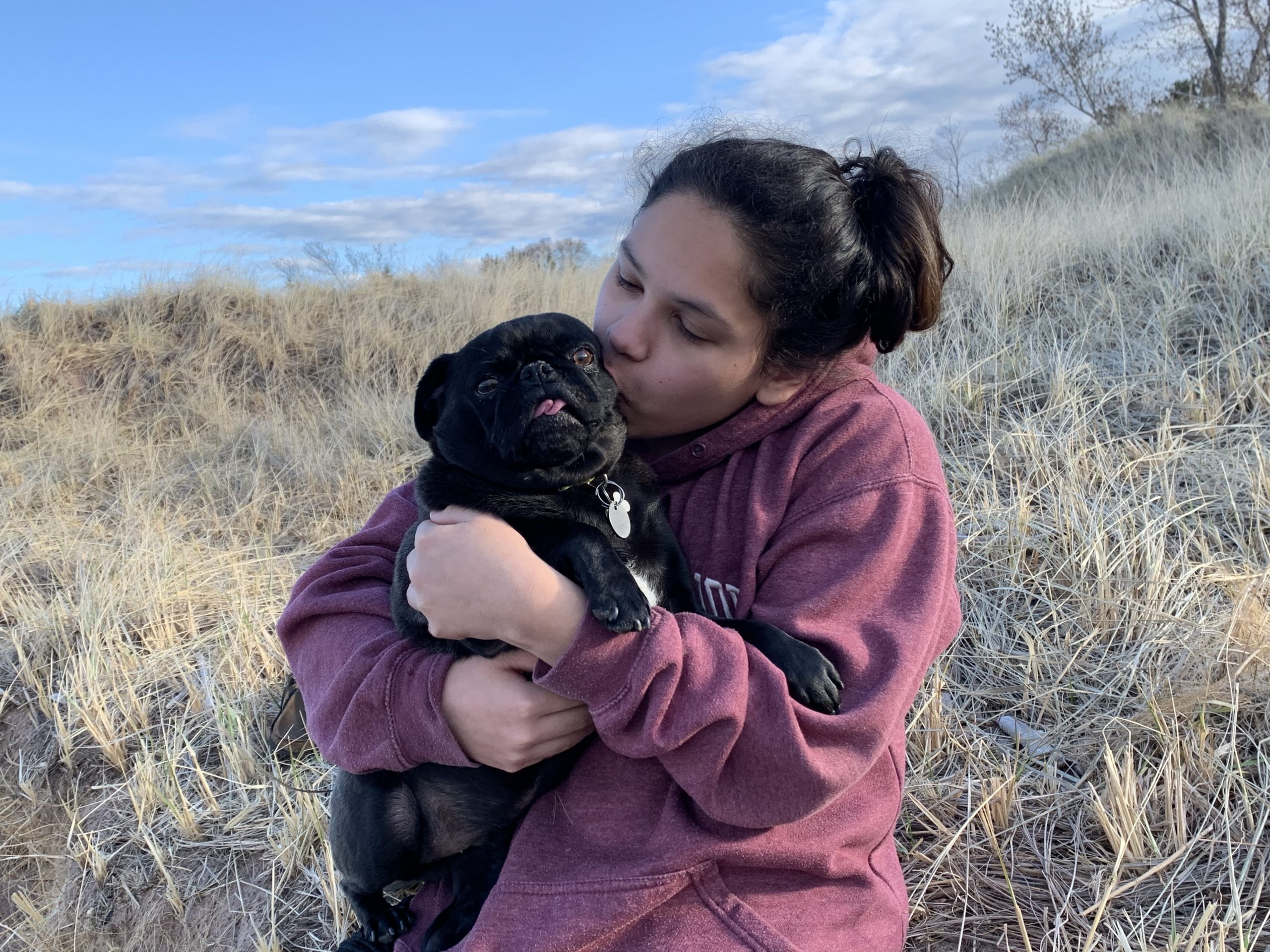 (Pug hugs are plentiful in the Pandemic- My son Charlie and Oliver James during our beach walk last week)
Dear Creators of WONDER and MAGIC,
If you are new to these emails, welcome! I've been trying something new by giving you a list!
No. 1 is my invitation to you to have a FEEL GOOD Monday (even in this wonky and challenging period of the Pandemic!).
1.  A FEEL GOOD Monday begins today (on Sunday!).  Grab a sheet of paper and list ten things that make you feel CONFIDENT and fabulous. Go!  (I posted my list at the very bottom of this page but don't peek at mine until you finish yours!)
Once you have your list, ask yourself, "How can I make several (or most?) of these possible on Monday?
For example, if wearing your beloved pair of merlot velour sequinned joggers with "KICKING ASS" on the butt is in the laundry hamper, be sure they're clean and ready for tomorrow. If 8 hours of sleep is on that list, calculate when you must be in bed by and do it. POST YOUR LIST and keep adding to it. The more you know about yourself, the more you can help yourself.
2.  What was your WORD for 2020 or your intention? Go back and check in on your journal. The pandemic has changed things. Are you priorities still the same?  Have you slipped of course a bit? Remember that the ditch is only a few feet from the high road (or your divine path!)…and step back up on it.  Recommit to yourself.  Phone a friend and share together where you're at or hire me and, together we will help you stay on course.
3.  Add beauty and magic into your day. Set a timer for ten minutes and do something that future you will be grateful for.  Pick up all the clothes on the floor in your closet and arrange your hanging things by color.  Clean out your purse.  Put "flowers" on your grocery list and put a tiny vase of 2 or three blooms in all the places you hang out most in. Get a rainbow maker (seriously this is my number one gift to myself in 2020!) and place it in a sunny window where you work.
4. For FEELGOOD support all week, follow me at Instagram. I'm doing 60 second video tips.
UPDATE:  I tried eating the same thing for dinner for a week! The first week was tough because I liked, but didn't LOVE the recipe!  Last week I did it and it brought so much ease! So, today I'm making 10 servings of a quinoa fresh mex salad. (With ten I can share with my kids or husband!)
(100 oz veggies- red bell pepper, corn, red onion, sweet potato, 10 oz dry quinoa cooked, 10 T. olive oil, 60 oz black beans) Then I put it in recycled yogurt containers and stash in the basement fridge.  Dinners or lunches read to go whenever!) Add salsa and a skosh of yogurt or sour cream and YUM!
Thank you so much for preordering and sharing my newest book! 
"Sarah is a medicine woman, and everything
she creates is good for what ails us."
– Martha Beck, New York Times best selling author of Expecting Adam
How Good Are You Willing to Let It Get?: Daily FEELGOOD Inspiration for Creatives, Healers, and Helpers.
It's written for all you wonderful creatives, healers, and helpers who make our world beautiful.
It will arrive June 1st!
Upload your proof of purchase (or screenshot of your pre-order) of "How Good Are You Willing to Let It Get?" and will receive my FREE guided meditation designed to help you discover your "WHY" and embrace your gifts.
Need some coaching, shamanic healing or shamanic mentoring? Let's get started!
With much love!
Sarah
Has plant medicine and Peru been calling you? In May 2021 I will be hosting a group for a two week sacred medicines retreat in Pisac.  Read all about it here and download an itinerary. 
——————————————————————————-
(RESCHEDULED) Oct 16-18 2020   Til Death Do Us Start – An Experiential Workshop to Enliven You. (Camp Amnicon in N. Wisconsisn)  Register here

Have you wanted to come to one of my retreats and love Lake Superior and fabulous architectural design?  I have got a beautiful event in Oct 9-11 2020 at Wild Rice Retreat on the shore of Lake Superior in Bayfield Wisconsin. David Salmela designed the entire building as well as the beautiful cottages you get to stay in!  Check out the details and register here.
MY list of things that makes me feel CONFIDENT:
1. Getting dressed in brightly colored clothes that make me feel fab (with earrings!!)
2. Pleasure (enough said!)
3. shamanic journeys to visit Alice (or others) to ask for insight.
4.  Eating vibrant healthy food.
5. Being abstinent from sugar and flour.
6. Appreciating, mentoring and encouraging others in various ways.
7. 8 hours of sleep.
8. Dancing.
9. Having clean and clear spaces (desk, closet, kitchen, office)
10. Having a written plan for day on paper.
BONUS
11. laughter!
12. Meditation
13. Great conversations with Mark, friends
14. Connected to great sources of inspiring media- Beautiful Writer's podcast, Oprah Super Soul Sunday