Living Together Apart: How Sleeping Apart Just Might Improve A Relationship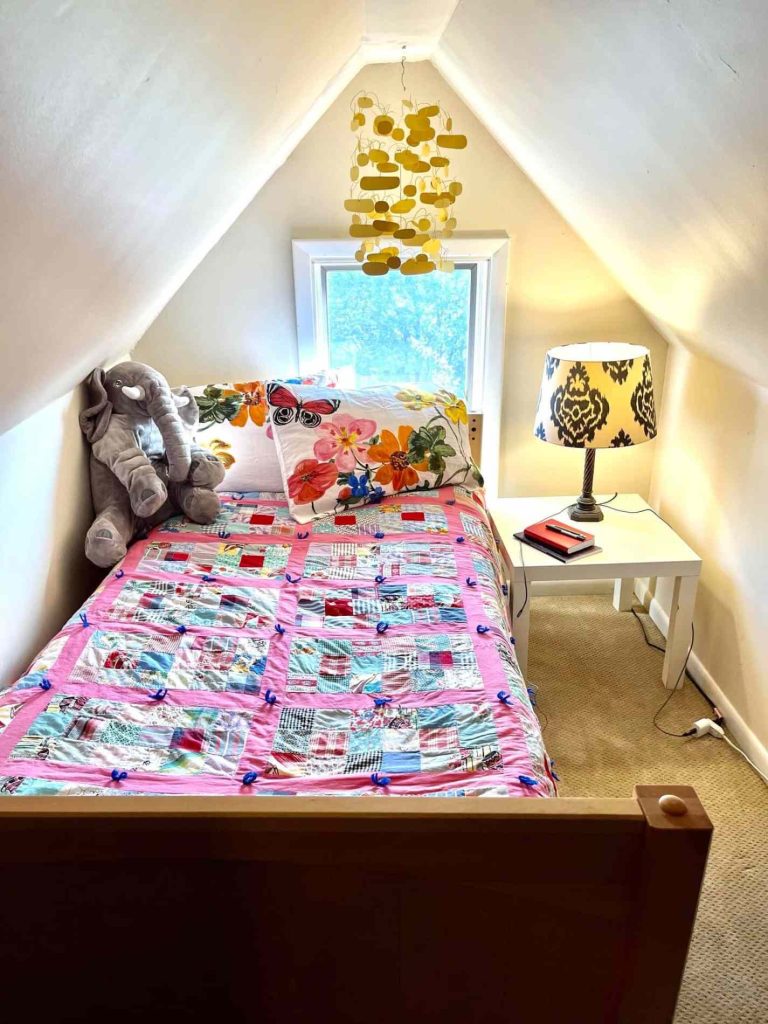 (image above: My Solo Bedroom)
1. LIVING TOGETHER APART. Last summer I did a series of 100 digital illustrations about self- respecting boundaries.  That 100 days was incredibly potent and happened (thanks Higher Power!) to coincide with a very challenging period in my 32 year old marriage.  I was craving space for myself and ended up doing a scary experiment (scary for me anyway….).  I did a trial of sleeping in a separate bedroom.  I was terrified it would make us feel more distant or that it meant something terrible for our sex life. I worried, too —what other more conventional people would think of such a choice.
It turned out to be a powerful exercise in claiming my own space.  In fact, we liked it so much (and Mark did too!) that we decided to keep it that way for the time being.  This shift has allowed us both space we need to recover from our days (and maybe 26 years of hardcore parenting?) and to be with our own selves.  We have created new rituals to connect before bed and we still have "sleepovers" when we we want to be close like that.  We shared a bed again every night on our recent vacation and it was a funny adjustment!
It turns out that we aren't the only ones, the NYT just ran a piece on this controversial idea:
"Sleeping in separate bedrooms is more common in relationships than one might think:
One in five couples sleep apart, and almost-two thirds of those couples do so every night, according to a January survey of 2,200
Americans conducted by the International Housewares Association for The New York Times. Interior designers have reconfigured homes to transform separate bedrooms into adjoining ones – an arrangement that is increasingly popular among such couples. They want the secondary room to feel as thoughtfully decorated as the primary one, designers say.
Perhaps these couples have found the secret to domestic bliss: a room of one's own. Everyone gets a better night's sleep, undisturbed by a partner's incessant snoring, penchant for blanket-stealing or devotion to late-night TikTok scrolling."  READ THE ENTIRE PIECE HERE.
I guess the whole experiment has made me remember that it's always best to do what works for YOU and not worry about the rest of the world. I have a few wonderful friends, too, who are post-divorce or post widowed who also treasure their alone time in a powerful way (that they didn't in their 30's and 40's) and choose to honor themselves by maintaining separate residences.
2.  MAKING IT ALL SACRED.  I got to sit 15 feet away from Ram Dass a few years ago and it left an indelible impression on me.  WOW…he had so much loving presence!  When I sit down to eat, I often forget to be present- and to pray.  To say thank you.  I'm working to change that.  Ram Dass's words remind me that food is a blessing!
from Ram Dass:  "Before I eat, I bless my food. For many people, saying grace in childhood was a time of impatience when adults were controlling the situation, but I've discovered that it can become a moment to reawaken a living truth. When I get food, I hold the food up or sit with my hands beside my plate, and I say a blessing. And then I just think about it for a moment and I realize that this whole ritual of praying over food is part of all form, it's part of law, it's part of the universe. The food I'm praying over, the bowl of oatmeal or whatever I'm eating, is part of God and I, who am making this prayer, offering up this food, am part of God."- Ram Dass
Read more Blessing Our Food As Part of God.
3. My Year of Dicks.  This animated film was nominated for an Oscar- it's hilarious and thoughtful…about one girl's exploration of her sexuality…. and it lives up to the hilarious title.  FREE to stream at VIMEO.
4.ON LOUD QUITTING (as opposed to quiet quitting).  I'm loving the perspective of artist and instructor Lisa Congdon. 
"I've been thinking a lot lately about quitting. And I've been on a systematic mission to examine and quit everything in my life/work that feels finished or draining or one-sided or obligatory or without purpose or joy. So far in the past 9 months, l've quit alcohol, food restrictions, teaching college, my podcast (more on that to come), two boards of directors, working on Fridays, working on umpteen client projects at once, coffee dates with people I don't know, most public speaking, writing any more books, several friendships, and most weekday evening plans. I have not felt as happy, "balanced" (if such a thing exists) and such a sense of spaciousness in nearly 20 years. I've begun to think of this as "loud quitting" – intentional, communicated, assertive (as opposed to passive), and unapologetic. So, to be clear, this not necessarily the opposite of "quiet quitting," which is about not going above and beyond in the workplace (which I also support) – just simply my way of overtly claiming and taking control over my time in a way I haven't in my entire life – because, for most of my 55 years, thought it was literally my duty to please/serve others."
5. "Your Heart Can Hold It All" is the title of a new work of art from me.  A beautiful friend from Kenyon College has been posting photos of New York City that really touch me. She posted a beautiful one of Central Park filled with humans in repose…and full on lollygagging. I loved it! A few days later I sat in meditation with the intention to "rest in my heart" and suddenly I was shown how my heart was unexpectedly GINORMOUS-like it was connected to the Galactic HEART. My heart could hold everything! Inside there, I saw Central Park filled with people picnicking and resting.
My heart (and yours too?), it turns out, has infinite capacity to hold everybody and everything…even the people that I have a hard time accepting. There's SO MUCH ROOM! There was also a disco ball, but I digress.  I created this art to remember the vision. My heart has previously unknown capacity and I can rest there…along with EVERYTHING.
I hope that the viewer will remember the innocence of the sweet and wild things inside themselves and find rest wherever they are.
Original available 36" x 36" acrylic and oil pastel on canvas. 900.00 US. Hit "reply" if you'd like to purchase or inquire.
Prints + more available here

You can book vibe-raising divinations, life- coaching, shamanic healing and/or mentoring HERE. 
with love,
Sarah
This email is reader supported! The best way to support me is to:
1. BUY MY BOOKS  (or listen to them on Audible!)
2. Purchase my CARD DECK 
2. DOWNLOAD my BEASTIE App for Wild Animal Messages
3. Book a HEALING or COACHING session with me.
4. Take a CLASS from me.
5. Purchase a mug, t-shirt, framed print, tote bag, shower curtain or other magical thing that I have created at MY ART SHOP.
6. FORWARD this newsletter to somebody who you know would enjoy it!