Creating A Work Space Design That Supports You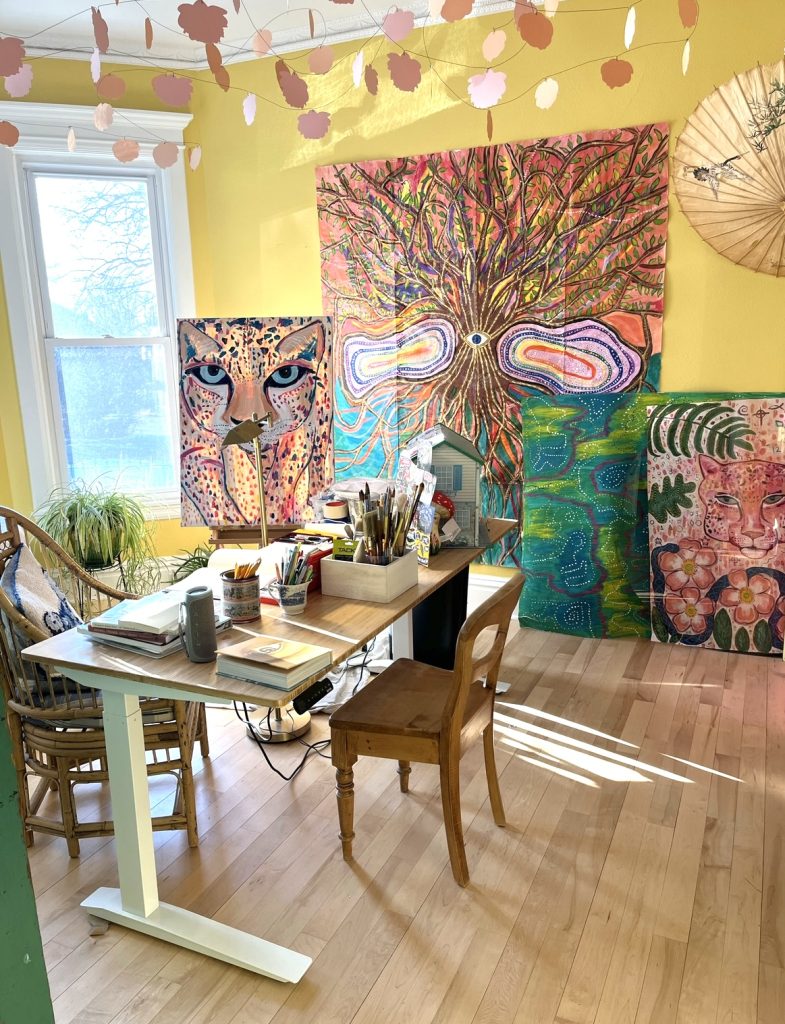 One thing I've learned from my life long obsession with homes, interior design and organization is that our homes MATTER.  Martha Beck taught me that our spaces are TRULY a direct reflection of our inner world.

I'm collaborating with Inger Kenobi to bring something to you home related in Fall 2022 that we are so excited about!
It can be extremely powerful to engage your imagination to discover the details of a space which can truly support your work.
If you'd like to do that now–here's a powerful guided meditation that Inger created to help you discover your very best workspace!  (FIXED LINK)
Here's my creative workspace in its current iteration…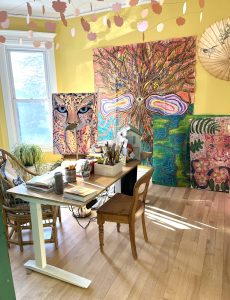 As much as I love it, I find that it's not a great space for me to WRITE in. I think its a bit too distracting!
To write, I need calm and quiet.  What do you need from a space to do your best work?
When I did Inger's meditation I discovered something unexpected that was nothing like my creative space!! It looked like a very standard and plain hotel room with a nice desk and a bed for napping.  Not stimulating at all.  Actually kind of BORING…
I'm going to be experimenting with working in this "boring" sort of space to see what magic it delivers in my writing.
You can find Inger and all her coaching offerings here!
If you find what's here helpful, please share my newsletter with friends!  That helps me to continue creating art and writing!
With BIG love, Sarah
P.S. I watched something this weekend that moved me to tears it was so powerful! Nas, a powerful rapper performed his entire album Live from the Kennedy Center with the National Symphony Orchestra. Check it out now on Prime Video!
P.S.S.
Dear local friends in Duluth,  I am teaching "Get Sourced" at SVALJA YOGA once again on Weds April 20 6-8 pm-  if you'd like to practice shamnic journeying or you are ready to try it for the first time- please join us!
I also have a new class coming up in May-  and you can register now! It's via Zoom so you can attend from anywhere around the world.  I can't wait to do this work with you!  Then in June, my 100 day Project course- Creative Soul Retrieval will take you further with your creativity- if you'd like to go!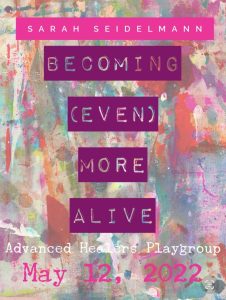 ABOUT THIS CLASS:
 Using Creativity To Explore (the Enchanting) You!
In this class you will have the chance to:
Meet, directly, the spirit of your creativity, a powerful force that's here to help you.
2 . To experience the enchanting experience of creating several surprising little works of art using the unique sources you love.
To explore (with the help of the spirit of your creativity) and get to   know yourself more deeply.
I'm sending you infinite blessings! If you are longing for sacred insight (a divination!), shamanic healing, or life coaching you can always book a time HERE.
Much love,
Sarah
Fresh reviews from my debut novel, have you read it yet? 
5.0 out of 5 stars Didn't want it to end
Reviewed in the United States on February 23, 2022I have never read a book quite like this. Meera sticks with you, I'm still thinking about her! And I want to know what happens next! She shows a strength, resilience, and honesty as she navigates a serious life challenge. This book is timely and beautifully written.
5.0 out of 5 stars Pure Magic!
Reviewed in the United States on February 17, 2022
Verified Purchase
Another fabulous book by Sarah Bamford Seidelmann! A beautiful work of fiction that is filled with so much truth. I so enjoyed following Meera's journey and found myself moved to tears by the book's conclusion. I do hope Meera will be back in another installment – I need more of this magical adventure in spirit!
Get your copy of WHERE THE DEER DREAM here.