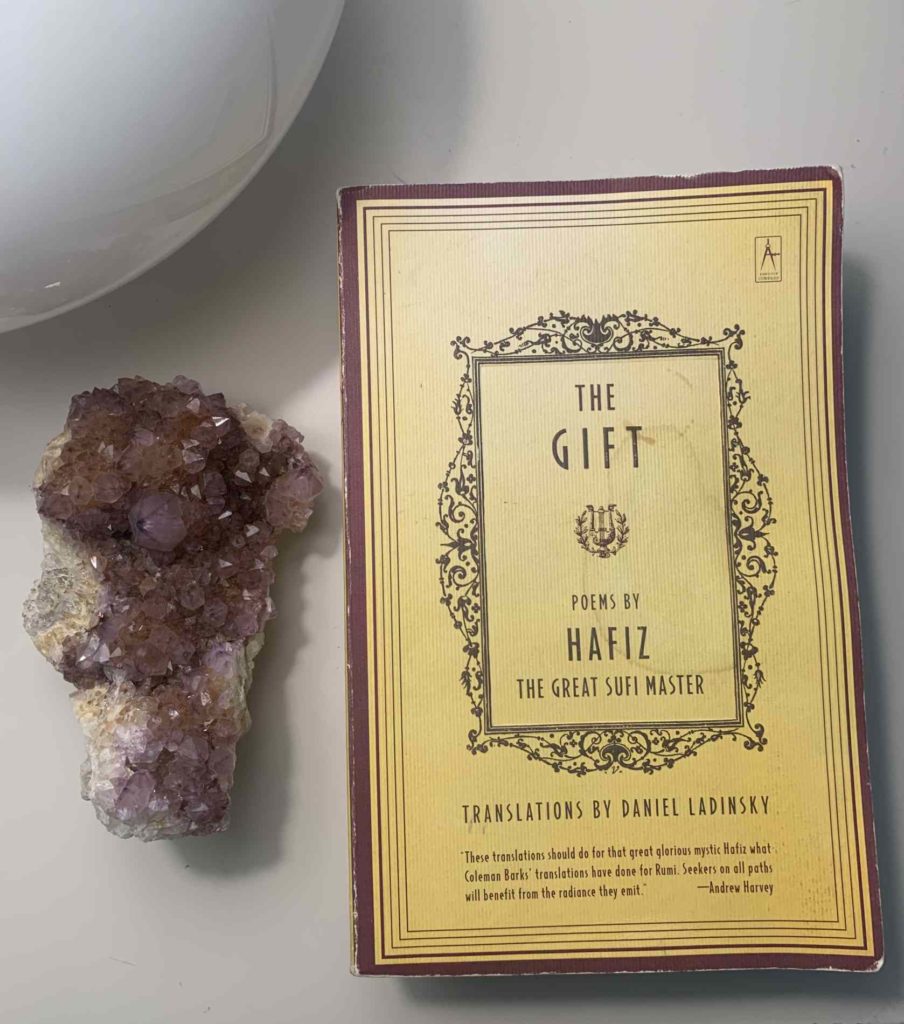 On my bedside table, these days, I keep only Rumi and Hafiz…mystical Sufi poets whose words always bringing me closer to spirit and my higher self. And lord I need that more than ever. Maybe you do too?
Many of Rumi's poems speak of he spiritual gifts of fasting. One begins…"Close your mouth…"
Fasting
By Mevlana Jelaluddin Rumi
(1207 – 1273)
English version by Coleman Barks
There's hidden sweetness in the stomach's emptiness.
We are lutes, no more, no less.
If the soundbox
is stuffed full of anything, no music.
If the brain and belly are burning clean
with fasting, every moment a new song comes out of the fire.
The fog clears, and new energy makes you run up the steps in front of you.
Be emptier and cry like reed instruments cry.
Emptier, write secrets with the reed pen.
When you're full of food and drink, Satan sits
where your spirit should, an ugly metal statue
in place of the Kaaba.
When you fast,
good habits gather like friends who want to help.
Rumi, The Illuminated Rumi
I'm reminded (when I read his poem below) of how amazing I feel when I'm not eating sugar/flour or whenever I am (water only) fasting for a ceremony…I feel – lighter, more connected. clear-headed….
(Please note: if you are suffering from Anorexia Nervosa- fasting or restricting food is NOT recommended.)
I've been challenged lately to stay in integrity with my desire to fast from flour and sugar….with my mom's illness lots of wonderful people have brought delicious things and we have been feasting a lot together….but there are always lots of circumstances that challenge my personal integrity.
But, reading Rumi reminds me that I want to strengthen my resolve to eat with my bright lines in mind.
I notice my work gets better. I'm more connected to God. I feel kinder all around, and my joints feel happier! So many gifts to closing my mouth to excess food and drink.
Maybe you've been drinking too much wine, shopping impulsively or watching TV instead of talking a walk outside? It's ok. We all can get out of integrity with ourselves.
As we subtract what doesn't serve us, we create spaciousness in ourselves.
You know what HELPS? Tiny habits!
I taught a class on creating your first "stack" of tiny morning habits that will deliver BIG results.
I just recently stumbled into an app I've been using as a trial and love it so much I'm getting a lifetime membership. It will help you track and complete your mini-habits.
You can check it out here!
Habits are powerful because they help us unleash the power of automaticity (NOT will power!).
We start small. That's the key!
If you love the hero's journey- I think you'll be delighted by this app!
The app's mission (developed at Duke University): "to reduce lifestyle-related disease through clinician-proven interventions and storytelling."
It's got a wonderful design and endless possibility.
So, back to Rumi and "Close your mouth…"
When I close my mouth to flour and sugar…another world opens for me and it's AMAZING!
I feel more confidant, clear and connected.
Those are feeling states I want for everybody!
I have been hearing from many of you that my new book and deck are part of your morning HABIT STACK (take the class here!) and it is supporting and inspiring you on your path-I'm THRILLED!
Let me send you a signed book and deck here!
(Each deck is gift wrapped and makes a wonderful gift for a friend who could use some kindly OOMPH.)
Sending you all much love!
Sarah
I keep receiving lovely texts and messages about how much the DECK AND NEW BOOK are helping in these wild times.
(My daughter Josephine is deftly handling all the packaging/shipping- so please order away!)
Thank you for your LOVE!  If it feels good, I would absolutely love a review from you at Amazon or Goodreads for the book.  YOUR WORDS help out independent authors, like me, SO MUCH! Thank you!.
Sending you BIG LOVE!!
Sarah
P.S. For continuous inspiration- please follow me at instagram where I am sharing frequent "FEELGOOD Card of the Day" videos and more.