Born to FREAK Baja: 50 Shades of Gray Whales, Sea Lions, Surfing and Soul. February 19-27, 2016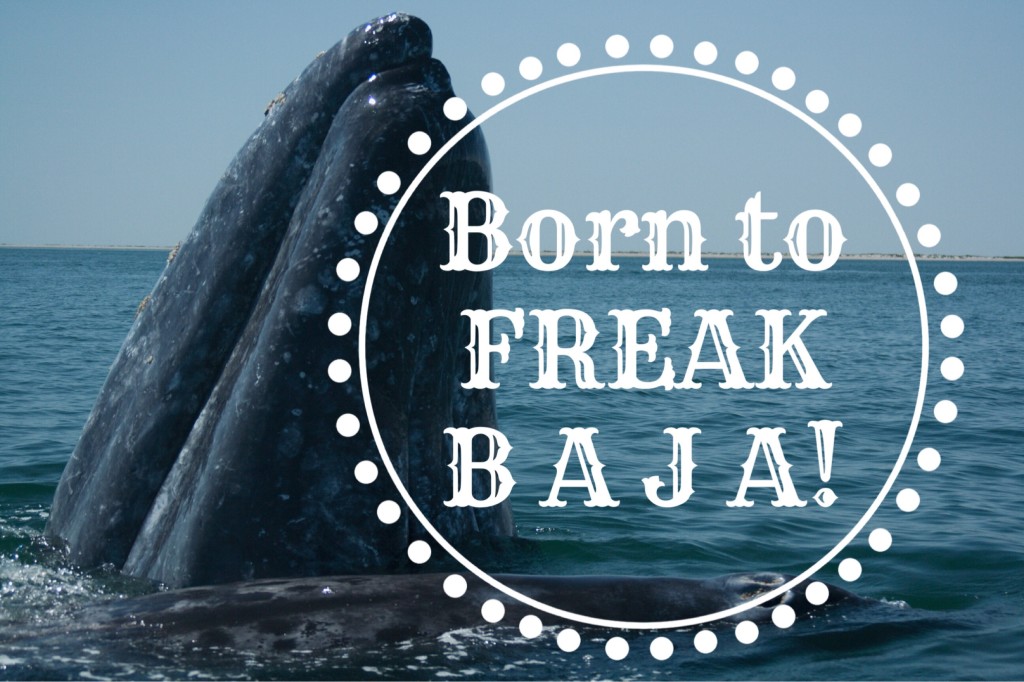 This retreat is no longer being offered.  Stay tuned for the next adventure!
With love, Sarah
Did you know that when the wind is calm, the gray whale's spout creates a perfect heart shape?
I didn't either! There is something profound and calming about whales. And I haven't even met one yet? Maybe because they spend so much of their lives beneath the surface…they are magically mysterious.
I've been feeling drawn by the tug of whales for a while now.
I decided it was high time to visit them in the Spring when they make their way to give birth in Baja in Mexico.    Not only will we be cavorting with whales but it turns out that there are friendly and curious sea lions too.  And while we are there why not frolic in the waves and get schooled on how to surf the gentle waves too?
"On the sixth of September, with a very calm sea,
he waited till the high tide had almost reached his boat;
then, using his most SAVAGE strength,
he just managed to push the boat into the water,
climb on board, and set sail."

Amos and Boris, By William Steig
I believe in the transformative power of travel.
Sometimes, it can take our most SAVAGE strength simply to tell everybody… I am leaving for a while and I will be back.
This adventure will bring us face to face with whales, waves, sea lions, each other and perhaps, most interestingly, ourselves.
In my experience,  each of us who commits to an adventure and shows up fully will get what we need.  Hidden surprises and growth opportunities are always included!  I created this adventure for women who were born to FREAK-  to see the world a bit differently and to transform the world by expressing our terribly unique inner multitudes.
If you're like me-  you don't want to have to choose……YOU want to experience it all and that's why there's so much we will do/see/experience in Baja.  Download the full itinerary and deets here.  To register see the bottom of this page.
GET MYTHICAL
Swallow it up.  Incubate.  Cough it out.  Tell your story.
Whale Manifesto, What the Walrus Knows

(photo via LA Times)
The worldly part of the adventure…
…will be led by the experienced, bilingual and fantastic guides provided by Journeys International. You can read about their award winning company here.  They have a reputation for creating experiences that are sensitive to the local culture and Beasties.  They provided the guides for the Pachydermal Pilgrimage which you can see here was quite astounding.  Our accommodations will be very simple, rustic and intimate- deigned to bring us closer and enhance our experience.  We will even be camping in tents overnight for two nights on the beach. Did I mention we will camp beneath the full moon?
The spiritual aspect….
of the adventure will be guided by me.  I will lead our group in shamanic practices:  daily exercises, journeys (I'll drum for you) and a bit of ceremony-  all designed to help you build a deeper relationship with yourself and this amazing Universe you've been born into.   Previous experience with shamanic journeying is helpful and if you need that you can go here to get it.  I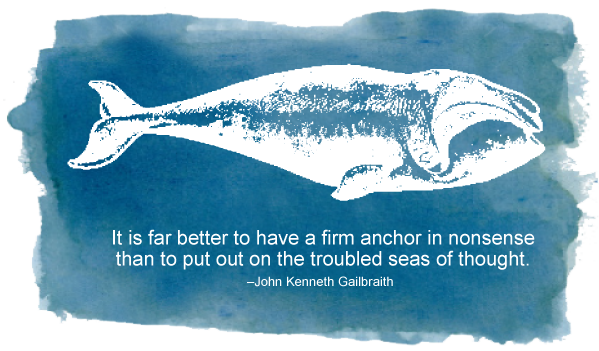 We will have an active and sensual adventure…
…with the opportunity to immerse in the ocean and sink into the sand.  Our surf school day will give us each a chance to read the waves and know directly what it's like to be hurtled along by a gentle ocean wave.  We will be moving quite frequently  in the beginning of the trip, so you'll want to pack light and take exquisite care of yourself so you can show up ready to experience everything.
We will be doing shamanic practices daily- journeying and tapping into the invisible web that suspends us and informs us.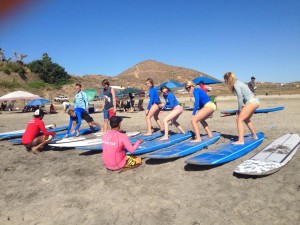 And here you can view a little preview of our special pilgrimage to ROW camp where we will visit  with the more extroverted Momma whales and their babies…
To get a bit of a taste for what this will look like you can check out our accommodations in Todos Santos here
Heck-  we might even get to touch a BARNACLE!!
"GrayWhaleByPhilKonstantin" by Philkon Phil Konstantin – Own work. Licensed under CC BY-SA 3.0 via Wikimedia Commons. WHAT 's INCLUDED in this 8 night Baja adventure?
The ocean is a mighty harmonist.
William Wordsworth
What's Included:
Daily exercises and journey work with Me (Sarah)
2 experienced, bilingual guides
2 vehicles
All hotel, including 2 nights in La Paz, 2 nights at tent camp in Mag Bay, and 4 nights at Los Colibris
All meals starting with dinner on Feb 19 through breakfast on Feb 27 EXCEPT for dinner on Feb 25 and lunch on Feb 26.
All adventures including swimming with sea lions and Espiritu Santo exploration, four 2-hour panga trips for whale watching in Mag Bay (first one on Feb 21 afternoon, second and third on morning and afternoon of Feb 22, and final one on morning of Feb 23), daily yoga at Los Colibris, surfing, Mexican cooking class, cliff walk.
All land transportation, including airport transfers
Support staff, panga drivers, camp managers as needed
Airfare to Cabo is not included-  but,  Lene can help you with your air travel plans if you'd like:)
Schedule of Events:
Feb 19: Fly in and go straight to La Paz. Stay at La Paz Hotel
Feb 20: Swim with sea lions and explore Isla Espiritu Santo
Feb 21: Head up to Mag Bay (~4 hour drive) to stay at ROW's tent camp in Lopez Mateos. 2 hours of whale watching in boats, then on to tent camp on the island at the mouth of the lagoon. Camping in walk-in tents on cots with sleeping bags. Not luxurious but comfortable. Location is absolutely amazing – whales all around when you're sitting out on the beach.
Feb 22: Another day of whale watching in boats and exploring the island. Overnight on island. Full moon.
Feb 23: Return to Todos Santos. Check into Los Colibris and have welcome taco gourmet dinner with Iker.
Feb 24: Yoga, breakfast, surfing. Afternoon free for massages, shopping etc.  Cooking class.
Feb 25: Yoga, breakfast cliff walk. Dinner as a group (but cost of dinner not included),
Feb 26:Yoga, lunch on your own, Farewell dinner at Santo Vino or similarly fabulous local restaurant.
Feb 27: Depart
Details may shift as needed and as new opportunities arise:)
You can download the complete itinerary PDF with pricing here: born-freak-baja-whales-waves-women   As you look at it, note that we are moving a lot in the  beginning and we'll slow down during the second half to allow time to slow down, rest and integrate.
Every time I slip into the ocean, it's like going home.
Sylvia Earle
**BONUS:  If you came with me to Thailand or have done other Journeys International adventures before then you're going to be honored with a 5% alumni discount.
There is room for just 11 participants and only three (3) of those are singles… so if you'd like to sleep solo book early:)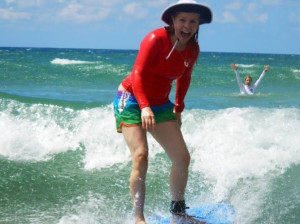 If you've been longing to try surfing, pay a social call to Momma and baby whales…
…swim with sea lions and connect more deeply to yourself and the Universe then simply say yes! The bonus of deciding to go early is that anticipation is half of the fun!
I will be creating a private page on Facebook as the dates draw nearer so that we can all anticipate, meet and swap packing ideas, intentions and dreams ahead of time.
Ready to reserve your spot? Please go here to make your deposit ($500.00) and then here to complete the separate registration form.
QUESTIONS YOU MIGHT HAVE:
1.  Why is this trip a bit more expensive than the Pachydermal Pilgrimage?  I asked this question myself of Journeys International when we were putting together pricing.  It turns out that Thailand is one of THE most affordable travel destinations in the world right now.  So Mexico, although still relatively less than say Japan- overall a bit higher.   This unique adventure in Baja is also a bit more due to the expenses of the staff-intensive parts of the trip- including the whale part of the experience.  Only a small number of special people are licensed by the government of Mexico to bring tourists into these eco-sensitive wilderness locations and to camp on the two beaches we will stay at.
2.  I've heard travel in Mexico is not safe?  There is a travel warning out currently for Mexico from the State Department.   To put this in perspective, millions of Americans travel to Mexico from the US each year without any problems. Journey's International has been running a trip very similar to Born to FREAK BAJA for the past seven years without incident.  They have experienced people on the ground in Baja and they stay in close communication with them.  Journeys has an impeccable reputation and National Geographic has said this about them" The trips and operators we select are a model for the rest of the travel industry:  They open the world to travelers and at the same time leave a positive impact on the destinations and its people."   Each person needs to make their own decisions about these matters.
We will be snorkeling (not SCUBA diving as shown in the video:), but here's a taste of what the Sea Lion swim might be like… please dance along if it FEELS GOOD-  I am:).