Angry Eyes- How My Mr. PotatoHead Tendencies Brought a New Vision.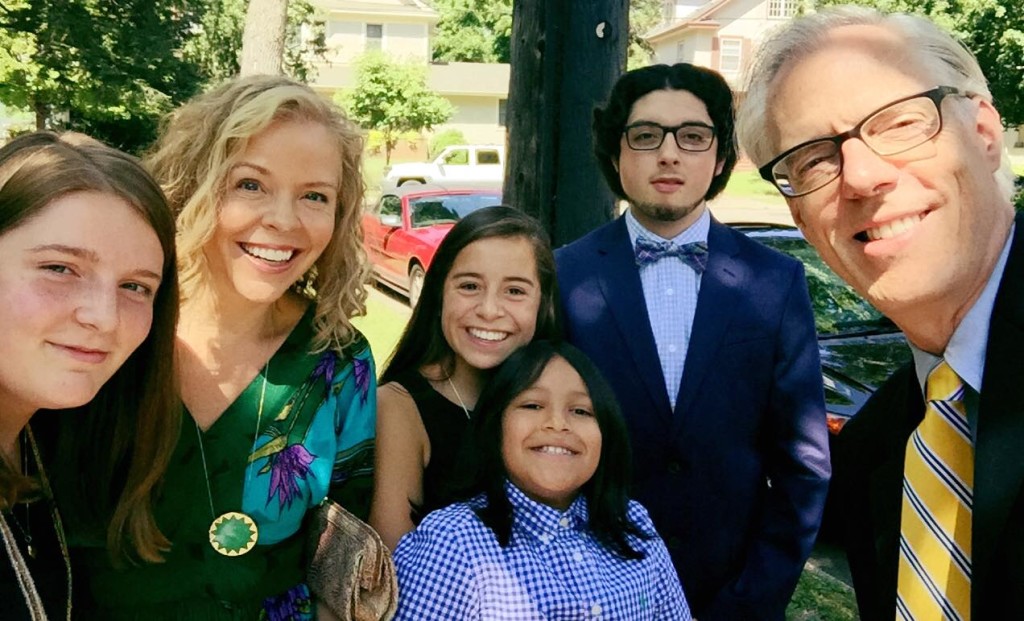 (our family selfie- our oldest son wasn't quite ready:):):) 
Hello dear creators of wonder and beauty!
December is upon us and 2016 looms large and vast—what will you create?  One thing that always helps me to leverage all  the goodness around me is asking for a "Beastie of the Year" to support me.  I began doing this practice when logic and reason began to show it's limitations to me.
I must admit "Seagull" (my Beastie for 2015) kept me in mystery much of the year but appeared at odd intervals to show me that there was no prescribed way of being-  I was FREE to fly this way or that-  to soar or flap awkwardly- dive bomb or hover….
Curious how to discover your own?  Read how here. 
This Fall I got some mighty strong lessons about how I was inhabiting (or not inhabiting it:) my world.   I learned all of this by way of a brief bout with "iritis"-  an inflammation of the eyeballs.  It was scary because iritis, unchecked, leads to blindness.  I had a sudden severe gratitude attack for everything BEAUTIFUL that I have already seen on this earth—really it is quite amazing—lots of tears.
I went to my eye doctor and got treated,  and I also headed to my favorite shamanic practitioners …curious what the spiritual cause beneath this physical process was.  From the standpoint of shamanism, if we don't address the spiritual cause of an issue…we're bound to keep experiencing the same pain or discomfort over and over..until we address the spiritual root.  Only then can we be free of it once and for all.
It turns out, I was so busy trying to see others with LOVE and LIGHT (even when what they were saying about others didn't feel like love and light at all, gaaa!!!) that I forgot to see MYSELF in LOVE and LIGHT.   I was m e n t a l l y  trying to be OK with things (and THAT is a lot of work) that irritated me (hello red angry Mr. Potato head eyes!) instead of seeking peace in my body.  I was in my head–intellectually trying to duke it out with myself.
When I began dropping from my head into my heart and asking for peace….everything got a whole heck of a lot easier–nobody has to act, say or be a certain way.  I can find peace inside of myself.
It's a  true spiritual trap to believe we can be good and holy all the time….we are human…we get mad/jealous/sad/disgusted/offended.
 It's a practice to BE peaceful and I'm a work in progress.    We must acknowledge our dark side if we are to truly use the force for goodness:)  Am I making a lick of sense?  I hope so:)
To practice being down in my body and heart, I have been doing a lot of dancing to Justin Bieber (!!!) and I discovered a cool lady (Erin Stutland) doing some pretty fun and silly stuff with mantras/affirmation and dance/work outs that you might enjoy-  if you subscribe to her site you can get her free "SOUL STROLL" which I have been loving for cruising around my neighborhood while walking the dogs:)  Don't be too freaked out about how supermodelish she looks-  you can do this.
If you need to get out of your head and into your heart- I highly recommend trying a SOUL STROLL:)  It might FEEL GOOD:).
I wish you the peace and tranquility that we all know only a 75# stone lamb can bring!
Many blessings, Sarah
P.S.  News!  My spirits advised me to reduce my rates for healing…they suggested that my rate was holding some back from seeking it out.  I have heeded their request.  You can book here.
P.S.  I'm co-leading a LOCAL class on how to discover your own Core Beastie—  I don't know where Id be without Alice the Elephant and other spirits-  she is an IMMENSE help and comfort…the understatement of the year.  Join us if it feels good!
P.S.  Ill be in Austin TEXAS in conjunction with Martha Beck's new book launch!  I'll be offering a class there too and I would LOVE to see you!