A Powerful Mantra from Art Medicine Woman Aviva Gold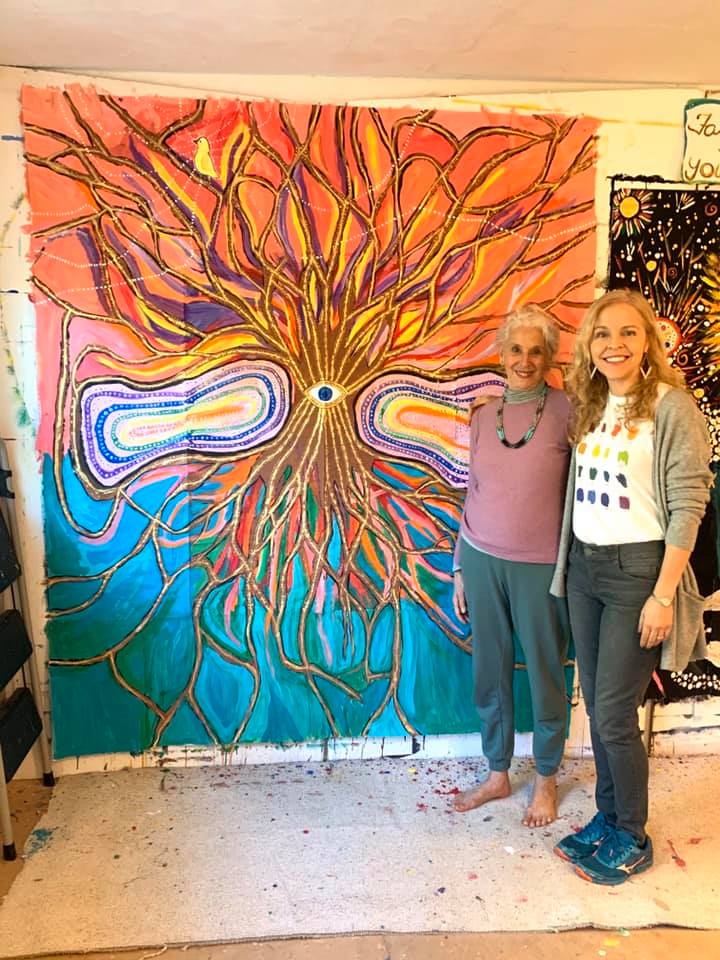 (My painting from "Painting from Source with Aviva Gold" workshop- I had no idea a painting like this could come from me.)
Greetings creators of wonder and MAGIC!
Have you been noticing something is calling to you? Especially when you get quiet?
What in your life is calling you,
When all the noise is silenced,
The meetings adjourned…
The lists laid aside,
And the Wild Iris blooms
By itself
In the dark forest…
What still pulls on your soul?
-Rumi
Whatever thing that is, I highly recommend you move towards it. Especially if it's mysterious or illogical—even better!  It will take you good places.
A part of me has been calling me to paint and paint BIG.  I couldn't quite figure out how to do that on my own so I put myself in the capable hands of medicine woman Aviva Gold. 
In the studio, where we painted, she had many mantras on the walls and this was one of my favorites:


I think this is a great mantra to post where ever you are doing your creative or healing work- in your studio or at your desk.  Our mind can interfere with our soul's joy…we must actively steer it away from these judgements always.  KEEP PAINTING (or writing, or dancing or yoga-ing or doing astrology readings or…..whatver creative activity you have chosen to do!)
I did an interview with Aviva afterwards because I think she is a powrful matriarch-  the kind that we all need to listen to now if we want to stay on our paths.  Watch the 25 minute interview here and, at the end, she shares an important practice you can do this weekend!
I highly recommend her book which is full of color and joy and easy instructions on how to begin at home… Painting from Source.
Painting that painting changed me fundamentally. I am more awake and more loving somehow- a crazy miracle!  What effect might following what is calling you have on YOU?  You won't know until you do it!
Sending much love and many blessings!
To book a shamanic healing session or divination please go here– I would love to work with you.
Love, Sarah
EVENTS
Plan to join me on January 26 We are going to all journey online together and activate your 8th chakra, your inner healer or inner shaman. There is something so powerful about journeying in a group- I think the spirits really like it when we do that.  I hope you'll join us and/or do it with a friend!
There is nothing more powerful than when we gather together face to face to do our work!  We connect, we make powerful realizations about ourselves and we get clear on why it is we are here.

Join us in March and TAKE ADVANTAGE OF EARLY BIRD PRICING.
March 13-15, 2020 Beauty Lodge at Camp Amnicon (N. Wiscomsin)  learn more and Register HERE

April 24-26, 2020   Til Death Do Us Start – An Experiential Workshop to Enliven You. (Camp Amnicon in N. Wisconsisn)  Register here

Have you wanted to come to one of my retreats but prefer a slightly fancier set up?  I have got a beautiful event in Oct 9-11 2020 at Wild Rice Retreat on the shore of Lake Superior in Bayfield Wisconsin. David Salmela designed the entire building as well as the beautiful cottages you get to stay in!  Check out the details and register here.
Locally I have a few Sound Healing Sessions in Duluth going on Jan 15 2020 and March 18 2020 that I am collaborating with Bryce Kasting on.  You can register at Yoga North for these.  OR call 218-722-9642. A beautiful opportunity to heal and receive guidance from your sweet and unlimited soul!