What I learned from my Recent 100 Day Project and The Power of Enchantment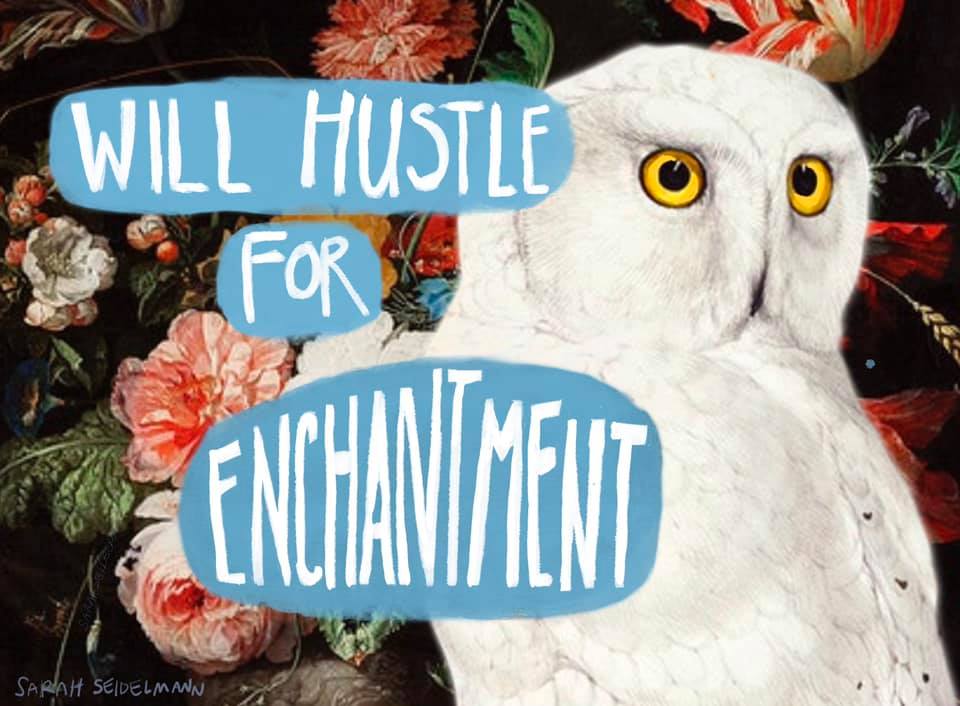 (Art by me! You can buy t-shirts mugs, greeting cards and journals with this design here.  )
Dear Creators of WONDER and MAGIC-
When I attended a conference a few years ago and Elizabeth Gilbert asked us to write ourselves a letter from our #enchantment, I was blown away. I had no idea exactly how much magic, sweetness and beauty there was in this exercise.
I am enchanted by beasties, the light that shimmers on Lake Superior, dioramas, painting flowers, tribal textiles, aboriginal paintings, butterflies, antique color palettes (from oil painters), DOGS, sacred ceremony….it's a long list!
As, I continue to explore the avenues that #ENCHANT me I find that it's endlessly fascinating and meaningful.
When we do things that enchant us, we will really like (if not love) what we are doing. 
It takes courage to turn away from the "shoulds" and the "thing everybody else is doing" to focus on the ecstatic + weird ideas that flow from your beautiful ENCHANTED heart but DANGNABBIT it's worth it!!
What is enchanting YOU lately?  Creating a PINTEREST board can be fun for collecting your ideas.  Here's one of mine that Alice, my spirit elephant, helped me with .
I wanted to take a moment to share what I learned doing the Creative Soul Retrieval (a group 100 day project) this summer.
When we designed our "project" we each tried to choose something that truly enchanted us!
I did a piece of collaged and painted digital art on my ipad using apple pencil every single day. My ENCHANTING inspiration was inspiration was FUNNY SELF-HELP book titles and (of course!) animals!  I'm pretty obsessed with both.

Things I learned in Creative SOUL Retrieval:
1.  You never run out of ideas (though you WORRY you will!).  Better and better ideas come all the time as you use up the current ideas.
2. My inner critic quieted down after day 30.  She seemed to give up fretting over whether the piece was good or not-  so I was able to post and share my paintings without as much inner turmoil eventually.
3. I got so much better with Procreate (the software) in 15 minutes a day- small chunks of time ADD UP–now its so much fun and easy to work with.
4. I discovered that I LOVE it when something I make connects with somebody else- they laugh or say AMEN!  That is deeply satisfying and eventually happens if I keep creating.
5. I AM AN ARTIST and art is a great mystery and a privilege to make.
Here are a few gems from participants:
I am a powerful creative.
I have a voice and it's worth sharing.
Beauty is everywhere just waiting for me to notice it.
Showing up consistently for creativity affects all aspects of my life.
I fell deeply in love with my creative soul.
So, what are you waiting for? What enchants you and you could do it for 5-15 minutes a day?  You can learn more about these 100 day projects here.
I will probably take a group through it again next summer- but if its calling you now- don't wait! Begin anywhere you are!
You can NOW pre-order my new novel for Kindle (Paperback links will be shared soon!).  Click on the image below to go to Amazon! I can't wait for you to read it!

I am off on retreat for a few weeks in October but will return to work Oct 18th!
With much love,
Sarah
P.S.
Curious to connect with your very own helping spirits?  Alice the Elephant has changed my life in the most powerful way.  Join me October 26 via ZOOM to  learn how to shamanic journey–  OR (if you are a seasoned veteran!) join us simply to practice together —there is power when we gather!!
THIS SUNDAY IN PERSON IN DULUTH, MN, I'll be teaching an introduction to shamanic journeying in person at Svalja Yoga. It will be my last time in person teaching this class in 2021!
Sunday, September 26th, 1:00 – 3:00 pm
You can find the details here and register.