What are your daily habits voting for?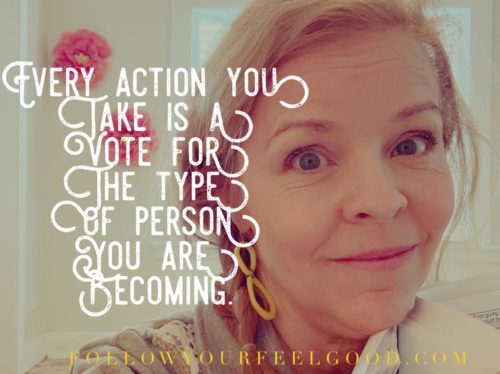 Dear creators of WONDER and magic!
Last year I wanted to learn how to play an instrument and sing at gatherings.  I was scared but OH OH OH I so wanted to become the kind of person who could do that.  So I began to play a ukelele here and there. 10 minutes. 5 minutes. 36 minutes.  Searching music. Printing it. Practicing it.  I kept the uke out on my couch where I'd see it daily. Watching youtube how to videos.  Little by little, I achieved the dream.  I sang a song at a gathering this fall and it felt so good. Integrity tastes sweet!
I didn't do it 12 hours a day.  I didn't go to an expensive workshop. I didn't have to hire anybody to help me (though you could!).  And I realized:
Every time I work on my book, I'm a writer!
Every time I meditate, I'm a force for good.
Every time I go for a walk in the woods, I'm a nature-connected human.
Every time I speak at an event, I'm a leader and change agent.
What actions will you take today that transform you into the person you long to be?
(All this is inspired by the most marvelous book I am reading #atomichabits by James Clear wich explains the science behind WHY the above is TRUE).
So who is it that you want to become?  Begin by adding one SMALL (it must be small or you won't ever do it!) habit.  If you are needing support- I am here!.
—-
Are you longing for a career that MAKES YOU FEEL GOOD?
Check out my VIDEO interview with Sarah Vermunt of Careergasm!
She helps people figure out and find their FEEL GOOD work.
Have you always longed to go on a wild adventure and spend time in the good company of elephants in nature?  The Pachydermal Pilgrimage taking place in February 2020 is happening!  There are just TWO spots remaining- so if you'd like to join- don't wait to put your deposit down.  Here's a video from the last one I led!
I'm also  cohosting a SHADOW LODGE retreat in a cozy spot in Northern Wisconsin 3/29-3/30! Get your tickets here. I think just 3-4 spots remain.
Also I will be in MINNEAPOLIS April at Jewelweed in Minnetonka leading my signature class- FINDING YOUR FEEL GOOD on the Hero's Journey- to help you step towards your biggest dream. Register here.
REMEMBER- YOU ARE the GIFT and the medicine that others need!:)  Be kindly to yourself.
much love, Sarah
P.S. If you aren't quite ready to commit to 1:1 coaching or healing work but you are longing to feel better in your life….  I have created a wonderful program where I teach you everything that I teach my 1:1 clients-  it's called LIfe Pirate Academy and its getting glowing reviews!  Check that out here.