Tips for Creatives with ADHD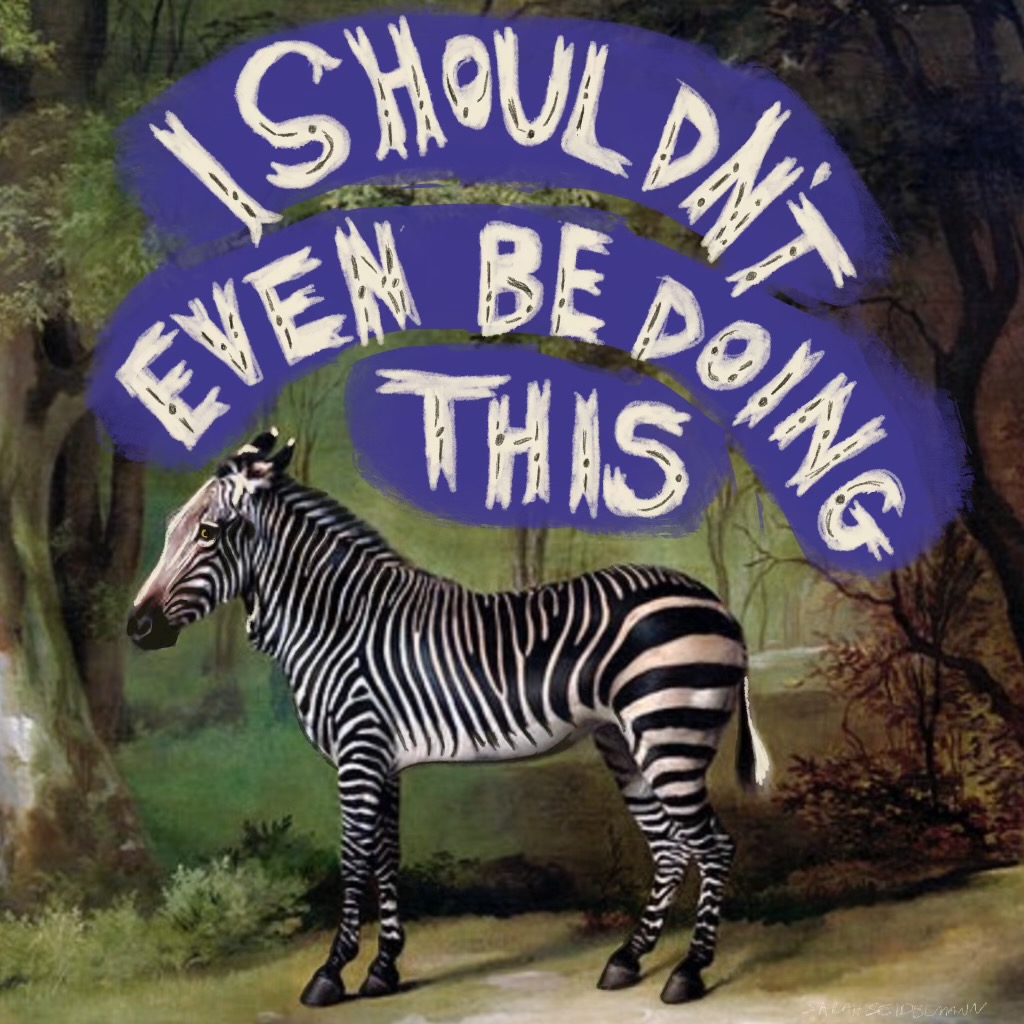 (Art by me from my 100 days project "Self Help Satire" on Procreate with an iPad)
Find goodies from that project (greeting cards and mugs here)
I asked fellow ADHD people what helps them MOST to thrive. We are all unique, but I found that many of the things they mentioned were things I also do! (To read about my own diagnosis with ADHD check out this post.)
It's funny how "normal" it seems to me to have my phone alarm going off upwards of six times a day to alert me to different happenings.  I forget that we, who are BORN TO FREAK, need special ways and workarounds to be productive (and to stay sane!)
I have compiled my list of favorite tips below.  But before you go there, the BEST TIP from our group was having a shift in MINDSET.
A mindset that:
"MY WORTH IS NOT MEASURED BY MY PRODUCTIVITY"
"RADICAL SELF ACCEPTANCE"
and PERMISSION TO BE HUMAN above all.
So, life pirates, before all the tips—  BE GENTLE WITH YOURSELVES…
MY Favorite tips for Creatives with ADHD.
And if you haven't read my book BORN TO FREAK: A Salty Primer for Irrepressible Humans...I highly recommend you check it out! I hear from many ADHD peoples that this book uplifted them like no other and they keep it around to randomly reread sections for encouragement.
As promised, here is a preview of my new novel cover coming soon to a bookstore near you! I had fun co-creating it with my daughter Josephine, a student at the University of Minnesota Design School in graphic design.
Here's a wee description of Where the Deer Dream: A Coming of Age Adventure in Spirit:
High school senior Meera has big plans.  She's going to make the world beautiful. The only problem is that to do this she's got to attend Interior Design School at the University, hundreds of miles from home.  She hasn't gone on a sleepover since sixth grade, Thank God her BFF Penn is there for her because with Lorraine, her mom,  it's complicated. When Meera discovers something unexpected, a whole lot of confusing things suddenly make sense, and simultaneously, absolutely nothing is clear.  She senses she can't get through this in the ordinary way. This is going to take otherworldly assistance. But will she have the courage to open that door? And will it even matter?
I hope to have a pre-order link for you soon.
A few other treasures for you:
1. Save the date Dec 3– for a local ceremony at my office (details TBA).
2. Need some company as you commute or declutter your lair? LIsten to our wonderful conversation about THE MEDICINE OF LOVE– on Wealthy wellthy!
3.  If you are empty nesting (or near empty like us!)– a few tips I have found to be helpful:
Remember to breathe
Play music
Make things = work with your hands
Check in on others via phone or text or drop off a treat!
Arrange plans for adventures big and small
Tend to life.
Water plants
4. A quote from Anne Lamott with a shoddy illustration from me (in gouache!)

"The amazing thing about grace is that it meets you exactly where you are and then it doesn't leave you where it found you. It sort of tricks you into getting into its wheelbarrow. And then it moves you to someplace where maybe there's just a shaft of light or maybe there's cool water. And the cool water I found was other sober people."
Anne Lamott
I hope you find your version of "sober" people if that feels good to you and I hope you can continue to learn to "endure the beams of love" as William Blake suggested we are here to endure.
I have a few local classes coming up…
Monday, September 13th, 6:30 – 8:30 pm
Sunday, September 26th, 1:00 – 3:00 pm
Cost: $48
If you are local or will be up north near Duluth this Fall, I'll be teaching an introduction to shamanic journeying in person at Svalja Yoga.  There are two dates – so I hope one works for you!
You can find the details here and register. 
I'm here to help if you are yearning for healing, more clarity or a stronger relationship with your helping spirits/Core Beastie.
We all need sacred space to be held for us from time to time..so we can find our way.  You can always find and schedule sessions here.  
with much love,
Sarah