A Few Rules that Make Being Creative Easier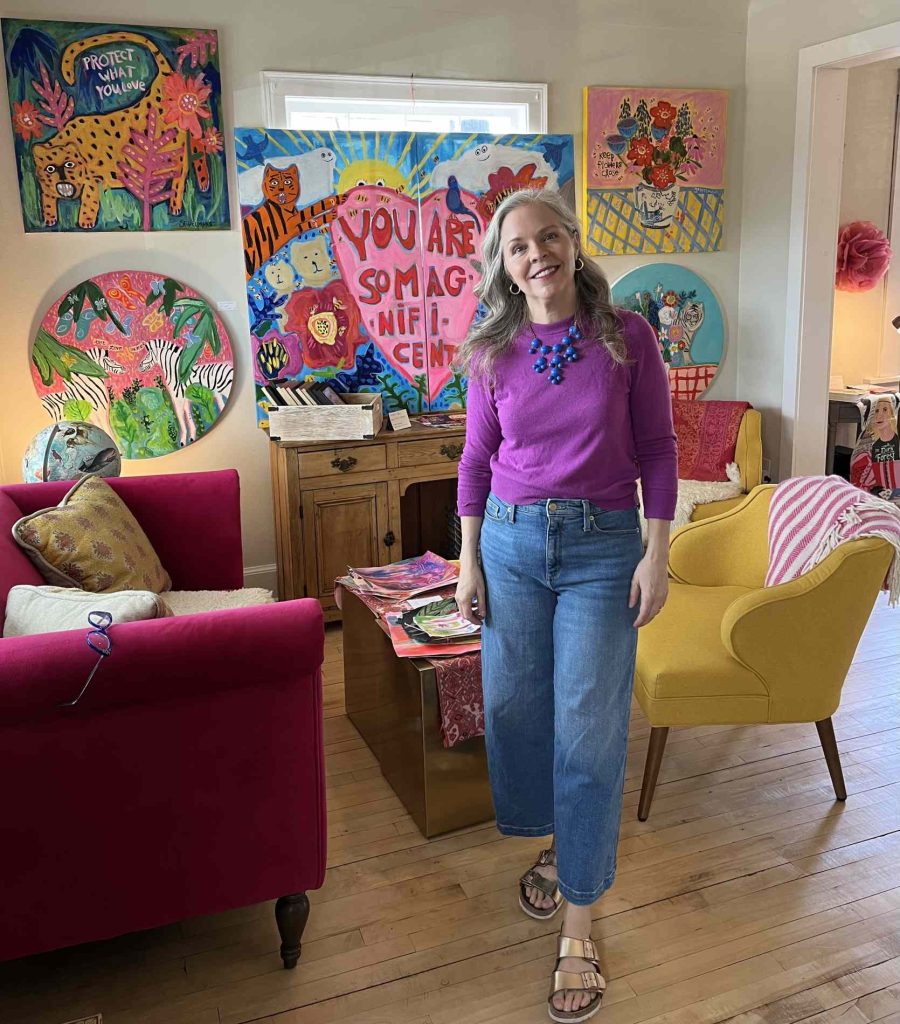 I've noticed that I feel so safe here with you! I think it's because you have said YES to receiving this email and we must share at least one thing: a love of beauty, diagnosis of ADHD, addiction, a love of the SACRED, a passion for being creative, or maybe its love for all things wild?
With whom and where do you feel safest to share your innermost thoughts? It might be just with one human or one four legged beastie! Whomever they are hold them close.  That's why I keep writing to you! It's a way of holding you close!
Here is my short list of FEEL GOOD ideas I hope will inspire you! 
1. A Few Rules That Make Being Creative Easier:  I wrote this week about my journey into painting! It began with my fascination with one woman who was an artist.  Who are you stalking on Instagram or who do you get excited to receive their emails?  They might be doing something you also long to do.  Read about the 5 rules and more here.
2.  Being Creative Helps me FEEL My Feelings: Writing down my stories and experiences has helped me to slow down enough to know how I am feeling.  Painting too!  This week, after my cardiac ablation procedure to stop the funny rhythyms from happening in my heart (it went well!),  I experienced some more funny heartbeats and had to call the nurse on line.  It was scary.  Did this procedure not work?  Am I doing something wrong that is making my heart so unhappy?  They got me meds that fixed the problem for now.  Then, I began to to paint about it. In abstract (see image below).  During the painting, I remembered that affection is my love language…and I identified that I needed more of that. In the morning after painting, my husband spontaneously pulled me in for a big hug while I was making my coffee and I swear I felt like it was the painting that called it in. 
Creating is magic.   IF you'd like to play with this sort of magic for a bit, join Creative Soul Retrieval! We begin May 31, 2023  BUT you'll need bit of time to design your project so don't wait too long!
(WORK IN PROGRESS: "Affection is My Love Language)


3. Relocate Your Darlings:  This wonderful idea comes from Austin Kleon who's books (Steal Like An Artist and more!) I adore.  WE have all heard the phrase "kill your darlings" as it related to your writing-  to eliminate the bits of writing that don't contribute to the overall story or flow of a piece. But that can be ROUGH!  What if there is a bit you have to delete and you ADORE it.  In that case, relocation is a much better idea.  
4. Map Your Heart: If you are in need of a wonderful creative idea to take yourself on a wee art retreat (alone or with a friend or two!) this wonderful link can inspire you to take the steps.  I haven't done it yet but plan to in the coming summer days. How wonderful to spend time in the space of communication with your HEART. Find Heart Mapping here. 
5. Remember Why You Are So Awesome and Why It's Sometimes Hard:  If you've got ADHD this podcast offers a beautiful and concise review of why things are the way they are and what is so awesome! It lifted me up!  My book Born to FREAK has also lifted many a  creative/ADHD/Bipolar/Anxious/Depressed Soul as well! Check that book out here. 

We begin on May  31 to create each day for 15 minutes! This is life changing work, no hyperbole:)  You can learn more and join us. My one hour class to help you design your project is already posted and there are other resources too! Learn more and join us!
You can book vibe-raising divinations, life- coaching, and shamanic healing/mentoring later in April and into May June  HERE. 
with love,
Sarah
This email is reader supported! The best way to support me is to:
1. BUY MY BOOKS  (or listen to them on Audible!)
2. Purchase my CARD DECK 
2. DOWNLOAD my BEASTIE App for Wild Animal Messages
3. Book a HEALING or COACHING session with me.
4. Take a CLASS from me.
5. Purchase a mug, t-shirt, framed print, tote bag, shower curtain or other magical thing that I have created at MY ART SHOP.
6. FORWARD this newsletter to somebody who you know would enjoy it!
Have you been putting off a creative practice because life is moving too fast?
One way to fit songwriting, uke playing, drawing, painting, writing or comedy (or whatever sort of "making" you'd like to get better at) into your life is to do a #100dayproject!
Four years ago, with three kids still at home, a book I was writing + a busy teaching and healing practice- I was having trouble fitting what mattered to me (creativity!) into my days…This method made it possible!
A whole bunch of us are going to do it together beginning June 1!
I'll be sharing best practices and lots of other inspo! Learn more + Join us HERE.