Why Death is the Ultimate Life Coach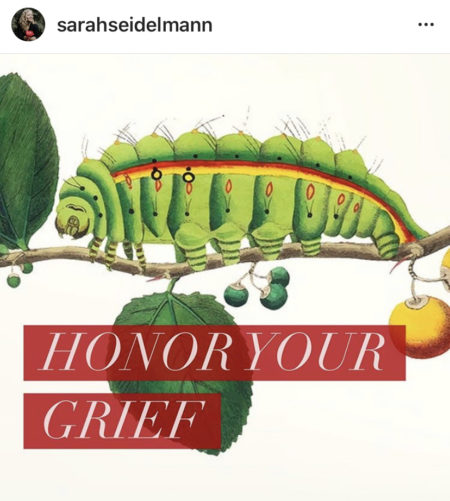 Day 94| Messages from Alice the Elephant (My Spirit Animal!)
"When you feel overwhelmed by grief, it can be difficult to feel joy. You worry that you should stop feeling sad. But, your power is in your broken heart. To grieve properly is to have loved deeply."~ Alice the Elephant \
Dear God, help me to honor my grief wherever it occurs. 
(from my #100 days project that will be a 365 daily inspiration book  and a card deck coming to you in 2020!…see all messages here: Instagram.)
Hello Creators of Wonder and Magic!
Thank you for allowing me to be part of your world! Last year I spent quite a bit of time immersed in the world of conscious dying and the Death Doula movement.  I completed a few trainings and launched "a Death Cafe" with a friend.
After sitting with all of it, I just knew I had to create a POWERFUL in-person EXPERIENCE for you.
Most of you have dreams of doing meaningful work and using your gifts in service to the world. And maybe you long to improve something- a relationship, your health, your financial situation. And yet, sometimes we drag our feet for a lot of reasons.
And nothing changes. Our dreams await us, unfulfilled.
I have discovered that there is no greater teacher than death to motivate us to step towards our destiny.  Maybe you've had a brush with death yourself and know exactly what I am talking about? Or perhaps you lost somebody suddenly and it caused you to revaluate everything you were doing?
I have a new workshop! its's called 'TIL DEATH DO US START.
Whether you have a few moments or 50 years of life here on earth remaining, you have a purpose and there are things you want to accomplish, experience and BE while you're here on earth.
Are you ready to have the relationships you dream about?
To take action on those long cherished dreams of yours?
To begin serving the creation/the Universe without resistance?
To break through your resistance to doing the things you KNOW you're meant to be doing?
To allow yourself to experience the things your soul longs for?
To live happy, peaceful and free?
Are you longing to stop holding back (or hesitating) where it matters most?
P.S. Don't worry! Talking about your death (happily!) will not bring it on, but it just might be the catalyst you need.
There's a reason that all shamans keep death as a close ally: Befriending death enables them to do the things they came here to do.
THIS IS THE WEEKEND LONG RETREAT VERSION
Nov. 1-3 2019
Camp Amnicon in Wisconsin (45 minutes outside of Duluth, Minnesota – which is the nearest airport
(3 hours from Minneapolis/St. Paul.)
$425.00 includes entire retreat, lodging, all meals and materials.
All details and tickets at the link below.
https://followyourfeelgood.com/til-death-do-us-start-workshop-exploring-our-own-death-so-we-can-say-yes-to-our-life/
I
THIS IS THE SATURDAY, "day long version" – it will be held in Birmingham Michigan in November 16!
tickets for that are here:
https://www.universe.com/events/til-death-do-us-start-tickets-B80C4S
Just 1-2 spots remain for Bali in April 2020! If your heart is saying YES- don't wait. Click on the video to learn more!
Read more about the adventure we have planned and plunk down your 600.00 deposit to hold your spot!:)
BALI: WILDLY ALIGNED (full details)!  
much love,
Sarah
P.S. You can always get support on bringing your dreams to life by working with me 1:1.Learn more  here.
P.S.S. Ready to take other like minded souls on transformational journeys?  We need you! Learn how to become a FACILITATOR for my Hero's Journey Retreats (2 hour to 1/2 day to full day events) HERE.