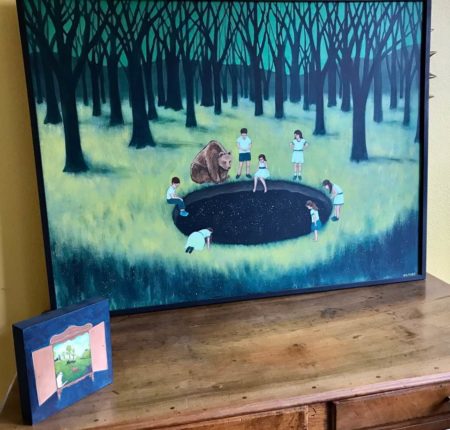 (Recently purchased Shawna Gilmore – Visual Artist "It Happened One Day in A Forest Far Away"
I adore how the bear and kids are all peeking into the vast Universe (through this earthly portal) and how they don't look afraid but CURIOUS:)
Dear creators of WONDER and MAGIC,
Welcome new readers! I hope you are all in the process of manifesting your dreams! I have been thinking about trust a lot lately. It's a key ingredient for successfully creating without limits. But, so often I don't trust: that amazing things are possible, that the intentions of others are good or that I can have my cake and eat it too.
When I started looking for areas where I DO trust, it excited me.
I can especially be challenged with money- trusting there's enough or that it's OK to spend it.
As you read, ask,  "Where in my life do I EASILY TRUST?
One of mine is that when I see art that I love…it's OK to buy it. Not only do I get to enjoy the work but it feels so good to know I am supporting another artist:)
I trust that if I spend the money (even if my account is low…and it seems illogical or impractical), it will be just fine.
Another example, for me, would be giving money to philanthropic projects that excite me.
I've learned that if I buy art from artists and give when my heart wants to–the funds are there. Or, the cash arrives in time.
I trust that I am loved. I trust that each challenge I face holds a potential lesson. I trust that there is something superwise and mysterious that hums beneath this earthly experience. I trust in the messages of beasties.
I know (intellectually at least) that the Universe is unlimited but these examples where I *know* I can trust because of my experience.
I'm working on trusting in EVERYTHING and it excites me to see my progress:)
How about you? Is there a place where you have learned that you can always trust?
When I posed this question, "What do you trust?"…I received the most BEAUTIFUL ANSWER from a friend!

https://betweenthewoodsandthewater.tumblr.com/post/84050189325
What do you trust?", she asked.
"I trust your knowing", I said,
" and I trust the way the fox takes a moment of her time to see me. Her call that wakes me from sleep and the scent of her visit that lingers.
I trust the doe when she wags her tail and doesn't run away.
I also trust when she does run away.
In trust the sound of hummingbird wings, singing toads, caterwauling owls and the wisdom of crows.
I trust all the colors of the sun rising and setting and the bone white sky before snow.
I trust the maple leaves that flip over before a rain, the scent that arrives before the storm and the rush of wind that portends.
I trust the spider silk that glints in the dappled light of the understory, and I trust the feather found.
I trust the laughter and the salty tears and the salty ocean tugging at ankles.
I trust the ancient-ness of mountains and the embrace of old trees.
And I trust my knowing.
~Wendy Cook of Mighty Girl Art
https://wendycook.com
Gosh-  this rang so true….I trust the earth and its inherent wisdom.  And I am a part of that – we all are.
I am learning to trust myself.
Where could you grow your trust?  How much could you surrender?
Much love,
Sarah
P.S. I bought the new art above for my new office (we hope to buy a small house for me to work out of) which I am trusting is going to be used this year for ever expanding healing, writing, classes and gatherings!:)
P.S. The first glowing trade review is in for my new book coming in October, Swimming with Elephants (from Foreward Reviews)
If you'd be willing to be a part of the launch team for the book- it would mean the WORLD to me.  If YES- please hit REPLY and say- I want to help!
I will include you in the pre-launch emails!
Via Foreword Reviews:
Seidelmann is an often irreverent narrator whose memoir is as transformative as it is off-the-wall.
Emotional and spiritual awakening are at the core of Sarah Bamford Seidelmann's memoir about her transition from medical doctor to shamanic healer. The title, Swimming with Elephants, refers to one of the powerful spiritual journeys that Seidelmann takes with Alice, her animal spirit guide, who appears in the form of a happy and supportive pachyderm. Alice is at Sarah's side soon after she realizes that dealing with sickness all day while juggling a family of four kids is simply not working for her. What calls to her instead is much less mainstream.
Told with a mix of humor, raw honesty, and gentleness, Swimming with Elephants is a journey of healing. Though becoming a shamanic healer is at the core of the book, it's about much more than just this one route to becoming whole. Seidelmann's struggles will be familiar to anyone who has tried to balance a career with family and personal fulfillment. What stands out is Seidelmann's unique way of bucking tradition and finding her own way.
From energy-healing retreats and solo journeys in her walk-in closet to all-encompassing trips to spiritual meccas like the Taj Mahal, Seidelmann embarks on a path that may seem completely foreign to some, but that nevertheless results in resonant calm and healing.
Touching on the power of crystals, the ability to communicate with animal spirit guides, and internal trips to higher realms, this is a guide to everything mystical. Seidelmann is an irreverent narrator who pairs deep, soul-baring stories with quips about boob jobs and her "shadow spirit," resulting in a memoir that is as transformative as it is off- the-wall.
Memoirs work best when the author is ready to lay it all out on the table, and Seidelmann does this in Swimming with Elephants. Her willingness to be herself and to follow her path—no matter how non-traditional and wacky it might seem at first—makes for an endearing and illuminating adventure.ANGELA WOLTMAN (September/October 2017)
Preorder here:)
?
?
?
?
?
?


Coming in October 2017 and available for PREORDER now!