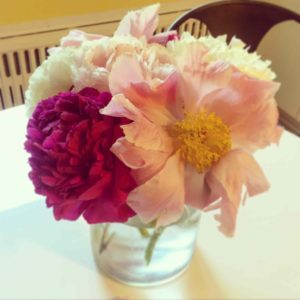 I had a wonderful birthday and got flowers from my sister AND two dear friends (!!!) and lots of wonderful notes and calls!  I also received a beautiful gift from a dear friend and it was not a physical object-as gifts usually are. Instead it was the gift of a single sacred word that she received from one of her spirit helpers/guides.
We had been talking about meaningful words and I had told her that there are some shamans who are "word doctors" and heal only with words that are sacred—given to them by the spirits to cure illness/sadness or to help a person in some way.  She was excited about this idea.  I told her that if she wanted to know more she could ask her spirits to teach her.
Weeks later on my birthday, she surprised me with an email and told me she had journeyed to her helping spirit to ask for a word for me- as a gift.
I had been experiencing an extremely trigger filled month for some reason-  kids stuff, writing on a new project (GAAA!!!), VISA bills (Paris- what????), was it just me or was May kind of a wild ride?
Nature helped and journeying to visit Alice and my other spirits helped too, BUT I was open for any kind of goodness to help me find my footing.
When my friend shared the word with me, I had goosebumps going up and down my spine.  It meant so much to me. It was perfect.
Bow.  (def.) To bend the head, body, or knee in reverence, submission.
I couldn't think of a better word. It felt like a beautiful anchor for me.  If I could make my actions a deep bow of honor- or gratitude for life.  If I could bow to the sacred that would take me out of my head (which had been fully engaged in some kind of epic wrestling match with itself, LOL!). I wrote it out in cursive and placed it in my kitchen window to help me refocus on goodness.
To bow also feels like SURRENDER. Deference to a higher power.
Maybe you have been struggling somehow too with something?  If you have a relationship with a spirit animal or spirit teacher, I invite you to journey to them and ask them to gift you with a healing word.  I have a hunch it would feel good!
If you'd like to find a spirit who can help you (A Beastie or a spirit in human form) I invite you to take my digital class Get Sourced.
And speaking of spirit helpers…….
My new book (The Book of Beasties: Your A-Z Guide To the Illuminating Wisdom of Spirit Animals!) will be here soon (July 1!) and I would love, love, love your support in sharing it and spreading the news!
To write this book, I opened a sacred circle and invited all of the beasties who wanted to share their wisdom to come and speak and they had A LOT TO SAY!:)  This is a wildly expanded spirit animal encylclopedia with specific and prescriptive guidance to inspire and delight you!
Here's a video of me giving you a first look inside the book!
Here are ways that you can help
Pre-order the book at Amazon.
As soon as you can after the book arrives,  share a brief review at Amazon (those help SO MUCH!)
Share a photo of the book on social medial and tell your friends why they should get it too!
Have a beastie book club party and invite me! (I will appear via skype or in person if I can!)
I'm also starting BOOK TOUR (more dates/cities will be added!) and hope to see you and hug you!
Duluth Zenith Bookstore 7-8 pm July 12th
EAST WEST Books Seattle 7-8 Pm August 16th
Seattle Work Shop- Finding Your Feel good on the Hero's Journey EAST WEST Bookstore Seattle
Saturday 1-3 pm
San Francisco Bay Area- Marin–  Book Talk and Luncheon with Workshop in afternoon! (link to buy tickets will be added soon!)  Sunday October 7th 2018 History Club of Los Gatos
With love, Sarah
P.S. I have a local event happening in Duluth July 16 at Yoga North- I hope you can join me! Get tickets here.   Have you been longing to take action on your dream but you haven't been? Or maybe it's just felt so damn hard that you have been taking a breather from all of it? Or maybe it's been feeling like something is missing…and if you had that something…things might go a bit easier?We are going to gather as like minded heroes and connect heart-to-heart and soul-to-soul. This is one of the most powerful things we can do when we are Hero's—isolation is dangerous. We need solitude- YES but isolation- hell no!