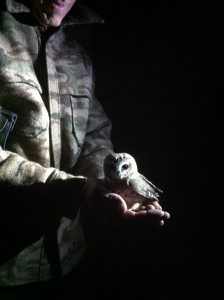 My husband Mark (in photo above) and I had the privilege of going to see Saw Whet Owls get banded at Hawk Ridge in Duluth a few weeks back.  It was a most magical evening.
We began by unloading the kids out of the car up on this gorgeous rige overlooking lake superior… away from all the city lights the kids were gasping at the stars-  they were so bright and mesmerizing.
We then were met by Karen Stubenvoll, MD and Hawk Bander, who is devoted to conservation and protection of all birds of prey.  We followed her down a pitch black trail in the woods with our headlamps on and started hearing the calls of owls.
These were not owls calling but, humans calling in the Saw Whets and Northern owls with their human voices.  Then, somebody manning the nearly invisible nets they place to safely collect the owls during migration for tagging said-  "over here"–  there was a tiny saw whet sitting perched in a tree and we were all amazed!!    We stood just watching it from about 15 feet away.  If you have never seen an owl in the wild it is a TREAT.
But it was about to get better.
We were lead to the 10′ x 10″ garden shed that serves as their "banding station" where the two naturalists were busy with owls.  We stood huddled as they drew the first saw whet out of a 15 oz. green bean can.  Saw Whets are cavity nesters and they LOVE to feel snuggled in and safe in a tight confined space- so while awaiting tagging they are kept in these.  When it popped out it did not appear afraid at all. In fact, if anything, it appeared quite curious about us and what we were up to.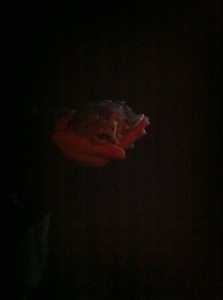 It's hard to describe the sweetness of Saw Whets-  it's like they are full of wonder and innocence and yet fearless.  The naturalists kindly showed all of us the different kinds of feathers they have, how they estimate their age and we were allowed to touch their exsquisitely soft feathers.  Cashmere has nothing on these sweet Beasties!!
Finally once each bird was tagged –  each of us had the opportunity to release one.  We stood one at a time with our hands cupped (as if to receive communion) and then the saw whet sat for a bit.  For my daughter who was a bit scared of the whole thing – the bird flew off quickly.  For another friend – the tiny owl stayed so long with him that they finally had to coax it off into the night air.  My owl sat in my hands and then spread its wings out around it self and snuggled down into my cupped hands.  It was a magical feeling to have this loveliness snuggled (by choice) into my hands………after a bit……it sat up and they silently flew off into the starry night sky.
What a FEEL GOOD-  to be trusted by these innocent and wondrous birds of prey.
If you are interested in having a wonderful owl encounter like this- and live near Duluth or are willing to travel…… you can do so by making a significant donation (I believe around 250.00) to Hawk Ridge.  Please contact them for details!