It Is Our Stories That Teach Us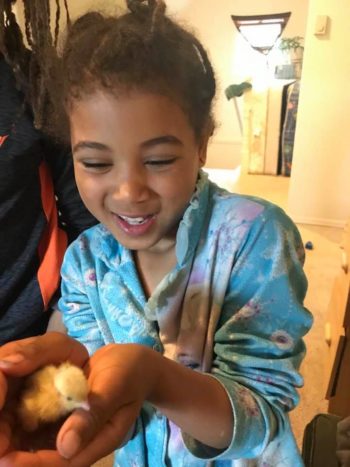 Hello dear creators of WONDER and MAGIC-
It is our stories that teach us.
My friend Shannon's daughter is in the photo above holding a baby quail.  Their family is one of my favorites in our community.  Shannon is a gifted naturopathic physician and her husband Charles is a psychotherapist and community leader.
One winter, Shannon told me how Charles, who is black, got stopped three times by the police for nothing.  I couldn't believe it.  She began to share each episode in detail with me. It was so upsetting to think of Chalres in those situations.
Thankfully, Shannon's Dad is a cop and has told Charles EXACTLY how to behave when he gets pulled over to prevent any sort of escalation.
The police in our city, for context, do not pull my husband over when he's driving. Ever. Not in twenty years.
Here's Shannon's story from this week.
As you read this- imagine Charles as one of the most grounded, wise and amazing men you've ever met. Because that is Charles.  But notice how he is in this story….
"Our quail eggs have hatched! And getting these could have been at the cost of my husband's life. We had to pick them up from a rural area which was closer to his work, so it made sense for him to pick them up after work. I kept questioning to myself, "Is this safe for him to do this? Maybe I should take the time to do this." Well, he was thinking the same thing and called me before leaving asking me to please inform these farmers that he is black. So I did. The eggs were going to be out on their porch and he felt incredibly uncomfortable going up on their porch to collect them.
Once he got to the area he called me confused about not knowing which house was theirs and stressed about the situation this put him in. He did not want to walk up onto the wrong porch and have someone come out and confront him, call the cops, or worse get a gun involved. I tried to calm him down and reread the directions to the house and told him it will be fine, they know you're coming. However, inside I was truly just as scared as he was, unsure of what might unfold, and wondering will something happen that I will never be able to forgive myself for?!?!? Silly, right? It's just quail eggs! And he rightly said, "Yeah, they know, but the neighbors don't know that I'm coming." He asked me to try and connect with the farmers one more time. So I tried but had no response.
So I told my husband that the house you're describing to me sounds like what the farmers described. I think you need to trust and just knock if you don't find the quail eggs on the porch, and call me as soon as you get them or if anything happens. Ugh. This is ridiculously stressful stuff. Well, he called me and said he got the eggs, all was fine, and he was headed home. Phew. We both sighed a large breath of relief.
Silly, but not silly. This is the reality. Bird watching, going for a jog, sitting in your home, has shown us that these simple things get black people killed. Killed. Not one more breath of life. Gone. Totally gone.
These are the day to day little things that we're always taking extra cautions around just to live…..as a black person. But is it enough?
I want to tell my beautiful children holding their chirping baby quail that it is enough because it would tear my heart to shreds to experience it not being enough. I still can't bring myself to telling their sweet souls that potential reality.
This needs to change. Change needs to happen. It's long overdue. Like 400 years overdue. Please speak up. Allow yourself to get vulnerable and have humility to try to understand our own biases and to try to get it right. That's what the world needs right now. That's what black and brown people need right now." –
– Shannon May

Shannon and Charles have three beautiful kids…and when i say beautiful—I mean look at them!!  And the way things are, their children will systematically be treated differently than white kids unless we do something to change.  It is already happening.
The change must come from us.
I joined our local NAACP on Tuesday.  I am seeking today to join a committee for the chapter.  I supported a bail fund and donated to Unicorn Riot (independent /non-corporate media) and this feels like a start but there is more to do.
My colleague Kanesha Baynard has put together a great list of resources she regularly points white people to who want to be part of this change.  Follow her on social media to stay informed.
Explore what feels good. Explore what's uncomfortable.
Follow black leaders that your friends of color follow and share.
With humility we can change .
Kanesha's top 7 anti-racism resources.
1. https://www.goodgoodgood.co/anti-racism-resources
2. https://www.nytimes.com/…/pod…/1619-slavery-anniversary.html
3. https://www.thediversitygap.com/podcast-1
5. https://www.blackwomensblueprint.org/
6. https://www.showingupforracialjustice.org/
We are all family.  What happens to you happens to me.  Until every last person feels safe and free, not one of us truly is.  
Sending lots of love to you!
I am here for you….shamanic healing, coaching sessions and divinations.
Sarah
P.S. If you'd like 10 of my new books signed and shipped to you in the U.S.A., simply Venmo or paypal (sarahseidelmann@gmail.com) me $200.00 and let me know names of people (if you want them personalized) and your shipping address!
They make great grad gifts and hostess gifts for your helpers, healers and creatives!
P.S.S.
Local friends!
I'm selling books (no contact pickup!) from my house!
Just Venmo or PayPal me the funds…
(Sarahseidelmann@gmail.com)
(letting me know in the memo if you'd like them signed and, if so, to whom)….
and I'll leave them on my protected porch for you.
(I'll message you back when they are ready for pick up…usually same day…with my address)
(Sales tax is included in price)
1 book 22.22
2 books 38.00 (plus bonus stick of palo santo wood incense from Peru)
3 books 48.00 (plus sacred silk tobacco pouch with prayer instructions while supplies last)
10 books 150.00 (full bottle of Agua de Florida, Palo santo for each book plus bonus sacred tobacco silk pouch with prayer instructions while supplies last)
Hit reply to this email with any questions!
(If you need a copy of one of my other books let me know!)
Thank you in advance for your interest and support in my books!
Join us Friday night for sacred songs and prayers, I will be offering a song with others in this shamanic prayer ceremony. We are praying for JUSTICE and A peaceful REVOLUTION.
Sarah
Has plant medicine and Peru been calling you? In May 2021 I will be hosting a group for a two week sacred medicines retreat in Pisac.  Read all about it here and download an itinerary.   Spots are now filling up (there is faith in travel resuming!) and I cannot tell you how much this trip means to me.


——————————————————————————-
(RESCHEDULED) Oct 16-18 2020   Til Death Do Us Start – An Experiential Workshop to Enliven You. (Camp Amnicon in N. Wisconsin)  Register here

Have you wanted to come to one of my retreats and love Lake Superior and fabulous architectural design?  I have got a beautiful event in Oct 9-11 2020 at Wild Rice Retreat on the shore of Lake Superior in Bayfield Wisconsin. David Salmela designed the entire building as well as the beautiful cottages you get to stay in! There is currently a $75 discount code "SEIDELMANN2020" which is valid until August 10, 2020.

Check out the details and register here.