Instructions for a Miracle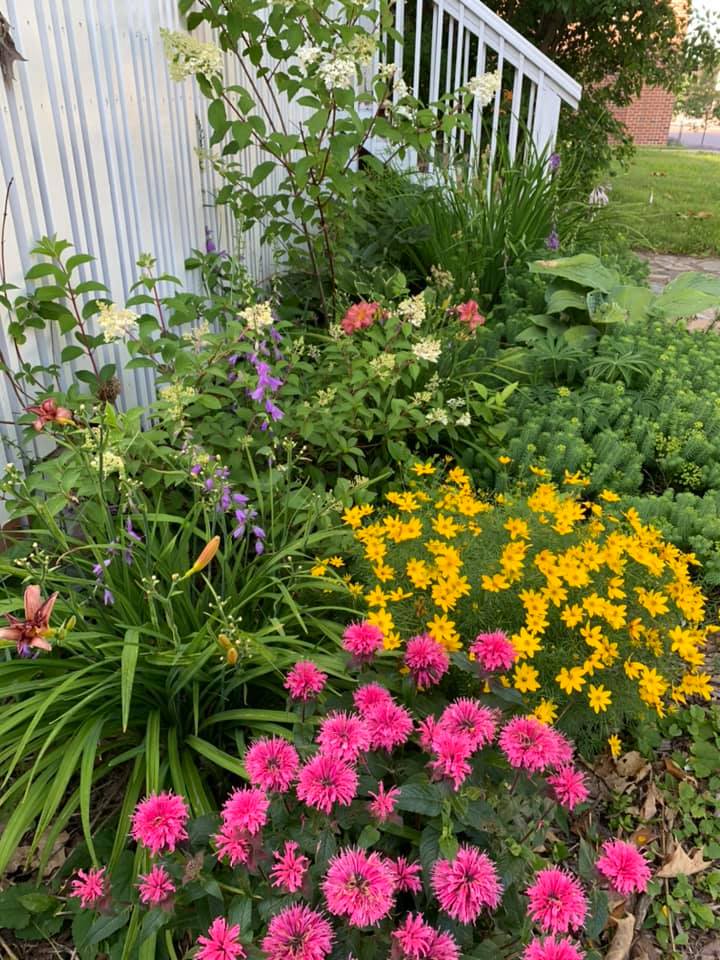 (my office garden!)
Dear creators of WONDER and MAGIC-
Last summer I happened to wander to the front of my office building and noticed my garden was a beautiful explosion of color and I was WONDERSTRUCK by its glory.
Two years ago, I had planted this barren area.  The day I planted it, I was feeling doubt….how could I create…or maintain such a garden?  I'm not a garden designer.  I don't have time to do much gardening! But, I decided to try something NEW.
I played the most beautiful music I could imagine (for me that's my playlist of sacred medicine music from SOUNDCLOUD) and I prayed as I planted.  It was very peaceful and calm as I did the work.  I didn't get frustrated. I banished all the doubt in my mind as I worked (with the help from the music and the earth/the plants).
Seeing how much it has flourished in such a short period and grown to be SO AMAZING.
It reminded me that things we undertake with a lot of INTENTION and a lot of love tend to flourish.
Happy in the beginning, happy in the middle, and happy in the end.
If we are crabby in the beginning and irritated and anxious in the middle, how can we expect the end result to bring anything different?
So, whatever you're beginning now, I invite you to do it with some sort of equanimity–whatever FEELSGOOD to you?
What is the soundtrack (or is silence EVEN better?), where are you working?
What is the prayer in your heart as you work?
No matter what the outcome, at the VERY least if we do our work from this FEELGOOD space, we will have had a peaceful morning or afternoon!
And…we just might create the conditions for a MIRACLE to occur. Like this garden.
I love Astrology because it has a more magical and mythical take on the happenings on planet earth.  And it's LEO season!
Here's some great ASTRO advice:
(IMAGE IS FROM MY NEW DECK- have you got it yet?)
Leo As Joyful Expression
This time of year is astrologically when Leo bursts on the scene asking us to show up as fully and playfully and dramatically as possible.
Leo is all about embracing the joy that comes when we express ourselves creatively without holding anything back.
So many of us have gotten messages about being visible or taking up space as a BAD thing. We don't want to be accused of being "too big for our britches" or seen as "too full of ourselves."
But Leo says, the heck with that nonsense. You came into this world bearing many gifts and you are here to SHINE!
So this journey of the Sun through the sign of the playful child and the sacred performer is a wonderful opportunity to heal some of those messages around staying small and asking ourselves these questions:
Where are you dimming your radiance, dampening your sparkle and dulling your shimmer?
In what ways are you holding back your bigness, your brilliance and your natural FIRE?
And what kind of support, encouragement and appreciation do you need in order to come out of whatever closet you've been keeping yourself in?
Leo THRIVES and flourishes when it gets huge doses of admiration, recognition and celebration, so how are you denying yourself the opportunity to be seen?
Leo is at core about the open hearted, no holds barred generosity of giving freely of our innate talents and genius and artistry. It's knowing that the more we glow with our unique inner light, the more it allows others to glow too.
It wants us to know that everyone is creative. Everyone is an artist. And that play and fun and pleasure are ESSENTIAL components of a rich and nourishing life.
It teaches us that giving and receiving are really the same thing. And that joy is our sacred birthright.
So this coming month is a time when you will get to play with all that fiery creative energy and hopefully take more than a few chances to come out in a bigger way on the stage of your life." ~ Chris Zydel
If you are longing for a little LEO boost and to learn more about your own birth chart or what your opportunities are now- I highly recommend Liz!  She is a librarian who is an ASTRO genius! She has helped me find my greatest opportunities and my feelgood around challenges.  You can find her here.
Are you struggling to make a big decision like I was last week?  In the final hour i stumbled into this quote from Maya.  I'm sure my higher power put it there:
"I've learned that whenever I decide something with an open heart,
I usually make the right decision."
Maya Angelou
With much love and the courage of a single fierce honey badger,
Sarah
P.S.  My new book is BACK IN STOCK and shipping at Amazon and NOW AVAILABLE ON KINDLE too!
Do you have a moment to leave a brief review for the book at Amazon or Goodreads?
I would be SO GRATEFUL if you did!
I'm happy to send you a guided meditation as a thank you!  Just hit reply here once you've left your review and I'll send it to you!