Going Beyond Our Self Imposed Limits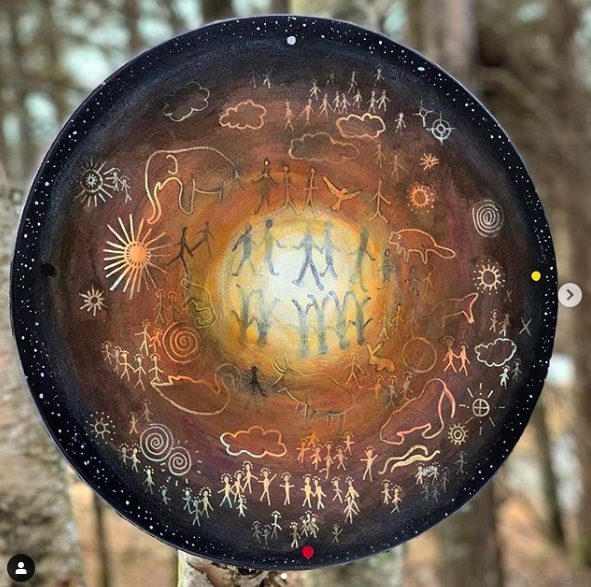 (my drum painted by Emily Christenson)
Hello dear creators of MAGIC and WONDER-
I knew, as soon as I left the hospital for my sabbatical from medicine in 2010, that not one bone of my body wanted to return.
But, my head argued endlessly.
So, I put out a request to the Universe:  "If I am supposed to leave my job as a physician, please show me how?"
Most of my worries were financial. But, I had plenty of others too.
Two weeks later, my husband got an unexpected productivity "raise" that was within ten cents of my usual part-time paycheck.
Wow!  I thought (at first!)  THIS IS THE SIGN!  I really AM meant to leave my job!
But, within two weeks, my thinking crept back in and I decided that this might not be the "sign"….
As I sat with that glum assessment, I began to wonder if I had not put some sort of limit on myself.
A self imposed roof on my joy…and my possibilities!
And so I asked myself, How GOOD would I be willing to let it get?
Could I allow myself a vocation that made my heart sing and the time to find out what that might be?
Could I allow myself the kinds of loving relationships I longed for?
Could I allow myself the freedom to be creative in the ways I yearned to be?
Little by little, as I grieved and healed..my answer became YES.
I think this virus is giving us all a chance to ask ourselves, 
How GOOD are we willing to let it get?
At home..
At work..
On the earth…
In our communities…
In our bodies…
In our families…
One thing I know for sure is that doing work at the spiritual level can help us make the shifts we need here on earth.
I have a very special  ceremony that has been recorded for you.
You will receive a shamanic sound healing (an offering of healing I  share combining music with sound and my helping spirits!).
Second, I will guide you in a special shamanic journey (an initiatory practice) that is both a healing and a teaching.  
It's time to clear the cobwebs and let all the light in!
Download the mp3 recording of the 2 hour ceremony here.
(this includes LIVE Q&A)
If you don't yet have shamanic journey experience but would like to participate in the ceremony- here is a crash course where I guide you on your first journey to help you meet up with your core beastie (spirit animal!).  
Once you have taken that journey, feel free to REGISTER for the ceremony.

I had a wonderful conversation about this moment in time with Jane Asher Reaney at The Next Room!  It's a great listen for that 4th daily shelter in place walk around the block with the dog! LISTEN HERE.

with BIG LOVE,

Sarah
—————————————————————-

Has plant medicine and Peru been calling you? Hit reply and say "tell me about Peru 2020" if you are interested in learning more about a two week shamanic retreat I am co-hosting there.
——————————————————————————-
( a new date!) October 16-18, 2020   Til Death Do Us Start – An Experiential Workshop to Enliven You. (Camp Amnicon in N. Wisconsisn)  Register here

Have you wanted to come to one of my retreats and love Lake Superior and fabulous architectural design?  I have got a beautiful event in Oct 9-11 2020 at Wild Rice Retreat on the shore of Lake Superior in Bayfield Wisconsin. David Salmela designed the entire building as well as the beautiful cottages you get to stay in!  Check out the details and register here.