CREATIVE SOUL RETRIEVAL: A 100 Day Project Experience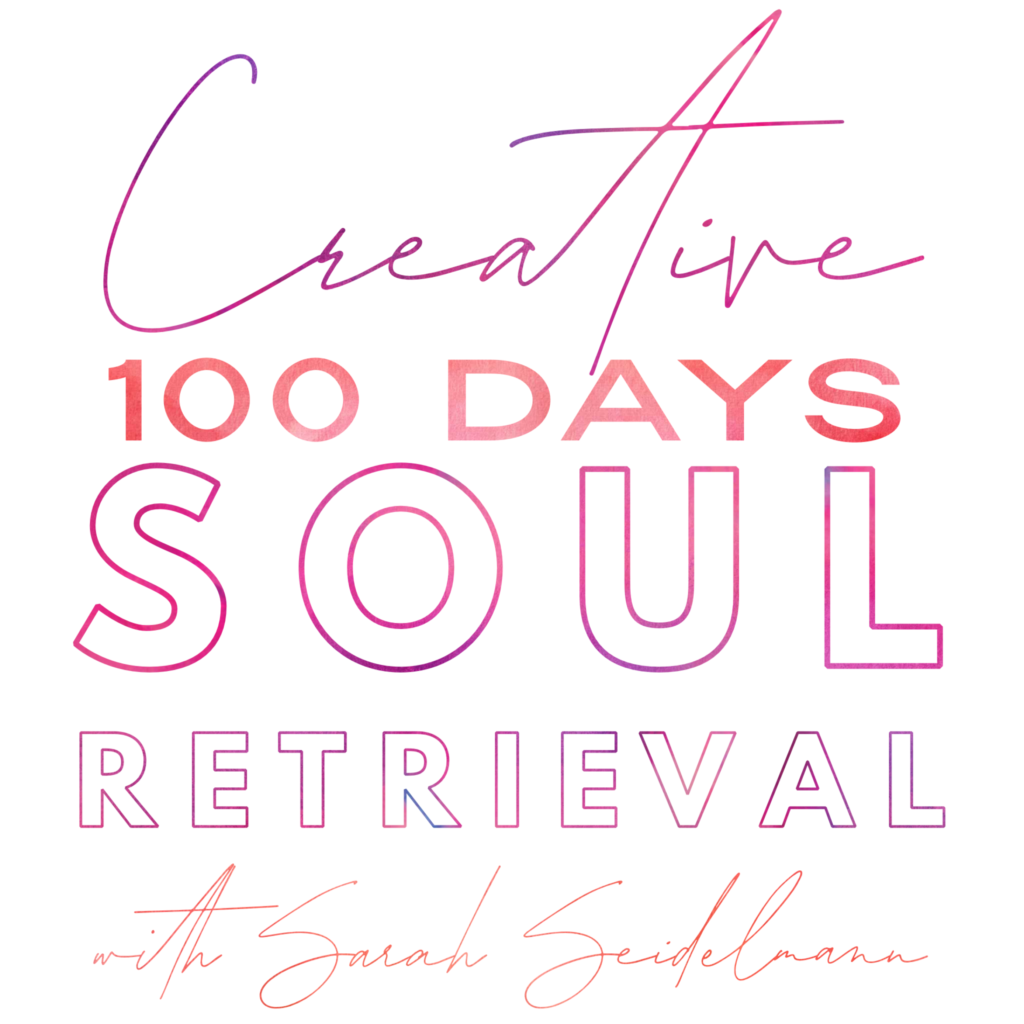 You might have read here that I'm launching a group #100daysproject on June 1!
I've done these projects solo for a while now and I've been constantly amazed at what a difference they make.
How could it be that doing one small (tiny even!) creative act each day for 100 days could have such a huge impact?
I think Liz Gilbert sums it up when she writes in Big Magic,
"A creative life is an AMPLIFIED LIFE. It's a bigger life, a happier life, an expanded life, and a hell of a lot more interesting life."  
As I've been willing to DECIDE to do these tiny projects,
I have learned:
-to trust more in the creative muse
-that perfectionism is one of my biggest demons but I don't need to let it stop me
-the extreme delight of, sometimes, really liking something I "came up with" (or created)
-to trust in ME…in my own ability to be a conduit for the divine/the creation/magic.
and SO MUCH MORE.
One case in point, I have an ongoing creative project (a sort of accidental #100 days that's turned into 150 days and counting!) where I exchange texts each morning with my friend Paula – we share our fashion ensembles!
(GOOD MORNING PAULA!!!)
Through this tiny practice (taking the photo and texting takes less than 3 minutes):
-I have gotten better at knowing what my style is
– I have become more compassionate with myself
-I have been ASTONISHED at the creative possibilities!
I don't have tons of clothes, but I can tell you that I have not worn exactly the same outfit once in 150 days. 
The permutations are GOBSMACKING.
And, when I dress up for Paula, I feel more cheerful.
I've become more willing to do hard things.

All simply because I became willing to do one small creative act:  Get dressed and text a photo.
It doesn't matter how you express the creativity it's just that you do it!
Many of us have put our creativity off.
We're hoping for a long weekend to work on our writing. Or, we dream of a  painting workshop "some day" to really get into it. Or, even, we dream that we can indulge in our creativity once we get a better job…when retire or when we win the lottery, when the kids graduate…
But, creativity is too delicious. Too holy. Too magnificent.
Too dang YEEHAW-generating to be put on hold.
You deserve to experience this flow now. This discovery. This joy (and sometimes frustration of course!).
WARNING: This process will also bring up your sh*t and it will also show you your LIGHT.  You will grow. 99% Guaranteed.
And we all benefit and delight when just one person decides to let IT (whatever sleeping giant of awesomeness and creation is within them) OUT.
It doesn't have to take years. No fancy retreat required (though you should def. go on one if it sounds fun and supportive!!).
You can begin today. With ten minutes.
Sketch your coffee mug. Take an artsy photo of a grand old tree that has you fan-girling! Throw together an outfit based around a garment you're saving for a great "occasion" and wear it. Write a Haiku. Arrange grocery store flowers in some funky containers you find at Goodwill and put them in your space (or deliver one to a friend!).
Of course, everything is better when you do it IN GOOD COMPANY, so,
I'm launching a group experience! It's going to be a creative SOUL RETRIEVAL of sorts!

For 100 days, we will each make one small creative act (of our choosing) daily, photograph it, share it with a private group and self-reflect.
No feedback will be given (only your own!) from me or any of the participants.
But you will be witnessed by all of us in the group (we will "love" your posts so you know we saw them!)
Not sure what to do for your project?  I'll be sending a list of ideas to get you thinking in my next newsletter! You can search #the100dayproject at instagram to see what others have been doing!
This will be an opportunity to sit with yourself and discover just how much magic you're sitting on.
I can't wait!
To join, please Venmo or PayPal 93.00 to me with LIVING AMPLIFIED in the memo.  At less than $1.00 a day, I believe this is an excellent way to invest in yourself, your integrity, and your creativity.
Then I'll send you the link to join the Facebook group.
There will be 4 Zooms  (all recorded in case you have to miss one!) + a private Facebook group
Wednesday May 19— 7 PM Central/8 Eastern (setting intentions and getting clear on our project)
Tuesday June 8 — (A check in) 6 pm central/7 Eastern
Tuesday July 20 (A check in the messy middle! 1/2 way to finishing) 12 pm Central/1pm Eastern
August 28 (tweaks, what are we learning?) 3 pm Central/4 Eastern
September 9 (a wrap up and celebration the the fruits of our labors! 101st day)
6 pm central/7 Eastern
Why join now? June seems so far away? Because you'll need some time to explore what project you'll choose!
To join this merry band, please Venmo 93.00 to me at @Sarah-Seidelmann send 93.00 to me via PayPal at  sarahseidelmann@gmail.com (Sarah Seidelmann LLC) and I'll send you the link to join the private facebook group!
If you are unable to pay this full amount and truly want to do this work together, please contact me and we will work it out.
———————————————
I am open and seeing people in person (and via Zoom/Facetime too!)- so if you are feeling the pull towards shamanic mentoring/healing or life coaching, please book your sessions here.  
much love, Sarah
Dying to Live:
A Crash Course in Living Purposefully
With Sarah Bamford Seidelmann, MD, Woman of Medicine, Shamanic Mentor, Author – Duluth, MN
Date: Thursday, April 8, 2021
Time: 6:30pm-8:30pm Central Time  (4:30 -6:30 Pacific)
Location: Zoom
Cost: $30.00
Sign Up: www.healersplaygroup.com
You will receive a digital download with the zoom link.
Questions: ahpg@yahoo.com or Pamela 612 940 – 4215
About this Class:
In this Playgroup you will:
 have the opportunity to acquaint yourself, first hand, with the
processes that are available to you immediately after death
(beyond the veil) so that you can gain knowledge and receive gifts.
 experience a small taste of one of the powerful processes that happens to each of us near or at the
time of our death and apply its medicine to your life now so that you can live lighter and brighter lives.
 have a small sample of what death has to teach you, personally, about how to live your life with
greater purpose.