THIS TRIP HAS BEEN CANCELLED BECAUSE OF ACTIVE VOLCANO AND CONDITIONS BEING TOO UNCERTAIN.
Heather and I are dreaming and scheming of something new stateside- stay tuned.
 Wildly Aligned: A Soul Illuminating Retreat for Women in Ubud, Bali (June 17-26 2018)
Wildly:  Living in a state of nature..not tamed. Unrestrained. Sometimes disorderly
Aligned:  To be in cooperation, joined with  and tuned into the rhythms of the Universe.
Where: Ubud Bali
When: June 2018
Who: Goddesses in Training
Have you been hearing the call to retreat from the madness of daily life into a sacred gathering of like-minded born to-FREAK women? We have tooooo! The past retreats I have hosted to Hawaii and Thailand, have been nothing short of life altering. Each time I gather with women for a sacred purpose, I am astounded at the revelations, community, love and clarity that arise. The path rises up to meet us when we are sitting on the edge of newness and out of our usual routine and environment.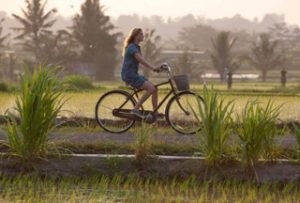 This time, I am collaborating with Heather Tydings, LCSW-C (Own Your Evolution), my colleague (a psychotherapist and Martha Beck Life Coach) and a fellow co-conspirator in JOY. Heather has a 10,000 watt smile, more moxy than needed, a salty sense of humor and she practices what she preaches– I always learn when I am around her!
We thought this short film and song gives a taste of our dream for you in Bali in 2018:
This unique journey will is offered as a CLEANSING FOR YOUR SOUL (of course, It's not truly dirty but we can all benefit from a sacred soul carwash so our essence can SHINE and clarity can happen.)
I once asked an enormous spirit of a plant that I encountered on a journey, "How did you get so BIG?" (I could sense she had an unlimited sort of global kind of power- the power to change EVERYTHING.) She replied, "I had a mother who believed in me."
I laughed. Of course, Gaia. Mother Earth. The plant's mama. You and I are also planted and growing spirits on Gaia. Whether YOU had a human mother who believed in you or not, the earth believes in you. We believe in you.
Our intention and desire is to explore this unlimited potential of the Mother or the divine feminine together.
How? By trusting our hearts and wombs.
We will be tending to our whole selves; body, mind and spirit and paying particular attention to our creative selves- our wombs- some call it the pussy.  We will have the earth (Capitol P pussy) alongside us to show us even more of what we are capable of.
(If you are Norwegian or just shy, don't worry, we will refrain from passing out hand mirrors.) However, we will be inviting our sensuous bodies, through Shamanic drumming journeys, yoga, meditation, vision boards, dancing, cooking, eco cycling, nature (beasties!!) to connect deeply to earth and to the part of ourselves that knows how to create. We will create opportunities to listen to our hearts desires.
There is no place better than Bali, a true, divine feminine TOUR DE FORCE of nature. We will be fully immersed in Balinese culture, visiting sacred sights, exploring art, learning to cook, visiting the sacred land and sacred monkey forest. And we will also have the opportunity to REST deeply. WE have designed the trip to have many sacred opportunities to engage and also to retreat and go within…to where your power lies.
We will stay just outside the city center of Ubud – a fifteen minute walk to town (or you can use our resort's complimentary shuttle).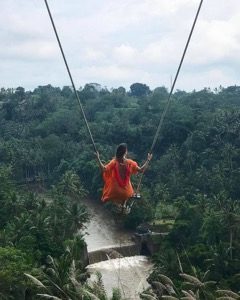 Prerequisites:
Prior experience with shamanic journeying is suggested and if you haven't yet done this- we recommend taking Get Sourced prior to traveling. It will help you start to root down into yourself to hear your internal voice/wisdom.
Willingness to join hands in a sacred circle.
Openness and flexibility: being open to the unknown paths the journey takes us. (For example. Heather and Sarah shared a room together in Thailand. There may or may not have been a lizard overseeing our every move in the jungle with no wifi. So we know flexibility.)
To make your deposit and register  (your deposit secures your spot-  only 13 for this adventure!) please email Lene@journeysinternational.com
Here are a few photos from the Trip Advisor awarded resort where we will stay.  We will stay there the entire duration of our adventure to increase your opportunity to put down roots, explore and rest in a profound way.