Hi Sarah!

I got the download for your book preview for What the Walrus Knows (a book on Animal Totems)  from the Martha Beck Inc. group on Face book. It is awesome!! I love the artwork, the style and the playfulness of it. A couple questions, would you say a little more about how you manifested the money to make leaving your MD job possible and easy? I'm in a similar situation right now feeling the golden handcuffs. It seems though no matter how much I earn in my corporate career something happens to offset it. I'm suspecting to do really have abundance I'm going to need to push off from the career I don't want to be in.

Also, do you have a Bear Manifesto you would be willing to share? I've recently found myself fascinated with and ignited by BEARS, & they are showing up everywhere in my life. I'm thinking there's a message in there for me.

Much love & thanks again for sharing your wonderful work–I look forward to reading the full version when it goes on sale!
L.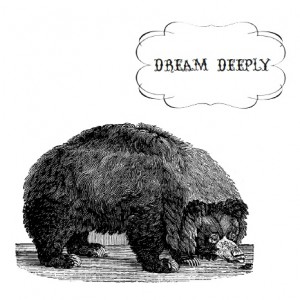 HI L!  Thank you thank you for your kind words!  Ah yes manifestation of money, lol!!  Good to be reminded of those great stories.
Well- like all great manifesting I simply said-"Wouldn't it be cool if somehow I manifested the money to leave my old job and pursue my true heart's desire?" (coaching, writing and talking beasties!) ) ..And then I let go and forgot about the "hows" or the logical linear stuff… Beasties can reallly help with this part!
A month later my spouse got an increase in his monthly salary that was more or less = to my part-time salary—unbelievable, right?  Even after that happened I was still scared to quit (this is KEY!)—But I realized at that point- it wasn't just about the money- it was fear of the unknown and walking away from securities of all different sources!
So- I would invite you to ASK for what you need and maybe write it down and then go about your life having as much fun as possible, blessing everyone and everything in your path- being genuinely happy for everybody who seems to "have it made"- because when you do that- you draw all the goodness to you!!
I'm sending you good energy and thank you so much for this-  because it comes at a perfect time for me.   Last night after finishing my book and preparing to publish it- I kind of had a freak out- as in uh oh- money is running out and not as much budget left to promote it etc. and I needed to remember that I have nothing to fear (but FEAR  of course!)—dreaming a new dream today.  Thank you!
Love, Sarah
And if you want to get a preview….