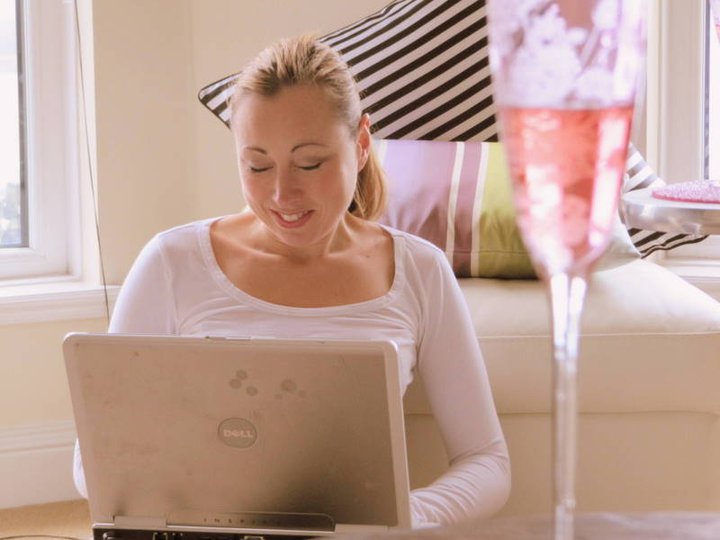 A Guest Post by Samantha Honey-Pollock
It started as an ordinary day but looking back I know you would have been as uneasy as I was with the way things were going. Boyfriend out to work; me tidy kitchen, try to make sense of the newspaper in a foreign language, shower, dress, about to leave to buy some groceries when he comes back in. "You must go," he says. Only an Austrian can say this with such finality. And so, 20 minutes later, I was standing alone with my suitcase on a footpath in Vienna.
Somehow, it was a relief to find myself heart-broken, in a foreign city. But this wasn't a hurting sort of heart-break. Instead I felt a new surge of excitement. Looking back, it was like I was given a gift. Now I understand I had clutched a thread of feel-good and was being dared to follow it.
Swept up in the perfect film-script of it all, I found a place to stay. It was a cheap hostel called, really and truly, "Believe it or not". It was winter. By day I found myself in the grand National Library, sniffing some of the oldest books in Europe. Lunch time I'd wind up in the newly built Le Meridien Wien, amid conferences about cutting-edge technology, feasting on a croissant with smoked salmon and glasses of gruner veltliner. Before dark, I'd head back to "Believe it or not" via the Volksgarten, passing elegant ladies and men wrapped in furs and proper hats armed with sausage dogs; whilst across the park, horse-drawn carriages arrived at the Schonnbrunn palace delivering beautifully dressed, ball-gowned couples to the finest dances of the Season.
I had little money, but I never felt that. In one of the grandest cities in the world, free to wander wherever I chose, I felt like a princess in disguise. Everything was quirky, cosy, opulent or unknown. Everything a mystery to be unraveled. Every experience I stored up in my mind to be told.
I haven't told the story of why I lived in Vienna, in a dorm room with 11 various others, for three months. I haven't told the story of how, after weeks of walking past restaurant windows filled with couples in love, who were laughing, dining, sharing, I longed for a new love of my own. I haven't told how I made a day-trip to Grinzing; and sat out, warm in the sunshine, watching wide, white birds of prey cartwheel high in the sky. It was here I decided to make it my new priority to discover someone in the city to love. How on the tram on the way back I doodled a floor-plan of the ideal Viennese apartment I would share with him. Or how two days later he walked in to the café where I was sitting at the bar, and asked me my name. I haven't told the story how we laughed, and went out to dinner, sitting in that same window I'd walked past the week before alone; or how, upon learning I was a writer, he offered me his apartment to write in whilst he was at work. Believe it or not- it was the configuration of the napkin drawing I had made.
And I haven't ever told anyone how, one morning, a few weeks later, we sat drinking morning coffee and munching pastries on his freshly mussed-up bed, in front of big windows which look to the hills behind Vienna. He told me that the French claim ownership of the croissant, but actually it was the Austrians, who fought and won the fight for Vienna on those very hills, who made the first croissant in the shape of the Turkish emblem to celebrate victory.
As he told me the story, again I saw two white birds of prey – I've since discovered they were eagles – rise high above the green copper roofs and float towards the hills. I got the feeling it was time to go.
From Eagle Manifesto in What The Walrus Knows: "MAGNETIZE. Envision. Draw in what you love. TRAVEL TO REFUEL. Feed your soul. Discover Spirit. Connect with power."
Although I've studied many energy practices throughout my career, joining Squirrel Radio woke me up to the powerful communication of the Beasties. This wake-up has affected not only my daily life, but the stories of my past have taken on new depth and meaning. The Eagle is the national bird of Austria, and in Sarah's "What the Walrus Knows" among other beautiful gifts, we learn its presence brings the gift of clarity and vision. As long as we follow our intuition we will be heading in the right direction. And in taking it's message on board at that time in my life, I found as long as we Follow our Feel Good, only good awaits us on the path.
Two days later I followed my feel good from Vienna on to Edinburgh. But that's another story.
About Samantha Honey-Pollock:
Australian-born Samantha Honey-Pollock is a personal trainer and board-certified holistic health coach via the Institute for Integrative Nutrition. She is also a feng shui expert and angel intuitive. Author of the forthcoming book, "Gentle Peace- Extraordinary Wellness", Samantha consults to individuals and businesses in the UK and across the globe, specialising in the art and science of personal fulfilment.