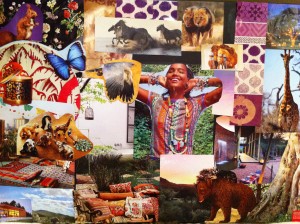 How to Manifest and Draw more FEEL GOOD into your life!
These darn things work. For those of you who do LOVE visual stuff and imagery- this will be very POWERFUL. I have created boards which drew Mary Poppins like babysitters, rooms, physical body transformations, college funds, FEEL GOOD family relationships, work I adore- you name it!
I personally have seen odd things happen, like the picture of a home I had pulled out- looks eerily like the home I ended up moving to, one of my fabulous coaching clients looked just like the picture of the little girl I had on my coaching board when she was little. I put a lot of zebras on my boards once- not noticing that it also tied in to a desire to travel to Africa. Months later, I was invited to serve on a negotiation team in South Africa to negotiate a bride's price- one of the most incredible experiences of my life. Really what you tapping into here is the Law of Attraction- or things that have a certain energy or vibe attract more of the same. The only caveat I have on that is that WHATEVER you are wanting needs to really come from your "core of peace" as one of my mentors, Martha Beck would say, in other words – my belief is that this stuff really works when it taps into deep feelings/yearnings from your soul. So if a Mercedes convertible is truly a soul-directive- then I say go for it. My soul has not really yearned for a fancy car lately (although it did once!)
It usually yearns for what will serve me most on a deeper level- a loving marriage, kids who are respectful and fun/fabulous to be around, perfect coaching clients for me, Travel, etcetera
How do you know if what you think you "want" is a soulful yearning (and not an ego driven thing)? Well- when you wake up in the morning, is it your heart's desire? If so – then you are probably onto it. Also – getting really quiet and writing about what you want to manifest can also help you figure that part out. What ideas/dreams get you the most energized and jazzed- those are probably true heart's desires. Health, financial abundance, Joy, Experiences, Work that you love……
How I like to dooz it. (This is great to do with a friend or small group of people who you feel very comfy and supported by- crank the music, grab your scissors and have fun!) (Doing it with your kids is also a kick- let them decide what they would like to happen in their life- just watch out if they want to manifest a puppy!!!) Kids are powerful manifestors….
1. Decide what your FEEL GOOD board will be for:
Is it one that covers health and wellness, is it for a job? Or is it something you would like to create with you relationships? You can do a board that encompasses many different areas too- it's up to you. Sometimes I make one at the beginning of the year with my vision of what I would like to happen for my whole year- from health to family to professional etc.
A focused board (or mini-board) is always great it you really want to bring some great energy into a certain area- like a particular project or say your relationships…it's all up to you. You can even do this on index cards- my sister Maria laminated hers and kept it in her purse.2. Create a little file and then begin to collect clipping from magazines – or for those of you who are technically savvy- save images in a file on your computer . It's nice if you can collect images that draw you in over time- but this can be done quickly of course (in a one night vision board project).
2. Things to clip:
If you are doing a more intuitive RIGHT brain board- then just grab anything that feels GOOD to you. I recommend this to those of you who are linear- practical and very smart people. It will reconnect you to your heart. Don't ask why an Elephant or a light fixture or a certain texture is what you are drawn to- sometimes your intuition (right brain) already know what your left brain cannot explain/know.
If you are doing a left brained board- then-
Images that show the feeling you want to have when you get what you are wanting
Facial expressions
The place it is all happening
The outfit you want to be wearing
The healthy food you want to be eating
Picture of people achieving what you want to achieve
Words that inspire you- or phrases/quotes.
The kinds of people you are surrounded by when you are living out this vision.
Anything else that appeals to you- there are NO RULES (you will not be graded!).
3. You'll need a something to mount the images on:
There are many OPTIONS here-
My sister Maria likes to do a pocket version- with index cards she punches holes in and creates a little book (sometimes she even laminates the pages.
A giant piece of black foam core board (Suzi and I like the neutral black background)
An 8 x 10 piece of construction paper
3 ring binder with plastic sheet sleeves- creating a multi sheet book of images- that's kind of nice because you can save them as you manifest things- fun to watch your own personal progress
I have seen people use a manila folder- that way you can "file it" and then pull it out for inspiration when you like!
Personally I like something that you can look at and see everyday- I hang mine usually in the bathroom- so I cannot help but see it as I brush my teeth and get ready everyday. Mine is JUMBO in size.
4. Scissors and double stick tape:
Glue stick is ok, but if you really want to enjoy yourself- I really enjoy the double stick tape images lay flat and stick well. I think it's fun when it's done to snap some pictures- so it can be downloaded and used as a screen saver too- again a way to see it every day.
Then just glance at it daily and let your mind and heart enjoy the imagery and then- watch what happens!