Do you love elephants?
Do you adore far flung travel?
Are you yearning for an adventure?
Have you also been born to FREAK, like me?
Would you like to connect more deeply to your own ridiculously amazing soul and all that it longs for?
Would you learn how to receive the intuitive messages of Nature?  Or become a more clear receiver…more connected.
 What's a Pachydermal Pilgrimage you ask?
It comes strictly from my imagination (where wonderful things often come from).   I am envisioning not a "trip" but,  a pilgrimage…. a journey taken for a sacred purpose.
What's the sacred purpose, you ask?  To explore, have fun (that's arguably the most sacred purpose of all) AND to connect with the divine aspects of ourselves and each other.
 I also aim to learn something from the elephants, who I believe have a lot to teach us.  Men and women are welcome (adults, that is).  Couples.  Sisters.  Brothers.  Girlfriends.  Mothers and Daughters.
We will stay in simple rustic inns with access to Nature.  See/Download/print the full itinerary here.  At our first stop (Punjen Hideaway):  There will be visits with tribal people.  Waterfalls.  Buddhist Temples.  Butterfly Sanctuaries.  Did I mention elephants?  A family of elephants will be in the neighborhood of our second rustic home (The Chai Lai Orchid) and YES we will have an opportunity to meet them and even spend a day with them.   Starting in the early morning from our home base, we will travel through the mountain, riding and bathing elephants, trekking to a hill tribe village, swimming in waterfalls, floating down the river in a bamboo raft and then back for more elephant riding.
We will also get to spend the day near Chiang Mai at The Elephant Nature Park, an elephant sanctuary and rescue center where we can learn and even (gasp!) help bathe elephants in their home's river.
This pilgrimage will be the first International one I've hatched but I am not new to travel /adventure with groups-  you can see a past trip I co-created here.
Twenty years from now you will be more disappointed by the things that you didn't do than by the ones you did do.
So throw off the bowlines. Sail away from the safe harbor.
Catch the trade winds in your sails. Explore. Dream. Discover. ~ Mark Twain
I am  Sarah Seidelmann:  Nature lover, elephant lover and world traveler.  I am also a Martha Beck certified Master Coach.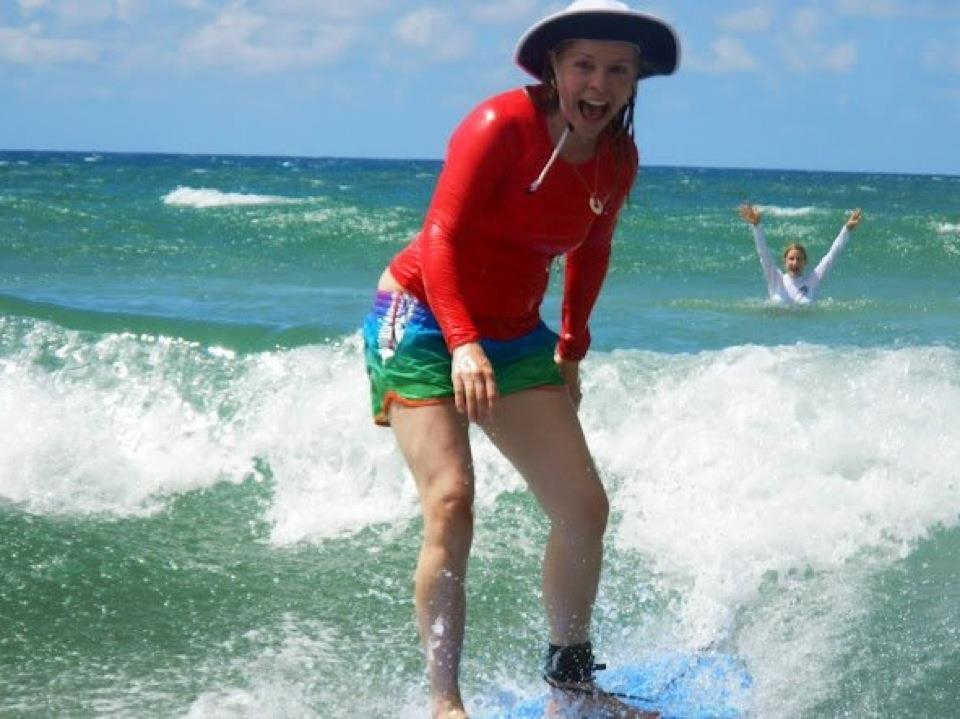 CREATE A RUMPUS.
Kick up some dust. Act the fool. Romp.
~Elephant Manifesto,  What The Walrus Knows
I am not an expert on Thailand. That's why I've engaged Journeys International, a company known for hosting fantastic global adventures.  With their expert guidance we have created an itinerary that will delight us all.  We even thought of the lunar schedule and we will be there when the full moon is lighting up the night sky.  Want more than 10 days?  You can extend your stay in Thailand on either end through Journeys if you'd like.  They are flexible.  Journeys can also help you with your flights:).
 P.S.  I am the tiniest bit nervous to ride an elephant
This is a film from our second "home away from home" to give you an idea about what it  might be like 🙂
SENSITIVITY IS AN ASSET.
Adjust your antenna. Tune in to tune up.
~Elephant Manifesto, What the Walrus Knows
I  plan to share what we know about connecting with Nature (and receiving it's many messages) and connecting to our essential selves.  When we are connected to that self…the divine part of us…
there's just nothing we cannot do (at least that's what we believe!).   I also plan to guide the group in shamanic journeying and tools that can be helpful to your personal path.
Why 11 days?  Because we want to have ample….
Time to unravel…it takes time to unwind after traveling so far.
Time to take short adventures….to visit sacred temples…colorful market stalls…..the river…Chiang Mai..
Time to watch elephants…..while they bathe…wander….eat.
Time to rest….pilgrims need rest to restore themselves
Time to connect with the helping spirits of Nature (with guidance!).
Time to  connect with one another over tea (or mangos).
What do I know for sure?
Travel awakens us.  Travel gives us opportunities to grow…to see our own patterns….to learn new things about ourselves and to take the eagle's (cough) elephant's view of our life.  It is always life changing.  Not one of us will be the same when we return.
What else?
It will probably be hot.  And sweaty:).   But there will be waterfalls. And elephants!
And growth opportunities will be everywhere-  hiding like tigers in the forest:):):)
"There's no such thing as bad weather, only inappropriate clothing"
~ Sir Randolph Fiennes
Are you ready to say yes to a Pachydermal Pilgrimage?  See the

full itinerary here

and

register/pay your deposit here

($500.00 secures your spot). The group is limited in size (limited to 12) because of the small size of the lodges we will stay in.
As of today (June 12, 2014)  just 3 spots remain..don't delay if this trip sounds like a FEEL GOOD for you:)
Let's go!